Plant Loving Creatives: Andrew Palm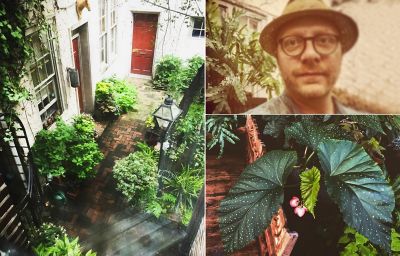 New to our bookshelf, Greenterior is a collection of essays and photographs that puts the spotlight on creative individuals with a passion for plants. This beautiful and thought-provoking volume encouraged us to think about the creative green thumbs that we admire; over the next few months, we'll be sharing a few of their stories on the blog. We're kicking off the series with one of our own: terrain Senior Buyer Andrew P. Around the office, Andrew spends his days finding the very best furniture, artifacts, and home goods. At his home in Philadelphia, he cultivates an impressive collection of plants alongside unique finds from around the world. He invited us to take a peek at his home and its gorgeously green courtyard, which offers a botanical hideaway in the heart of the city.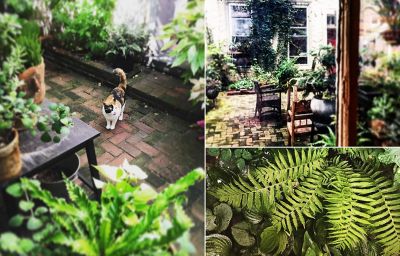 Andrew tells us, "Plants have always been a part of my living space. Growing up, I spent a lot of time on our family farm in Wisconsin. My Grandma and Mom were avid gardeners, and always brought the beauty of the outdoors into our homes. Today, my home overlooks a private courtyard called Lantern Square, which was once Philadelphia's smallest public way. This summer, I moved across the courtyard to a new space that's larger and offers more natural light. I'm looking forward to bringing additional plants inside, while getting to keep the green outdoor space that I've been cultivating for years. For me, plants add a necessary layer to all interiors and provide a natural element for your surroundings. In general, I prefer plants that offer an architectural element via their organic structure. When choosing a new plant, I start with light; it's important to determine which plants with thrive in different environments around the house or in the courtyard.
"Two particular plants are the stars of my courtyard. The first is a staghorn fern in a hanging basket that has three sides of exploding fronds. I also love the Rex begonia that was given to me by a friend. It originally belonged to his aunt, and has been growing since 1974! Having spent many years traveling the globe, I've acquired an eclectic mix of items for my home and the courtyard. I enjoy working them all together, along with lots of plants, in my spaces. Sometimes plants serve as accents to soften a room, and other times they're the focal point of the design. Plants and nature are what inspire me most, both in my work and personally. Their variety of color, form, and texture is unlimited and offers so many possibilities."
You May Also Like:
$59.95 – $138.00

$88.00 – $138.00