Our Palo Alto Succulent Planters
When our shop at Anthropologie & Co. opened in Palo Alto, CA last fall, visitors were greeted with groups of colorful plantings in our favorite barnacle pots. Throughout the seasons, these vibrant, low-maintenance collections of succulents and shrubs have evolved with fresh palettes and plants. Recently, we caught up with greengoods buyer Melissa L., who designed the original plantings, to learn more about her inspiration and some of her favorite West Coast specimens.
Melissa says, "When we designed these planters, we needed arrangements that could fit terrain's aesthetic, thrive in the California climate, and celebrate the upcoming holiday season. However, they needed to work beyond the holidays as well. We got to work with a lot of fantastic plants that you just don't see on the East Coast to create a palette of pale greens and saturated crimsons. My favorite plant in the grouping is Melaleuca incana -- the feathery shrub that you can see above in the largest pot. I love its gray-green foliage, beautiful movement, and gracefully wispy form. It's also incredibly soft to the touch, which you don't anticipate when you first see it!"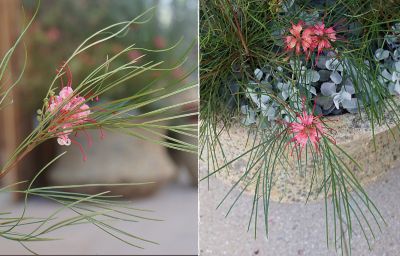 "Throughout the plantings, we layered gray and green textures with a mix of intense reds and pinks. Above, a spiky, blooming shrub called Grevillea 'Long John' adds a bright pop of fuchsia, underplanted with kalanchoe for contrast. In choosing the succulents, we focused on saturated reds, then added darker black aeonium and frosty green varieties to provide contrast and tie into the larger shrub plantings. I love how the reds play off the silver-green foliage, with the habit of the Melaleuca drawing your eye down to the succulents below."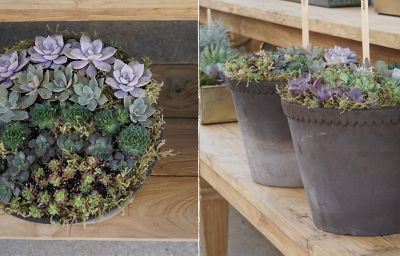 Melissa adds, "After designing our larger planter groupings, we had hundreds of tiny succulents left over! We planted them in ombre stripes inside some slate-gray Købenler planters, which made for a beautiful color combination." In subsequent seasons, our succulent plantings have evolved to include new varieties in shades of rust, chartreuse, pink, and more. Stop in to see our latest colorful collections in Palo Alto!