Grow Your Own Sprouts with Nourishing Matters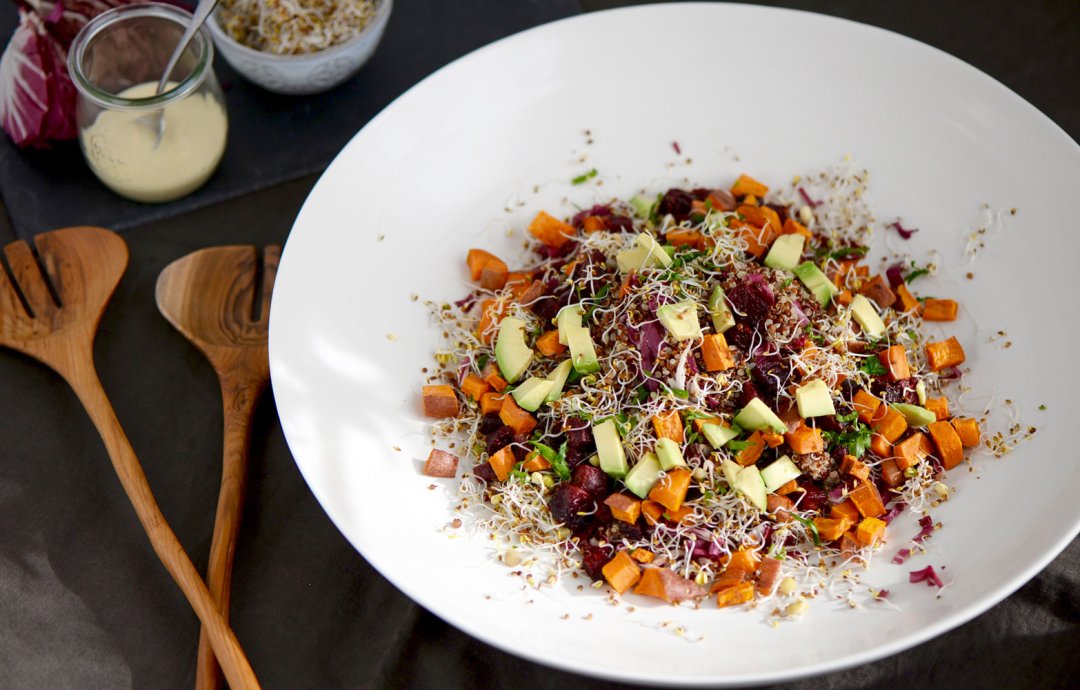 As the new year begins, we're refreshing our recipe collection with simple, nourishing, and delicious dishes to enjoy every day. With this goal in mind, we teamed up with wellness expert and health coach Emily Watson of Nourishing Matters. Through her blog, Emily shares inspiration that makes healthy living a lifestyle, not a chore. Over the next few weeks, she'll be sharing four recipes that inspire healthy habits in the kitchen. Last week, she focused on breakfast with her recipe for overnight oats; today, she's putting the spotlight on sprouts with grow-your-own tips and a winter salad.
Emily says, "Growing your own vegetables is one of the best ways to incorporate healthier foods into your diet. By participating in the growing process, you feel more connected to your food and more excited to eat it. Unfortunately, cold winter weather makes gardening nearly impossible, and let's face it, not all of us have a green thumb (me included!), or the space to garden. Which is why I love sprouts. Sprouts are foolproof and low-maintenance, growing in 3-4 days right on your countertop."
To prepare sprouts at home:
1. Soak the seeds in water overnight at room temperature
2. In the morning, rinse and drain the seeds
3. In the evening, rinse and drain the seeds
4. Repeat this process for 3-4 days, or until the sprouts have matured to your liking
5. Once matured, place the well-drained sprouts in a container in the refrigerator
"For the longest time, I used a jar and perforated lid for sprouting, but I wanted a mix of sprouts always at-the-ready. This Stacking Sprout Grow Kit makes that possible. I can now grow three types of sprout mixes all at once, or I can stagger the growth in the three trays so that I always have fresh sprouts on hand.
"While I love sprouts for their extraordinary flavor, they also boast an impressive nutritional profile. Sprouting seeds, such as alfalfa or broccoli, and legumes, such as mung beans and lentils, activates the dormant nutrients stored within, improving their nutrient composition (and our absorption of them) dramatically compared to the cooked and unsoaked versions. Richer in vitamins, fiber, and anti-aging antioxidants than their virgin counterparts, they're also a deliciously unique source of protein for those on plant-based diets.
"I often dress sandwiches and even nori rolls with sprouts, but my favorite way to use them is in grain salads. Grain salads are a lunch go-to for me, as I can make them ahead of time, and sprouts are my filling protein source. In this mix, I combine sprouts with quinoa and two winter root vegetables, beets and sweet potatoes. I use sprouts from the 5 Part Seed Mix that's included in the kit (sweet and nutty alfalfa, earthy mung beans and lentils, and spicy radish and broccoli), but feel free to use any sprouts you'd like. Tossed in a tahini dressing, it's a salad that you'll feel wonderful eating."
Winter Quinoa and Sprouts Salad with Tahini Dressing
Serves 4
1 1/4 cups water
3/4 cup quinoa
1 medium sweet potato, diced
1 medium beet, peeled and diced
2 teaspoons olive oil, divided
1 small head radicchio, cored and thinly sliced
1 1/2 cups mixed sprouts of choice
1/4 cup roasted sunflower seeds
Salt and pepper, to taste
Tahini Dressing
1 garlic clove, minced
2 lemons
2 tablespoons tahini
2 tablespoons extra-virgin olive oil
2-3 teaspoons water, depending on desired thickness
Salt and pepper, to taste
Cook quinoa: Bring water to a boil. Add quinoa, return to boil, and reduce heat to simmer. Cover and cook for 20 minutes. Remove from heat, and allow to rest 10 minutes.
Roast sweet potato and beet: Preheat oven to 400 degrees Fahrenheit. Toss sweet potato with 1 teaspoon olive oil and salt and spread in single layer on pan. Toss beet with 1 teaspoon olive oil and sprinkling of salt, then wrap cubes in aluminum foil and place on same baking sheet as potato. Roast for 25 minutes or until sweet potato and beets are tender.
Make dressing: In small jar or mini food processor, mix garlic clove, zest of 1 lemon, juice of 2 lemons, tahini, extra-virgin olive oil, 2-3 teaspoons water, and salt and pepper to taste. Blend until smooth and creamy.
Assemble salad: Mix quinoa, sweet potato, beets, radicchio, sprouts, and about half of dressing together. Toss with sunflower seeds and drizzle with remaining dressing as desired.
Find more from Emily at Nourishing Matters or via Instagram @nourishingmatters, and stay tuned for more recipes in the coming weeks!
You May Also Like: