Overnight Oats with Nourishing Matters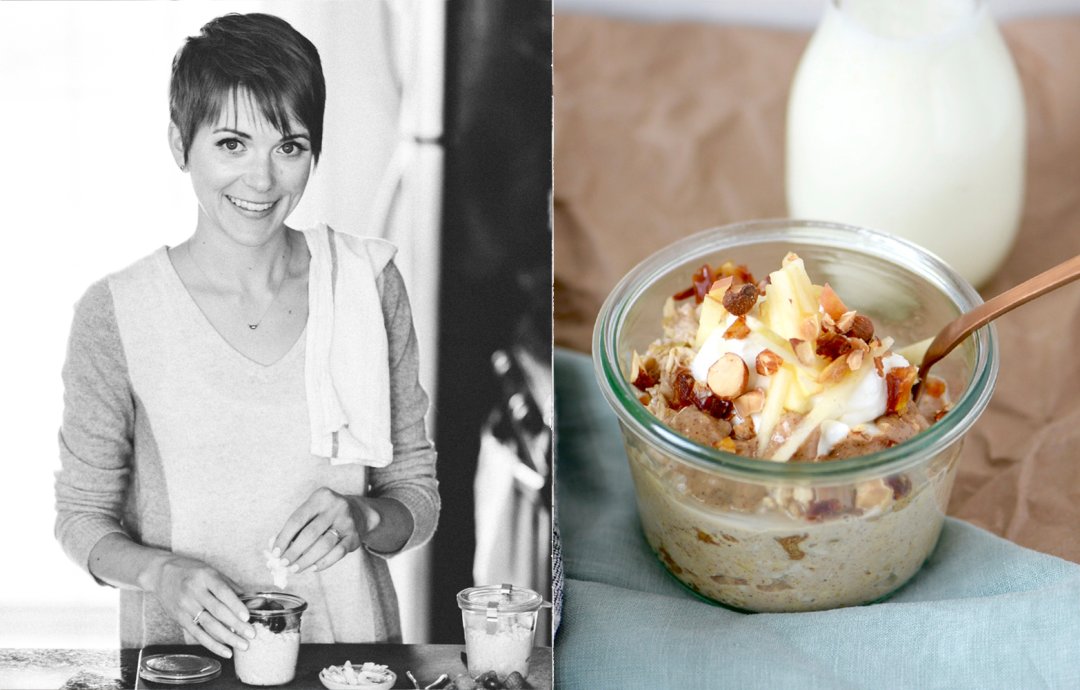 As the new year begins, we're refreshing our recipe collection with simple, nourishing, and delicious dishes to enjoy every day. With this goal in mind, we teamed up with wellness expert and health coach Emily Watson of Nourishing Matters. Through her blog, Emily shares inspiration that makes healthy living a lifestyle, not a chore. Over the next few weeks, she'll be sharing four recipes that inspire healthy habits in the kitchen. First up, a perfect dish to start the day: naturally sweetened overnight oats in our favorite Weck jars.
Emily says, "What's even better than making a list of New Year's resolutions? Achieving them. Over the years as both a holistic health coach and resolution maker, I've learned that the goals I'm most successful at attaining are those that are easy. While I love that "eat healthier" may be on everyone's list of 2017 will-do's, how do you make healthy happen? One little change at a time. I'm excited to share my favorite tips for making better choices in the kitchen. Totally achievable (and delicious!), they give you momentum to incorporate other healthy changes as the year goes on.
"I'm a believer that if you make breakfast happen, you make healthy happen. A good morning habit leads to more intentional food choices throughout the day, and make-ahead breakfasts ensure a nutritious, metabolism-boosting start despite the inevitable A.M. rush. Overnight oats are my favorite because I can assemble a big batch on Sunday for the whole week. Mix rolled oats with a liquid of choice, fruit, healthy fats, and a little yogurt then pour into Weck jars and allow the mixture to soak overnight in the refrigerator.
"In this recipe, grated apples lend sweetness along with immune system and skin-boosting vitamin C, while almond butter's healthy fats offer even more staying power. If a cold breakfast is too chilly for winter, just leave out the yogurt, pop the unlidded Weck jar in the microwave, and dollop yogurt on top right before eating."
Apple, Date & Almond Butter Overnight Oats
Makes 2 servings
1 cup rolled oats
1 cup milk of choice (plant-based or dairy)
1 small apple (such as Gala), seeds removed and grated on a box grater
1/2 teaspoon ground cinnamon
2 tablespoons almond butter
3 Medjool dates, pitted and finely chopped
Pinch of sea salt
1/4 cup 2% Greek yogurt
Mix all ingredients but Greek yogurt together in a medium bowl. Divide into two 12.5-ounce Weck jars and dollop 2 tablespoons of Greek yogurt atop each serving. Cover jars and place in refrigerator for 8 hours or overnight to thicken. Oats last up to 5 days in the refrigerator.
Find more from Emily at Nourishing Matters or via Instagram @nourishingmatters, and stay tuned for more recipes in the coming weeks!
Photo credits: Grace Dickinson (left); Emily Watson (right).
Overnight oats by nourishing matters are the answer to TWO of your New Years resolutions: the first is to eat a healthy breakfast and the second is to show up to work on time!!