A Wheat Berry + Citrus Bowl with Nourishing Matters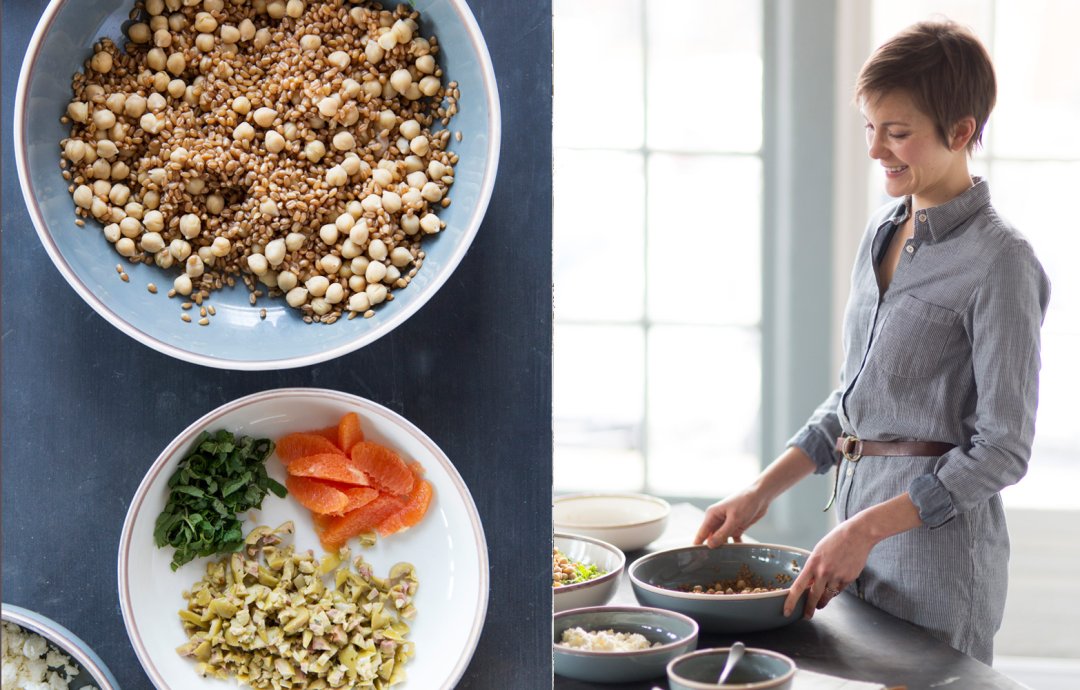 Throughout the winter months, we're refreshing our recipe collection with simple, nourishing, and delicious dishes to enjoy every day. With this goal in mind, we teamed up with wellness expert and health coach Emily Watson of Nourishing Matters. Through her blog, Emily shares inspiration that makes healthy living a lifestyle, not a chore. In recent weeks, she shared her recipes for overnight oats and a quinoa salad with home-grown sprouts. Now, she's created a protein-packed grain bowl topped with sunny citrus.
Emily says, "Grain bowls are my saving grace when it comes to making healthy lunches for the work week. Despite their formulaic structure of grain + protein + vegetables/fruits + healthy fats + dressing, I never get tired of them. By letting the seasons and farmers' markets dictate the flavors, I enjoy a natural ebb and flow of ingredients and combinations. For example, I use cooked or roasted vegetables and fruits, like squash, beets and apples, during the cooler months, and raw or lightly cooked ones, like cucumber, tomatoes and corn, as the weather warms.
"Furthermore, a whole new dish can take shape when you switch up the grain or protein. Tiny quinoa seeds contribute a mild texture and flavor compared to nutty, chewy wheat berries or spelt berries. Similarly, lentils or chickpeas lend a Mediterranean spin to a dish, while sauteed tempeh or edamame offer Asian flavor. As you get comfortable with a few tried-and-true bowls—like this recipe—you can begin to explore new combinations. The wonderful thing about grain salads, in addition to being loaded with nutrients, is that they get better as they sit. The dressing permeates the grains, and the ingredients marry in a way that makes Wednesday's lunch even better than Monday's.
"For this recipe, I was inspired by winter citrus and the classic Sicilian combination of orange, olives, and mint. I tossed sweet-tart oranges with briny olives, hearty wheat berries, creamy chickpeas, and buttery walnuts. I love how kale plays so nicely with chickpeas and creates little spaces to hold the orange-kissed dressing. Local feta is such a treat, so if you're able to track it down, I recommend adding it for an extra salty punch. Combine everything in a big, beautiful bowl, and you've got lunch for days."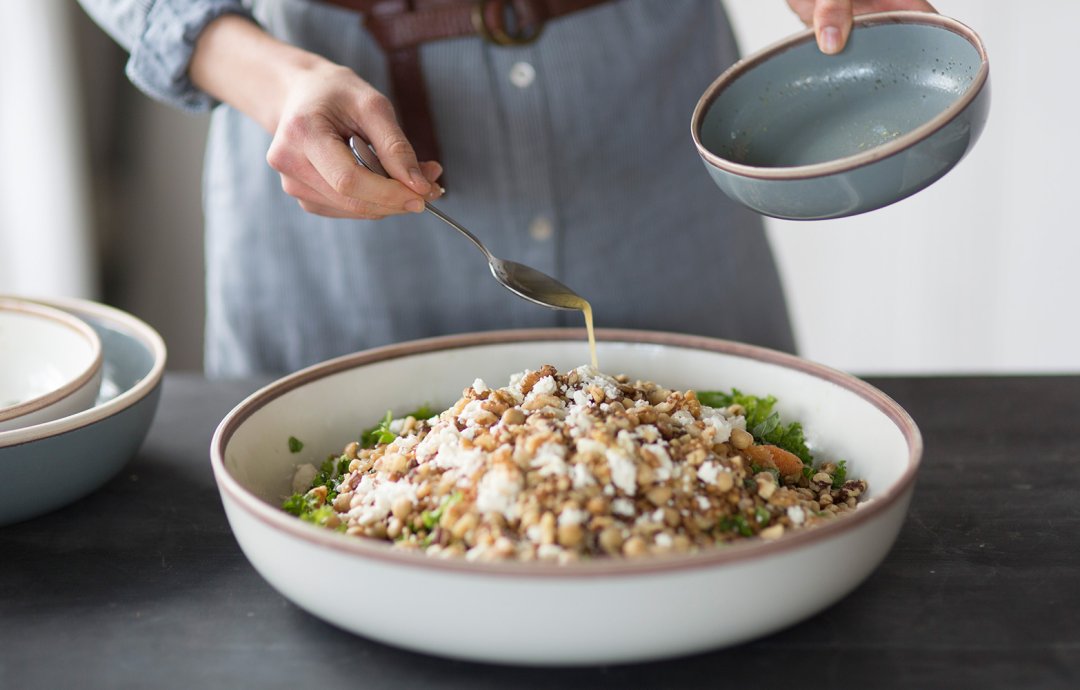 Wheat Berry Salad with Kale, Orange, and Olives
Serves 4
1 cup wheat berries, uncooked
4 cups water
1 large orange, peeled
2 tablespoons white wine vinegar
1 teaspoon Dijon mustard
2 1/2 tablespoons extra virgin olive oil
1 bunch curly kale, stems removed and leaves chopped into bite-sized pieces
1 15-ounce can chickpeas (or 1 1/2 cups cooked)
1/2 cup kalamata or cerignola olives, pitted and finely chopped
1/3 cup mint leaves, thinly sliced
1/3 cup crumbled local feta cheese
1/2 cup chopped walnuts, toasted
Salt and freshly ground black pepper, to taste
Bring water to boil and add wheat berries. Simmer over low heat for 40-50 minutes or until tender with a little chew. Remove from heat and drain.
Meanwhile, prepare orange pieces and make dressing. Supreme orange over a bowl by running knife along each side of the membrane separating the segments, releasing segment (without membrane) and any juices into the bowl. When done supreming all segments, squeeze 2 tablespoons orange juice from remaining orange into another bowl or jar to make the dressing. Add vinegar, mustard, olive oil, a generous pinch of salt, and freshly ground black pepper. Whisk or shake well to combine.
In another bowl, massage kale with 1 tablespoon dressing until very tender, about 30 seconds. Add chickpeas, cooked wheat berries, olives, mint, and remaining dressing. Chop reserved orange supremes into smaller pieces and add to salad with bowl juices. Toss everything together to combine well. Sprinkle feta and walnuts over top and toss gently to combine. Season to taste with salt and pepper before serving.
Find more from Emily at Nourishing Matters or via Instagram @nourishingmatters, and stay tuned for more recipes in the coming weeks!