3 Hearty Toasts with Nourishing Matters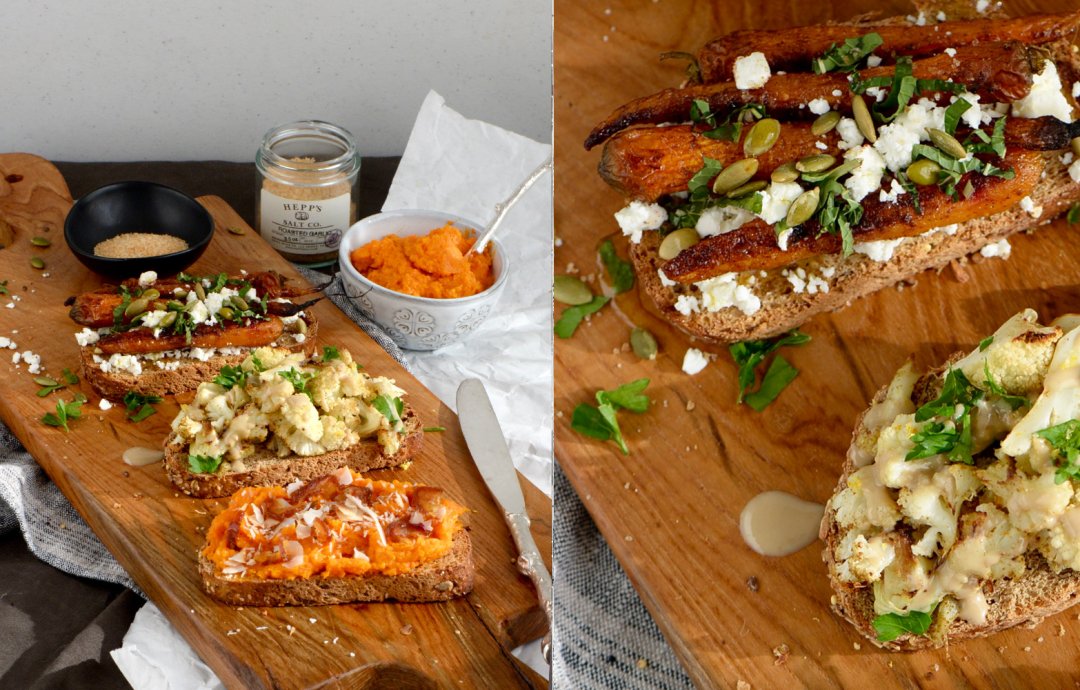 Throughout the winter months, we're refreshing our recipe collection with simple, nourishing, and delicious dishes to enjoy every day. With this goal in mind, we teamed up with wellness expert and health coach Emily Watson of Nourishing Matters. Through her blog, Emily shares inspiration that makes healthy living a lifestyle, not a chore. In recent weeks, she shared her recipes for overnight oats, a quinoa salad with home-grown sprouts, and a protein-packed grain bowl with sunny citrus. For her final recipe, she's talking toast.
Emily says, "Bread is one of the first items eliminated when people revamp their diet. Bread, however, can play an important supporting role in a whole foods meal plan. The refined flours and added sugars of standard white bread are nutritional negatives, but whole-grain breads offer fiber, protein, and other micronutrients like iron and magnesium that the body needs. (And fortunately for those who suffer from gluten sensitivity, celiac disease, or have a wheat allergy, there are plenty of gluten-free bread alternatives now available.) The trick to making whole-grain slices do double nutritional duty is to rethink the butter and jam habit and pile on the vegetables instead. In the cooler months, that means roasted vegetables, nuts, and seeds. When it's warm, it's all about fresh vegetables and loads of herbs.
"Below, I've shared my favorite winter combinations—sweet, savory, and a little bit of both—for topping whole grain toast. Butternut squash mashed with coconut butter and dates is like dessert but better for you, cumin-laced cauliflower with tahini and roasted garlic salt is earthy and satisfying, and Moroccan-spiced carrot with a punchy local feta is as pretty as it is addicting.
"Make a batch of these roasted vegetables over the weekend, and a delicious, plant-based dinner comes together in about as long as it takes to toast bread."
Winter Toast, Three Ways
Butternut Squash with Dates & Coconut
Cut a butternut squash in half (no need to peel) and remove the seeds. Rub the cut side with olive oil or coconut oil and roast, cut side down, at 400 degrees for 50 minutes or until super tender. Scoop squash flesh out into a bowl and mash with 3-4 tablespoons coconut butter and a pinch of flaky sea salt, then spoon onto toast. Top with extra toasted coconut flakes and sliced Medjool dates.
Smoky Cauliflower with Roasted Garlic Salt & Tahini
Roast cauliflower florets with a generous pinch of cumin, ground coriander, and olive oil at 400 degrees for 30 minutes. Drizzle toast with tahini, top with cauliflower, drizzle with more tahini, and sprinkle with roasted garlic salt, fresh parsley, and a little lemon zest.
Moroccan Roasted Carrots & Feta
Roast whole, peeled carrots with a generous pinch of smoked paprika, a drizzle of maple syrup, and a splash of olive oil at 400 degrees for 40 minutes or until tender. Top toast with roasted carrots, local feta, and toasted pumpkin seeds.