New Year's Eve Cocktail: Panettone Punch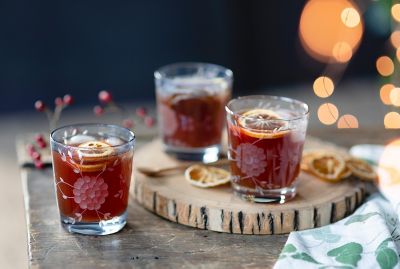 Whether you're hosting friends and family for Christmas day or New Year's Eve, delicious spirits are always a festive way to get the group into the holiday spirit! We tapped our beverage director Steve Wildy to create a festive, fun punch that you can make for two or batch for a big group.

Steve says, "this super simple recipe is perfect for Christmas Eve: it evokes the uniquely complex flavors of Italian confectionery treats that are popular through the holiday season, it's a snap to make (the recipe is very forgiving so if you are in a hurry with last minute tasks you can free pour the ingredients), and it is low proof, so it won't put a damper on your following morning!"

Panettone Punch (makes one drink)
3oz Fresh Squeezed Blood Orange Juice (in season early winter through early Spring)
.5oz Amaretto - important to try to find a high end option like Lazzaroni or Luxardo to really capture flavor of Italian holiday cookies
.5oz Cynar - a classic Italian Amaro that can be found in most well-stocked liquor stores.

Pour all ingredients over ice in a short rocks glass and give a quick stir, garnish with candied citrus or a blood orange pinwheel. For batches, use one part each liqueur and six parts fresh blood orange juice.