New Spring Dishes From Our Garden Cafes
As soon as the weather starts heating up, we start craving light meals made with fresh ingredients - thankfully, our talented terrain café chefs agree and have been working hard to create some new spring plates for you. We caught up with Jes Bengston at Westport, Steve Linneman at Palo Alto, and Ryan Bloome at Styer's to get the dish on what delicious flavors they've cooked up for the season.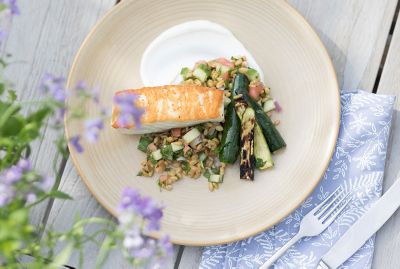 Jes Bengston, Chef, Terrain Café Westport: This dish is a brain child of myself and our culinary director, Steve Linneman. I have never worked with freekeh before but Steve had the wonderful idea to use it as an alternate grain with traditional tabbouleh. Pairing a light fish with a light grain salad is perfect for this time of year especially with tomato season right around the corner - and the preserved lemon yogurt just ties everything together so wonderfully. The real hidden gem in this dish is the hazelnut dukkah (another pairing from Chef Linneman), which is hazelnuts toasted with a bold spice mixture.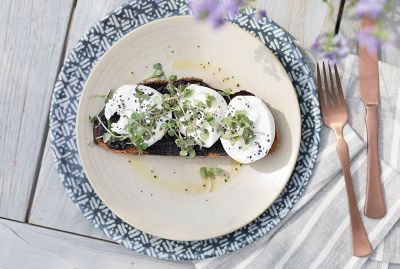 Steve Linneman, Terrain Café Culinary Director: For the burrata toast at Palo Alto we actually cook garlic bulbs at 150 degrees for 21 days so that when it comes out, it has this beautiful deep black color with really interesting flavors. It's pretty pungent so the mild creaminess of the burrata really helps mellow out the garlic. It's served with black sea salt and microgreens as a small plate or appetizer.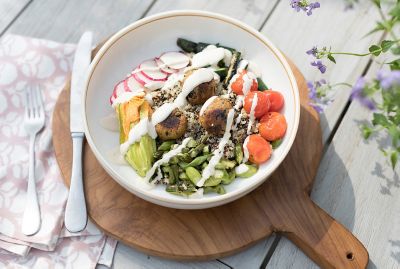 Ryan Bloome, Chef, Terrain Garden Café Styer's: The harvest bowl is really just taking multiple fresh vegetables and grains and sauces and putting it together for a hearty one bowl meal. My favorite part of this dish is the tahini drizzle - fresh lemon juice and garlic is so simple, easy, and light! This is really just a beautiful way of showing off seasonal vegetables.
You May Also Like: