New in the Nursery: Surprising Scale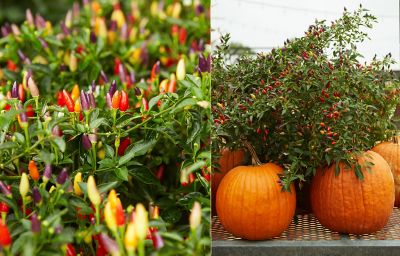 Alongside an abundance of colorful pumpkins, lots of new ornamental plants are arriving in our autumn nursery. Perfect for brightening the doorstep and tabletop, these fresh arrivals have a unifying feature: unexpected scale. Tiny evergreens and extra-large peppers are two of our newest fall favorites -- read on to learn more.
Ornamental Peppers: Locally grown in Pennsylvania at a family-run nursery, these oversized ornamentals provide striking scale and a burst of color for the autumn entryway. We love to showcase a pair on either side of the door, mixed with decorative varieties of cold season vegetables like cabbage and kale. Ornamental peppers get their rainbow hues thanks to fruits that age at different times, transitioning from bright yellow and orange to deep red and purple. While these plants can be remarkably productive, these peppers are best passed over during the harvest; because they're grown for aesthetics, their flavors lack complexity and can be quite spicy.
Mini Conifers: At the opposite end of the scale spectrum, tiny evergreens are quickly becoming our favorite additions to harvest and holiday décor. Hardy and long-lasting, these petite pines will bring evergreen color to indoor and outdoor displays all the way through winter. Try gathering a few of these tiny, versatile trees in a long trough for a forest-inspired centerpiece, or creating a row of unique specimens on the mantel. Available in pot sizes from 2" up to 1 gallon, mini conifers are actually young specimens of regular-size trees and shrubs, including lemon cypress, arborvitae, Ellwood's blue cypress, and more. After the holiday season, they can be planted outdoors and grown to full size.
Throughout the year, our plant team highlights their freshest additions to the garden with New in the Nursery. Check in at your local store to take home these newly-arrived plants.