New in the Nursery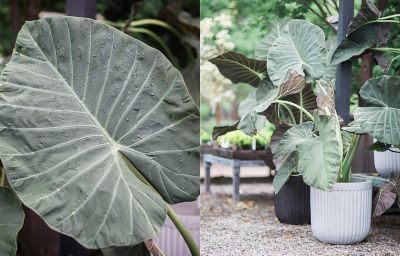 As summer comes to the garden, our nursery at Styer's is stocked with new arrivals in all shapes and sizes. We recently took a morning stroll to get a closer look at these fresh faces, from colorful cacti to leafy Alocasia. Read on to learn about four of our favorite new arrivals.
Alocasia: Above, the broad leaves of Alocasia 'Regal Shield' make a large-scale statement in deep green. Commonly known as "Elephant's Ears" thanks to the shape of their leaves, these tuberous perennials are native to tropical regions of Asia and eastern Australia. Ideal for container plantings in shady locations, these architectural specimens can grow up to 15 feet tall. They're perfect for making a tropical statement on the patio in summer, but should be moved indoors during the cooler months.
Gaura: Commonly known as "Bee Blossom," this dainty perennial offers continuous blooms all summer long. A North American native, its nectar-rich flowers in shades of white and pink attract butterflies to the garden. Gaura is a remarkably hardy addition to the landscape; it's deer-resistant and tolerant to heat and drought. Growing 2-3' tall, it mixes well with all types of plants and suits a variety of garden styles. To encourage new waves of blooms, cut back older flower stalks as they fade.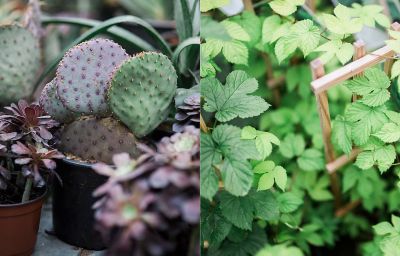 Opuntia: This structural, edible member of the cactus family is commonly known as prickly pear. Native to arid regions of the Americas, it's also called nopal, from the Nahuatl word that describes its characteristic paddles. Able to thrive in hot and dry conditions, its flat, circular cladodes make a graphic centerpiece for low-water container plantings. From late spring through early summer, Opuntia is topped with striking blooms in brilliant shades that range from yellow to red.
Hops: Not just for brewing beer, hops (Humulus lupulus) also make a unique ornamental for the summer garden. These vigorous climbers have been grown by brewers since the 9th century, but their abundant foliage is now one of our favorites for adding green to the landscape. Ideal for planting near a trellis or fence, hops will grow to a height of 12-15' in full sun to partial shade. In midsummer, flowers in shades of chartreuse and cream appear on the vine.
Throughout the year, our plant team highlights their freshest additions to the garden with New in the Nursery. Check in at your local store to take home these newly-arrived plants.