New in the Nursery: An Indoor Plant Delivery from Florida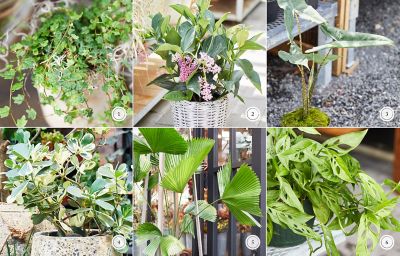 As temperatures begin to drop, we start turning our gaze from our outdoor gardens to our indoor greenery. Keeping our living space vibrant, lush, and full of life as the leaves outside begin to brown is one of our favorite ways to celebrate autumn - and with a fresh new arrival of indoor plants to our nurseries, we couldn't wait to share our favorites. We chatted with Kerry Ann M. from our green goods team, to get the scoop on why each one is special.

1. Ficus pumila 'Quercifolia': A cute-as-a-button creeping ficus with a unique leaf shape reminiscent of ivy or oak, that can work alone as a specimen plant cascading over any small vessel or a groundcover to a larger specimen houseplant.

2. Medinilla myriantha: The Maylasian orchid isn't an orchid at all; however, it is semi-epiphytic and should be grown in very loose soil amended with wood bark and kept evenly moist at all times. The flower is long lasting, impressive to look at, and shade tolerant - making it perfect for indoor cultivation.

3. Alocasia zebrina 'Tigrina Superba: While this alocasia's leaves point skyward, it's the amazing striped stem that has our attention.

4. Clusia rosea 'Variegata': Can grow into a small open tree form. Common name is Autograph Tree because the leaves will retain any shape etched/pressed into them for as long as the leaves stay on the tree. Paddle-shaped fleshy mint green leaves with a creamy variegation will add substance and brightness to any indoor space.

5. Licuala grandis: Exceptionally graphic and strikingly unique, the ruffled fan palm captures and plays with light unlike any other palm. A perfect addition to a sunroom as fall sets in.

6. Monstera obliqua: Cousin to the well-known Monstera deliciosa, let this finer leaf form monstera climb, trail, ramble, creep or flutter about. This little guy wants to go and show off its perforated leaves in your home.

Ready to grow your indoor plant collection? Contact your local terrain store to check on availability near you!
You May Also Like: