New in the Nursery: Clematis + Tree Peonies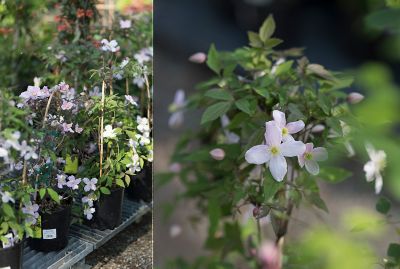 Once the weather warms up, the terrain nurseries transform into a riot of vibrant colors and lovely scents - visiting us in May is truly a multi-sensory experience, with all the newly blooming flowers around! We caught up with Kerry Ann M. from our green goods team to hear why she thinks the clematis and tree peonies we have right now should be a gardening go-to.
Kerry Ann says, "clematis can fit into almost any garden style. Use them to loosely weave in and out of shrubs for a natural look, to boldly climb tudors for a classic look, or to romantically tumble over walls for a Victorian look." Additionally, "their twining leaves allow them to grab onto the thinnest of supports and use their own stems to build upwards on. And when in flower, the abundance of their blooms and the color saturation of every flower can be awe inspiring!" If you're looking to add clematis to your own garden, she explains that "there are three pruning groups: group 1 clematis blooms in spring on last year's growth (to control size, prune after flowering); group 2 blooms in early summer and sporadically throughout the year (to keep neat, lightly prune off excess); group 3 clematis blooms in fall (hard prune in spring before new growth emerges)."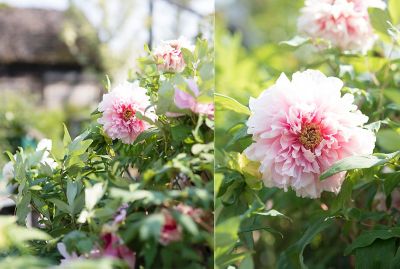 "Tree peonies are probably the most recognized flower associated with horticultural exoticism and luxury but is not actually tropical," Kerry Ann says. "They're native to China and prefer the more temperate goldilocks zones of 4-9 (not too cold and not too hot). Their flowers are large, vividly colored, incredibly diverse, often multi-petaled and intoxicatedly fragrant. Plant in well-draining, humusy soil; provide lots of morning and early afternoon light; and do not prune until after flowering (plants bloom on last year's growth or old wood). Every plant is a specimen - this is an ideal collector's plant or a plant that should be situated where it can be adored!"
Feeling inspired by these new beauties? Contact the local terrain store to check on availability near you!