Natural Nests for Spring
Nests are popping up in every corner at Styer's this spring, offering a whimsical addition to the season's décor. From blooming baskets to floating displays, twiggy nests are the simplest way to welcome a time of new beginnings. Display Coordinator Beth C. says, "This year, our natural Easter looks feature nests as a unifying theme." Read on for a look at some of our favorite nests from Beth, Visual Manager Jenny J., and Design By Terrain's Abby R.
Beth tells us, "The display above features several oversized nests, floating atop currents of dried grapevine on a tall, weathered branch. I filled the grapevine nests with hollow goose eggs, then accented each one with preserved heather, hydrangea, moss, and spring flowers. Coppery Stargazer lights lend a soft glow to the look."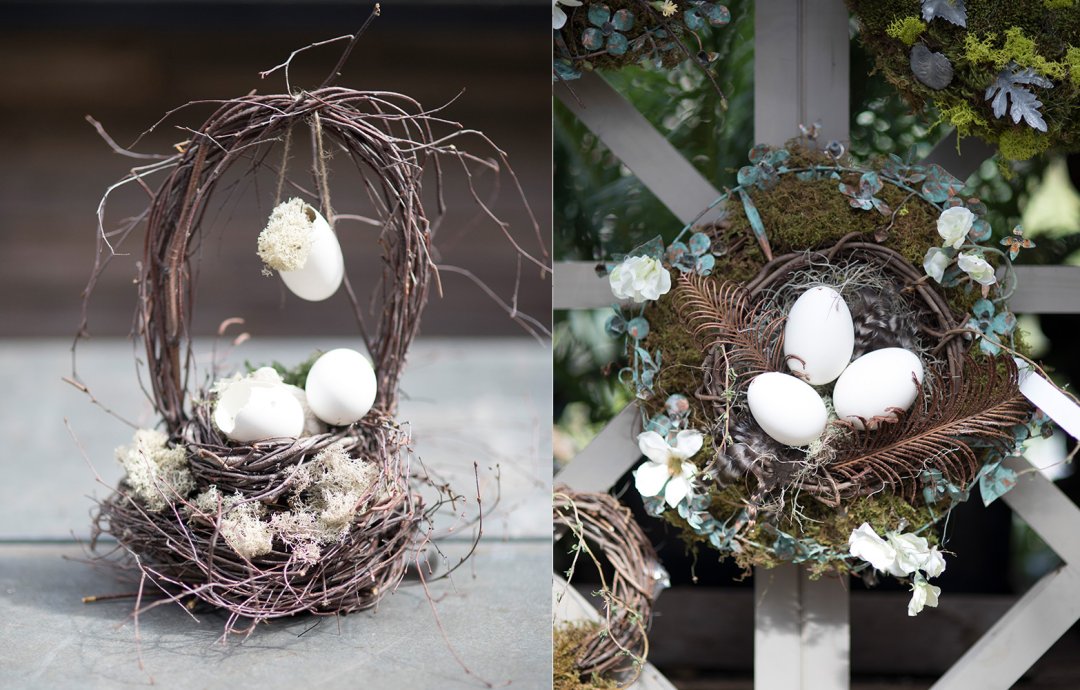 Jenny says, "For the design on the left, I started with our birch basket and a matching vine nest. I lined the nest with moss to hold a few hanging goose egg planters with the jute strings snipped away. I used another egg planter as a hanging centerpiece for the basket, then accented the look with tufts of preserved moss. You could also include a cement critter inside the nest, like the bird peeking out from behind the eggs here, for a touch of spring whimsy."
"At right, a nest wreath brings the natural beauty of spring to your doorstep," says Abby. "I created the base by layering a simple grapevine wreath with fresh moss and a second wreath of verdigris flowers. In the nest at the center of the wreath, a clutch of hollowed goose eggs is framed with feathers. I also foraged some dried fern fronds that mirror the look of the feathers, and added a few faux flowers as a finishing touch."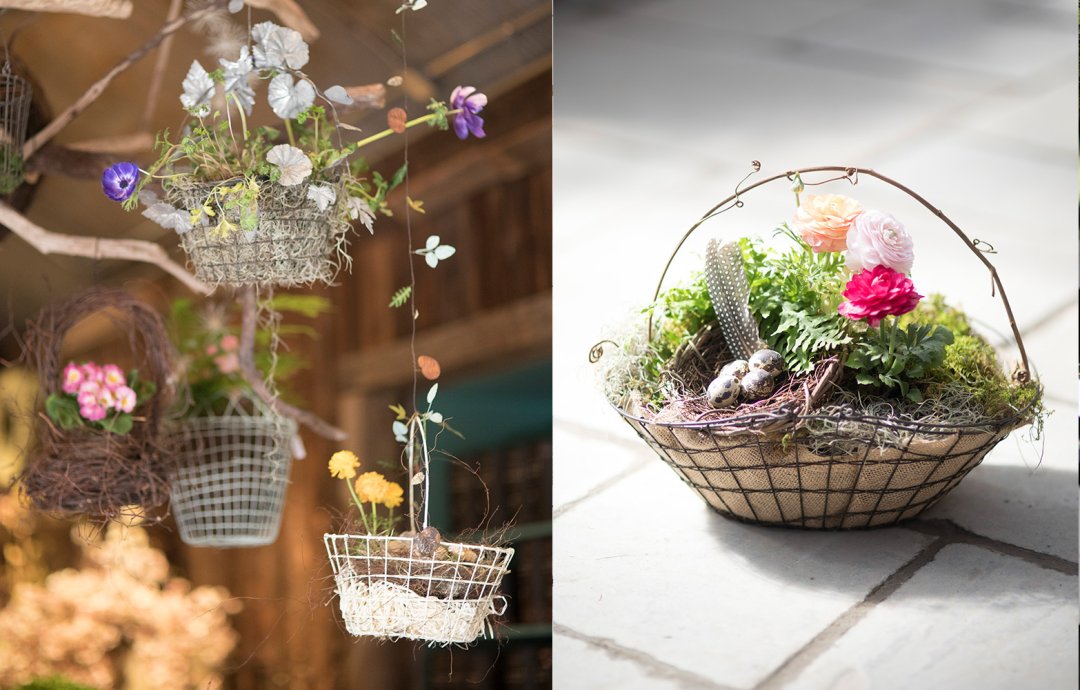 Beth says, "Above, I took an unconventional approach to the Easter basket with some natural plantings. Filled with nests of Easter grass and moss, a variety of baskets overflow with seasonal potted flowers. I used a few of our leafy metal garlands to hang some baskets for an airy spring display."