A Custom Candle to Make & Give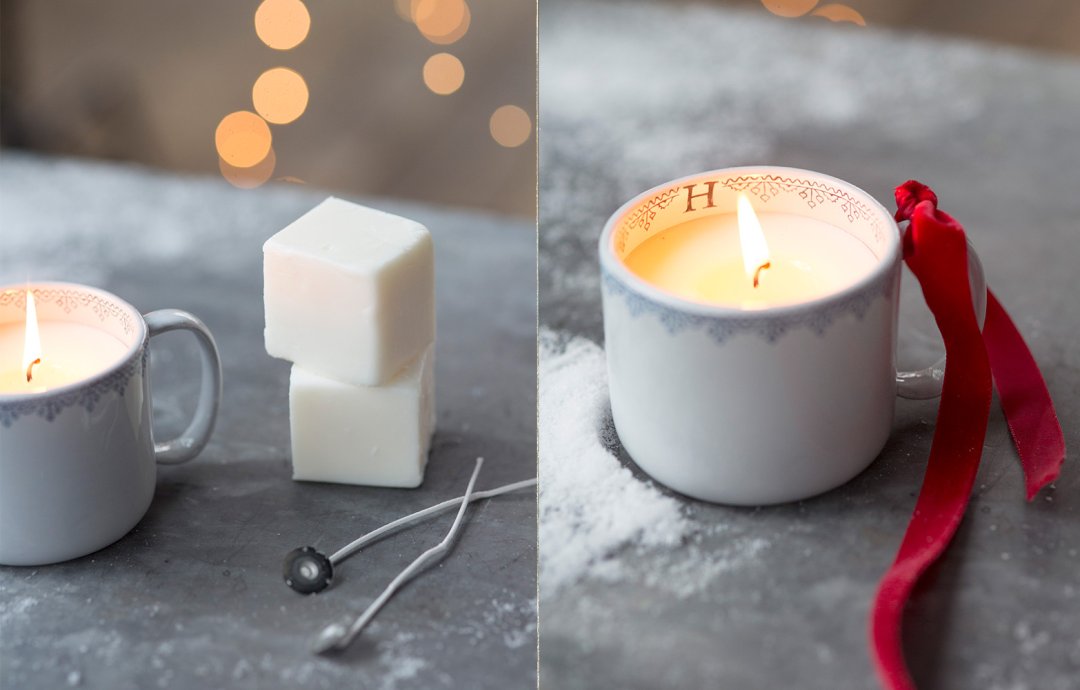 This Christmas, we're crafting merry monogrammed gifts for friends and family with a little help from our new candle making kit. Scented with refreshing Grapefruit & Pine or wintry Evergreen, this clever kit includes all the tools needed to pour custom candles into containers of any shape or size: cubes of soy wax, glue dots to attach the wicks, and detailed instructions. All you need to add is your favorite vessel. For a personalized touch, we chose the Nordic Monogram Mug to pour our candles. Here's how they're made:
1. Start by measuring the volume of the mug by filling with water from a kitchen measuring jug, then select the right number of 4 oz. wax cubes to fill it. Make sure the mug is clean and dry.
2. Glue the wick at the center of the mug.
3. Melt the wax cubes. We recommend using a pyrex measuring jug on low heat on an electric stove or microwave, or a heavy-bottomed pot on a gas stove. If using a microwave, heat for 60 seconds at a time to avoid overheating. 60 seconds is enough time to melt one 4 oz. cube of wax. Once fully melted, allow the wax to cool until slightly opaque.
4. Pour the melted wax into the prepared mug. Let sit for at least 24 hours before use. Trim the wick to 1/2" above the wax, and clean away any excess wax from the rim of the mug. Accent with a loop of ribbon before gifting.