Our Monoculture Planting Guide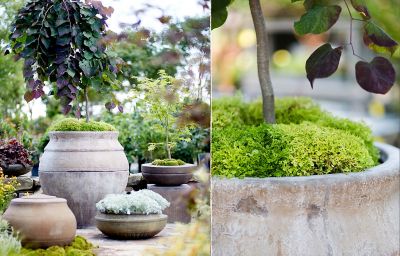 With a new collection of large-scale, cast stone planters joining our nursery, we're taking the opportunity to showcase a statement-making option for container gardens. We gathered a group of vessels and filled them with monoculture plantings, highlighting a singular specimen in each container. Together, these simple plantings provide a curated mix of colors and textures while simplifying the planting process. A group of monoculture plantings is ideal for novice gardeners, since each container requires a care routine for just one type of plant, and unsuccessful plantings can be easily replaced. However, experienced gardeners will also love the opportunity to show off favorite or unusual specimens. Read on for a guide to the plants in our container garden.
Above, a soft bed of Selaginella serves as the base for an Eastern Redbud inside a tall urn, showcasing the rich color and unusual heart shape of its foliage. Redbuds provide all-season interest, with a profusion of rosy blossoms in April followed by deep green leaves that turn yellow in autumn. The largest plant in our grouping, the Redbud serves as a focal point and brings height to the collection.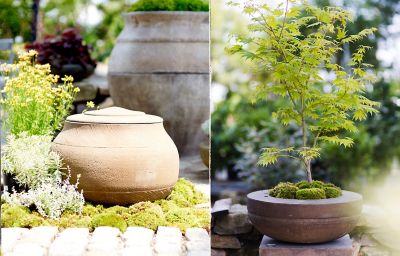 At right, another mossy base is found below a Japanese maple in a wide-rimmed bowl. A monoculture planting is ideal for this petite tree, spotlighting the lacy texture and vivid green color of its foliage. Mirroring the shape and planting style of the Redbud, the maple brings symmetry to the grouping along with a pop of color. As the tree grows larger, it can be transplanted into a permanent location and replaced with a new specimen. Opposite, an unplanted jar with a matching lid provides an eye-catching shape and contrasting texture for soft moss.
At left, Artemisia 'Silver Mound' (commonly known as Mugwort) complements a low bowl planter with ridged detailing. A mounding habit makes this resilient plant perfect for a monoculture setting, since it beautifully fills a container with delicate foliage. Artemisia is also ideal for gardeners seeking a low-maintenance plant, since it requires limited watering and is resistant to deer, rabbits, and other garden pests. In our grouping, its cloud-like foliage invites the eye downward with a burst of silver.
At right, deep burgundy Heuchera rounds out our container garden in a simple bowl. Commonly known as Coral Bells, this foliage favorite can be found in shades from vibrant chartreuse to near-black purple. We chose the saturated red above to highlight the crimson accents of the Redbud, drawing the monoculture grouping together.