Perfect Pair: Metal Wreaths + Botanical Accents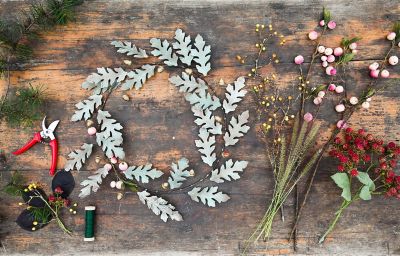 Newly arrived for autumn at home, a collection of pressed metal wreaths is sparking our creativity this season. Striking without adornments, these simple circlets also welcome the addition of foraged fresh cuts and faux stems. With ample space among the metal flowers and foliage, it's easy to create countless wreath looks for the changing seasons. Below, stylist Alli M. shares how she embellished the new Verdigris Oak & Acorn Wreath for fall.
Alli says, "To start, I headed into the garden and gathered a few clippings of my favorite fall foliage plants; I collected purple beech leaves, sprays of fountain grass, and sprigs of shortleaf pine. Back inside, I snipped some pieces from faux branches and berry stems. Using floral wire, I created tiny bundles of my foraged and faux cuttings, then anchored them to the frame of the wreath. As the seasons progress, I'll swap out the adornments with fresh finds from the landscape."