Meet Supergoop Founder Holly Thaggard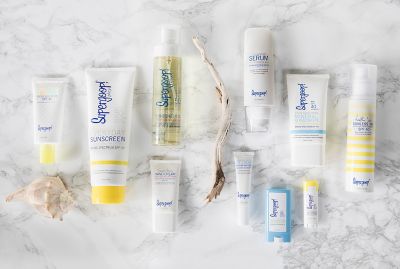 As with so many entrepreneurial success stories, Holly Thaggard founded Supergoop out of necessity - there's nothing more necessary than the health of your loved ones. Holly was in her early 30s when a close friend was diagnosed with skin cancer. At the same time, another friend was finishing her dermatology residency and explained to Holly that daily incidental sun exposure at a young age is cumulatively damaging to our skin. Yikes.
True to Holly's optimistic spirit, this string of bad news did little to discourage her. Instead, she used it as motivation to fuel what's now become a lifelong commitment to safe, healthy suncare. After thorough research, she learned that the number one reason people don't wear sunscreen is because it doesn't feel good on the skin. With that, she was inspired to create a sunscreen formula that's full of clean, safe ingredients - "an SPF that people would want to wear everyday." And with that, Supergoop was born.

But the next chapter of the Supergoop story isn't so simple as the first bottle of their beloved Everyday Sunscreen SPF 50 hitting the shelves a few months after Holly's decision. To get the full story on how her initial plans for Supergoop had to evolve, we chatted with Holly herself. Read on to also learn how the brand got its name and which product Holly thinks you should always keep in the fridge.

terrain: Can you tell us a bit about your initial plans for Supergoop and how they've evolved over the years?

Holly: My vision for our brand has never changed. I set out in 2007 to change the way the world thinks about sunscreen. However, initially my concept was centered around putting Supergoop! in school classrooms across America. I had to pivot to retail as I found that schools just weren't yet ready to hear that it was their responsibility to take on this healthy habit. And in fact, only the state of California had actually carved out a policy to allow sunscreen on school campus! SPF products are considered, as they should be, over-the-counter drugs so in schools they are regarded as over-the-counter drugs, similar to Advil or Tylenol.

Now, the Supergoop! brand is actually most well-known for innovation in SPF. We know that daily SPF is the most important thing you can do for your skin, so we feel it is our job to help deliver the product to make this happen 365 days a year. No moisturizer or miracle serum in the world is as beneficial as basic sun protection. We embrace beautiful textures, clean ingredients and unique delivery systems a la our City Sunscreen Serum SPF 30.

terrain: We have to ask - how did you come up with the name Supergoop?

Holly: People aren't generally fond of sunscreen – they think it smells bad and feels gross. I wanted to create a sunscreen that people actually enjoy using. When testing lab samples for our first formula for Everyday Sunscreen SPF 50, I referred to the lotion as "goop", and once those samples checked all the boxes, we referred to it as "Supergoop!". The playful name stuck and I knew it was the perfect way to deliver a serious message. It was a very exciting time so I added an exclamation point!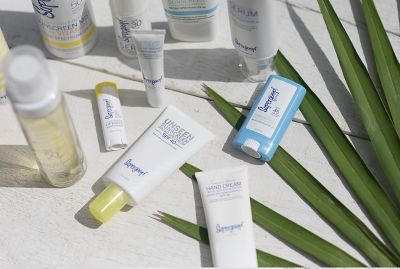 terrain: We love Supergoop because of your commitment to natural, chemical-free ingredients. Can you speak to the actives you use - how they can be healthy and still so effective?
Holly: We choose only the cleanest ingredients to nurture and protect your skin, and unlike other sunscreens out there, we've never used things like oxybenzone (a chemical that irritates skin, disrupts hormones and damages coral reefs) and we publish something that we call The No List, featuring over 100 ingredients and counting that we'll never use in our formulas. For me, it's never been about standing on a clean-ingredient soapbox but rather choosing to avoid ingredients that might give someone a reason not to apply (and reapply!) their SPF every single day. That said, we will not sacrifice product efficacy as there is no point if our formula doesn't do its job! We are today the only SPF brand that publicly discloses our efficacy testing results on our product pages found online.
terrain: Can you walk us through your morning sunscreen routine? Do you have certain products you love to layer?

Holly: I believe wholeheartedly in SPF-wardrobing. For body, I apply generously our Sun Defying Sunscreen Oil with SPF 50. It is lightweight, not a bit greasy and it leaves a beautiful glossy shine on the skin that instantly makes your skin look younger and healthier. Two or three times a week I opt for our Healthy Glow SPF 40 Sunless Tanner. It won't rub off on your clothes, has absolutely no scent and the most beautiful, natural color develops in just 2-3 hours. And it doubles as your daytime SPF too!

For face, I apply first our Advanced Anti-Aging Eye Cream SPF 37 to the complete 360 degrees around the eyes. We put this formula through ophthalmologist testing and it passed beautifully for even those that wear contact lenses. The area around the eyes is particularly vulnerable to sun damage (often the first place we see signs of aging!) and yet few people think to apply an eye-specific SPF formula.

Next, I layer our Skin Soothing Mineral Sunscreen SPF 40 which multi functions as my lightweight moisturizer. If I'm going to be swimming or sweating I will instead use our flagship product, Everyday Sunscreen SPF 50 on both my face and body and then I reapply with our airless, aerosol free Sunscreen Mist. What I love about this formula is that it cuts right through water so you don't even have to dry off when reapplying.

terrain: Do you have any Supergoop hacks you can share with our readers? Any special ways you like to use certain products that maybe would be new/useful to others?

Holly: Yes! We have lots of SPF hacks! Most of our team keeps our Sun Defying Sunscreen Oil in the shower. You can towel off lightly and mist all over before even stepping out of the shower. It's great particularly in the winter when you need a hydration boost. Our kiddos are 10 and 13 so we keep the Everyday Sunscreen family size pump by the front and back door as a great reminder to everyone in our family to reapply before leaving the house. And in the summer, we often throw our Sunscreen Mist with Vitamin C on ice so that it is cool and refreshing to reapply! I travel a lot so I keep our Advanced Anti-Aging Eye Cream SPF 37 in every bag and apply a few drops under my eyes before getting off of the plane. It is formulated with the mica minerals that give a very luminous appearance under the eyes, so it's a great pick me up after a long flight.
terrain: Thanks, Holly!
To bring the story full circle, Holly and the Supergoop team is launching a new giving project, Ounce by Ounce - a platform to fund SPF in schools. Their goal is to be in 1,000 classrooms in America this year.

This reminds us - it's time to reapply! Supergoop has you covered - literally. Check out our collection of the natural sunscreen products here.
Photo of Holly courtesy of Supergoop