Hand-Painted Paper Goods With Isa Salazar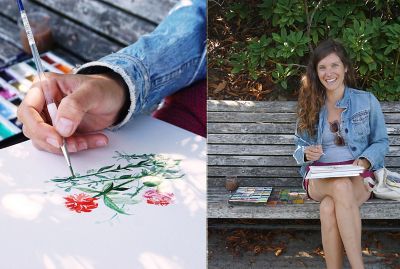 Since opening our first
terrain
store 10 years ago, we've had the pleasure of working with many talented and passionate plant enthusiasts, and it's always inspiring when they go on to start creative plant-based projects of their own. Our former senior photographer Isa Salazar launched
a collection of botanically inspired paper goods that she hand paints from nature and we're thrilled to carry a selection of her cards at terrain. Of course, we know we can't take complete credit for her artistic interest in the outdoors, so we sat down with the Portland-based painter and photographer to learn when her wildflower obsession began, where she feels most motivated to paint, and how her photography and illustrations influence each other.
terrain: Hi, Isa! Welcome back to terrain. We're so excited to learn more about the inspiration behind your stationery line. Let's start at the beginning - what first sparked your interest in flowers and plants?
Isa: I grew up partially on a small cattle farm in West Virginia, where wild flowers and hay cover the hills and fields, where nature walks are abundant, and where my parents (still) care for a beautiful vegetable garden. From about age ten to eighteen, my main interest was in pressing as many flowers as I could from the farm (likely influenced by my very cool older sisters!) - to me each pressed flower was a precious piece of art. I was very much captivated by the colors and visual beauty of different blooms.
terrain: We're curious - how did your time at terrain impact your interest in all things botanical?
Isa: After college, I made my way to Philadelphia to work for terrain as a photo stylist and photographer and that's when a whole new level of gardening and plant knowledge revealed itself to me. While at terrain, I was exposed to a large range of plants well beyond what I knew. I was working with these plants regularly on photo shoots and I started to notice that I could identify more and more plants by name while out on walks and hikes. This was especially exciting to me and kept me motivated to keep learning more!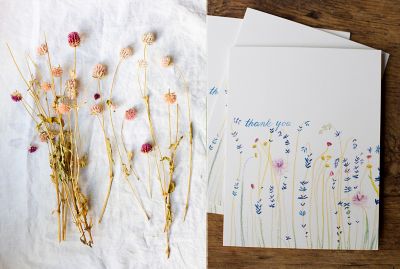 terrain: Can you walk us through your creative process for your stationery line - specifically, for the card collection we have at terrain?
Isa: Despite my work as a photographer, I very rarely paint from photos that I take. These days, I mostly work from live plants, though my imagination often wanders and I tend to veer off from what's directly in front of me. Other times I'll make a still life (like a bouquet or arrangement) and either paint the whole thing as it is, or focus in on certain aspects of it. My current collection of cards at
terrain
is heavily inspired by wildflowers. The main exception however, is my Mother's Day card, which was inspired by the roses at Portland's incredible International Rose Test Garden.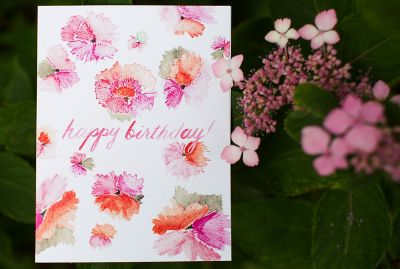 terrain: Speaking of your work as a photographer, how do your illustrations and photographs inspire and inform each other?
Isa: My experience as a photographer, especially in plant photography, has
definitely
inspired my design. Not just with the subject matter but also with composition and color. I started painting stationery as a way to translate onto paper the patterns and compositions I'd see through my lens. I wanted to have an outlet completely away from any screens, so I began painting outside - sitting on a park bench in Philly, visiting my family in West Virginia, and often simply from imagination.
terrain: Is there a particular flower that holds a special place in your heart?
Isa: My favorite blooming plant is a purple lilac bush. At our farm, there's a lilac adorning the entryway that has been there for well over 60 years and it's beautiful. My family has been there for over 40 years, so each year it blooms serves as a meaningful marker. Lilacs remind me of home!
Beautiful...not surprising with Mothet Nature as your inspiration...happy creating!