5 Favorite Lighting Looks for Fall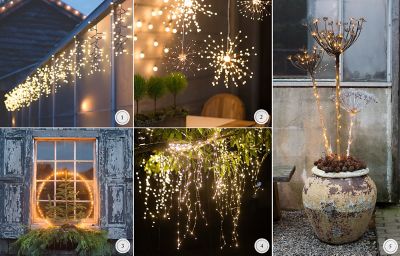 As the nights grow longer and the temperatures get lower, we turn to our ever-expanding lighting collection to give us that cozy, warm glow at home. Ready for both indoors and out, these product provide endless décor solutions that are both easy and elegant. Recently, our stylists shared five of their favorite ways to brighten the harvest and holiday home using our favorite lights - read on to get our brightest looks.

1. Cherry Icicle Light Strand: Make your windows, porches, and eves inviting with our durable collection of outdoor lighting like the Cherry Icicle Light Strand, perfect for adding dimension and warmth to your seasonal styling. Each twinkling strand is weather-suited for a winter glow.

2. Northstar Pendants: Arriving in both small and large sizes and bursting with 120 or 200 shining LED lights, our new Northstar pendants are our most celestial yet. Cluster together to make a starry statement in our entry or hang a single Northstar above your dining room table.

3. LED Circlet: We all carry with us nostalgic notions of evergreen wreaths in frosty windows - it's time to elevate the tradition with our LED Circlets. These starry spheres are available in two sizes for indoors and out, each with a right of LED bulbs.

4. Stargazer Cascade Falls: With endless styling opportunities, the Stargazer Cascade Falls is one of our most popular lighting options, whether you're hanging it from a foraged branch or letting it tumble down a wall. This bundle of sparkling light strands features flexible wire that's easily adaptable to your most brilliant ideas.

5. Pre-Lit LED Hogweed Stem: Candle-like LED bulbs brighten up durable metal stems-and when they're set inside aged all-weather containers? Magic happens right at your doorstep. Try adding our Pre-Lit LED Hogweed Stems to a Barnacle Planter for a décor idea that will last through the seasons.

Feeling inspired? Viist our lighting shop for even more bright décor ideas for the fall season and beyond.