Midsummer at Laughing Lady Flower Farm
On a recent morning, we got up early to visit the fields of Laughing Lady Flower Farm during the height of summer harvest. We took a tour with founder Kate Sparks, who has been growing flowers on her four acre farm in Doylestown, PA for nearly 20 years. You can find her blooms at weddings, farmers' markets around Philadelphia, and at terrain! Each week, a new batch of Laughing Lady bouquets arrives at Styer's, fresh and ready to brighten your home.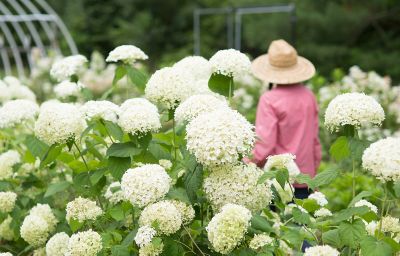 Though Kate is enjoying the lull between spring and autumn weddings, her garden is busy blooming! Current standouts include show-stopping Incrediball hydrangeas, towering Joe Pye weed, vibrant foxgloves, and chocolate lace flower. The first dahlias are just beginning to emerge, and heirloom mums await in the fall. As we explored the farm, Kate collected flowers for the high summer bouquet above, which includes cosmos, chocolate lace flower, northern sea oats, silver dollar eucalyptus, yarrow, foxgloves, pokeberries, rudbeckia, unripened blackberries, and nigella.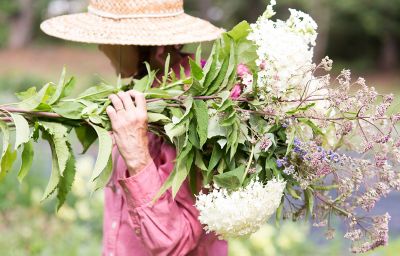 After a muggy morning in the garden, Kate treated us to a glass of homemade berry lemonade, sweetened with honey and infused with freshly-picked bee balm.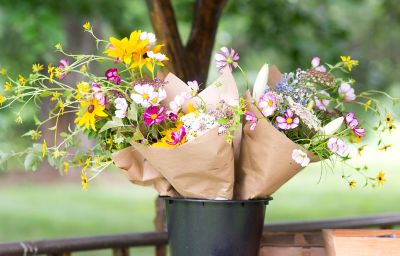 Above, the current selection of weekly bouquets, featuring the season's freshest blooms. Find these flowers at Styer's! Below, a two-tone lace flower and foxgloves in full bloom.