A Labor Day Clam Bake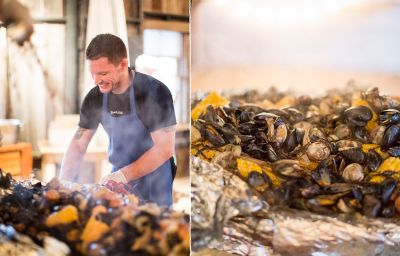 With Labor Day weekend just around the corner, we're prepping the patio for a few more summer gatherings. Inspired by a recent dinner at Styer's, we're planning a New England-style clam bake for the holiday weekend. For tips on the perfect seafood feast, we turned to Chef Jeff Michaud, James Beard Award-winner and culinary director for all of our Garden Cafes. Take a peek at some favorite moments from our dinner, and read on to plan your own clam bake this weekend.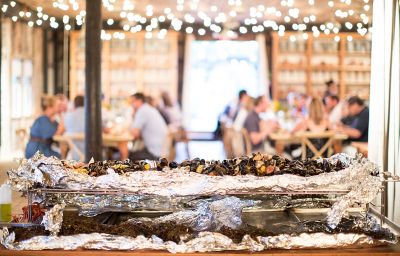 Jeff says, "Clam bakes are classic summertime gatherings that have been held all across New England for hundreds of years. Traditionally, the cooking is done in a big hole in the ground, which is layered with heated rocks, wood, and seaweed. The seafood is placed on top, followed by more seaweed and a soaked burlap bag. At home, you can achieve the same results using your grill and aluminum foil. It's one of the easiest, cleanest meals you can make, because it's all done in one container!
"To make a clam bake at home, start with layers of foil and fresh seaweed on the grill. You can get seaweed at a fish purveyor or anywhere that sells lobsters, since they come packed in it. Layer your ingredients with the slowest-cooking items on the bottom -- potatoes and corn at the base, lobsters in the middle, and shellfish on top. Cover everything with another layer of seaweed, then close up the package and let steam do the cooking. When you're ready, just transfer the whole package to a picnic table, open it up, and let everyone dig in."
"For our clam bake, we used corn, potatoes, fennel, littleneck clams, lobsters, and mussels. We tossed the vegetables with a lot of butter and garlic, plus lemon, black pepper, and chopped scallions. You can also add in a few more vegetables if you'd like -- carrots, celery, and onions are good choices. On the side, I like to serve all the classics: corn chowder, slaw or potato salad, and lots of dipping options like drawn butter, tartar sauce, and cocktail sauce. Clam bake food pairs perfectly with lots and lots of sparkling wine, including sparkling rosés, or beer if you're not a wine drinker.
"A clam bake is the perfect Labor Day dinner because it's nice and casual. It brings everybody together for the end of summer."