Kabocha Pumpkin Dip with Dips & Spreads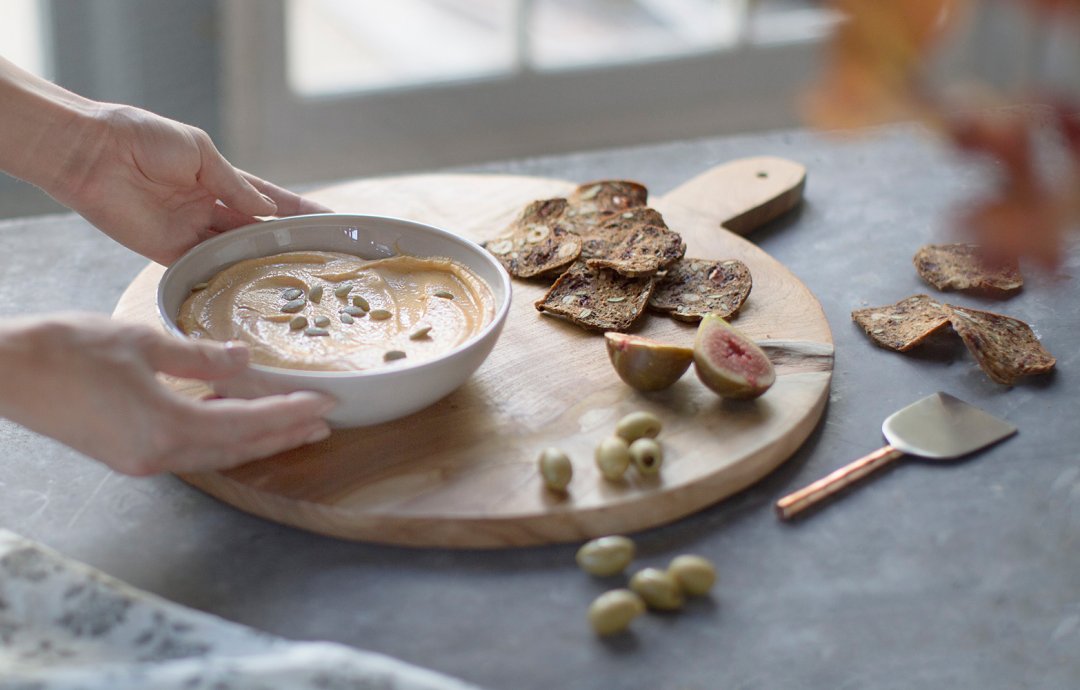 Now that fall has officially arrived, we're fully embracing the season's harvest of pumpkins and squash. With autumn entertaining in mind, we asked Dawn Yanagihara, author of the book Dips & Spreads, to share her recipe for a fall favorite: Kabocha Pumpkin Dip with Maple, Yogurt, and Harissa. Sweet, earthy, and a little bit spicy, it's the season's perfect snack. Read on for a conversation with Dawn, plus the recipe.
terrain: Why were you inspired to write a book on dips and spreads?
Dawn: It's a not a cookbook on just any old dips and spreads, but on wholesome yet super-delicious dips and spreads. Americans love a good dip, but we're accustomed to heavy recipes laden with mayo, sour cream, or cream cheese. Those recipes don't fit the way many of us prefer to eat today; we so often try to choose more healthful ingredients, less processed foods, and more vegetables, too. Fortunately, there are lots of wholesome, flavorful options for making dips, especially if you look to the Middle East and the Mediterranean. Nuts, legumes, yogurt, and even veggies figure prominently into these dips and spreads. And these ingredients are widely available -- it's simply a matter of knowing how to use them and putting them together in appealing flavor combinations.
terrain: What are some of your favorite flavors for fall?
Dawn: Fall makes me crave big, rich flavors with lots of depth: brussels sprouts that are darkly charred; salty, umami-packed anchovies; winter squash that has been nicely caramelized; and hearty meat braises.
terrain: What was your inspiration for the Kabocha Pumpkin Dip recipe?
Dawn: Being Japanese-American, I grew up eating kabocha. I've always loved its vibrant color, earthy sweetness, and dense, creamy flesh. I often roast kabocha, so I knew that it yields a rich, luxurious puree -- perfect for the base of a dip. As for the flavor profile, I just can't get enough of maple syrup and the flavor combination of sweet, spicy, and savory!
Kabocha Pumpkin Dip with Maple, Yogurt, and Harissa
Makes 2 1/2 cups
One 2-lb [910-g] kabocha pumpkin
2 large garlic cloves, unpeeled, woody ends trimmed
4 Tbsp [60 ml] extra-virgin olive oil, plus more for drizzling
Fine sea salt and freshly ground black pepper
1/3 cup [80 g] plain whole-milk yogurt
2 Tbsp tahini
1 1/2 Tbsp pure maple syrup, preferably grade B, plus more as needed
1 1/2 Tbsp freshly squeezed lemon juice
1 tsp harissa, plus more to taste
2 Tbsp salted roasted pumpkin seeds (pepitas)
Preheat the oven to 375°F [190°C].
Halve the pumpkin and use a spoon to scoop out the seeds and strings. Cut each half into four evenly sized wedges and put in a 9-by-13-in [23-by-33-cm] baking dish. Drop the garlic into the dish, drizzle everything with 2 Tbsp of the olive oil, and sprinkle with 1/2 tsp salt and 1/4 tsp pepper. Toss to coat. Roast, flipping the pumpkin wedges after about 20 minutes, until a skewer inserted into the thickest piece of pumpkin meets no resistance, 40 to 50 minutes. Let cool completely in the baking dish.
Using a spoon, scoop the flesh from the pumpkin wedges, leaving only the skin behind, and put in a food processor. Remove the garlic cloves from the baking dish, peel, and add to the food processor, along with the yogurt, tahini, maple syrup, lemon juice, harissa, 1/2 tsp salt, and 1/4 tsp pepper. Process to a smooth, thick purée, 1 to 1 1/2 minutes, scraping down the bowl as needed. With the machine running, stream in the remaining 2 Tbsp olive oil and continue to process until the mixture is as smooth as it can be, about 1 minute, scraping down the bowl as needed. Taste and adjust the seasoning with more salt, pepper, maple syrup, and harissa, if needed.
Transfer the dip to a wide, shallow bowl for serving. Cover and let stand at room temperature for about 30 minutes to allow the flavors to meld. Use the back of a spoon to swirl the surface of the dip. Sprinkle with the pumpkin seeds, drizzle with olive oil, and serve. Pair with seeded crackers, pita chips, or toasted baguette slices. Dip can be refrigerated without garnish for up to 3 days; bring to room temperature, stir to recombine, and garnish before serving.
Note: Kabocha pumpkins vary in moisture content and sweetness. If you find that your dip is too thick after puréeing, stir in some water. Your dip may also require more maple syrup to balance the tang of the yogurt and the heat of the harissa.
Recipe excerpted from Dips & Spreads by Dawn Yanagihara (Chronicle Books). Copyright © 2015.
You May Also Like: