Julia Turshen is Coming to Dinner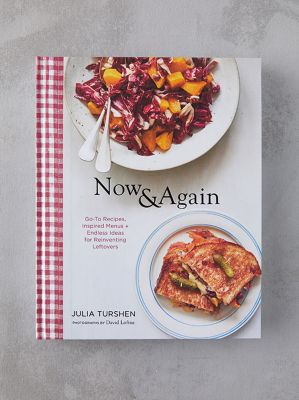 Easing back into the routine and rhythms of autumn after spending the summer months adventuring outside will always feel like a welcome fresh start - the only hitch? Once again figuring out what to cook for dinner and pack for lunch each day. This year, however, we have Julia Turshen's cookbook Now & Again — a love letter to leftovers — to guide us through making our meals with ease, flavor, and a dash of Julia's signature warmth and humor.

In her latest book, Julia has compiled more than 125 approachable, delicious recipes, all accompanied by recipe suggestions for leftovers that are just as inspired as the originals. And in celebration of Now & Again, we're thrilled to welcome Julia back to Styer's for a special four-course meal inspired by the recipes from her book. In advance of the dinner, we sat down with Julia to learn about her love for leftovers, her rules for reheating, and what we can do to give party food a second life the next day.

terrain: We're curious - what inspired you to write an entire book centered around leftovers?
Julia: I love leftovers — they're money in the bank. I especially love turning leftovers into something totally different than what you started with and think of them as invitations to really creative cooking. In fact, my original concept for the book was to just do a book about reinventing leftovers but I couldn't figure out where the original food came from so the book morphed into what it is now: a collection of all of my favorite menus, recipes to make each entire meal, and tons of ideas for how to turn whatever is left from the meals into entirely new dishes.

terrain: Do you have any general rules/tips for transforming leftovers you can share?
Julia: Keeping your initial cooking pretty simple allows you to mix and match leftovers more easily. I think texture is pretty important — leftovers often get microwaved into oblivion and can become soggy. Take care when warming things or reinventing them so that they maintain their integrity.

terrain: For outdoor parties, what are some of your favorite leftover-friendly dishes you love to make – and how would you use them as leftovers?
Julia: Leftover sliced watermelon can become a delicious agua fresca, turn caprese salad into a pressed sandwich, potato salad can be formed into little cakes dredged in egg and breadcrumbs and pan-fried, pulled pork makes for delicious tacos, and hamburger patties can be chopped and added to sauteed garlicky tomatoes to make a quick pasta sauce.

terrain: Do you have any tricks for choosing dishes that will stand up to heat or time spent on a buffet-style set up?
Julia: Keep your most delicate or time-sensitive dishes like soft lettuces, crispy scallops, or chocolate soufflé relegated to your dinner table when you have more control over timing and temperature. For picnics and other meals outdoors where food might sit in the heat for a while, choose dishes that won't wilt or suffer - things like grains and cucumber salads and cold fried chicken are all great. Food should be pleasurable, not something you have to fight to make work. Take it easy!

Julia says she hopes the meals inside the book "make your life easier, your cooking less stressful and more fun, and remind you that recipes are just ideas." Now & Again is available on September 4th.
Excited to join Julia on September 12 for dinner at terrain in Glen Mills? Reserve your seat at the table now!
You May Also Like: