Introducing: Barebones for Terrain Garden Tools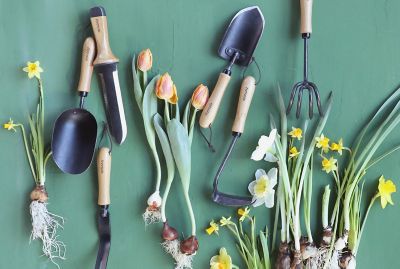 Unsurprisingly, a passion for plants is practically required if you're part of the terrain team. And if you're Chris DiSilvis, our garden utility buyer, that enthusiasm naturally extends to gardening tools - he's got the scoop on all things trowel, weeder, and cultivator.

In fact, Chris is so dedicated to bringing terrain the best gardening tools available that he's spent the last year helping create the first terrain-exclusive toolset. Designed in collaboration with Barebones Living, these six tools are precisely handcrafted from sustainable materials - each beautiful, practical, and designed to last for many years in the garden.

To celebrate the launch of the Barebones for Terrain collection, we chatted with Chris about the design process, why we're so proud to partner with Barebones, and what makes these six tools so essential to a gardener.
Pictured above: Barebones for Terrain Cultivator, Barebones for Terrain Hori Hori

terrain: Hi Chris! We're so excited about this collection - great work! Why did you choose these particular tools as the essential six every gardener needs?
Chris: A version of these tools are the six most used tools in my gardening bag, and my gardening bag has a TON of tools. They truly satisfy any need or accomplish any task that any gardener - from beginner to expert - may have. If you have these six in your bag, you've got your bases covered.
terrain: What makes Barebones Living the perfect collaborator for the terrain tool line?
Chris: Simply put, they are amazing people. They are innovators. They do amazing philanthropic work and they LOVE terrain! Plus, they're committed to making high quality, durable products - which is obviously important to us as well.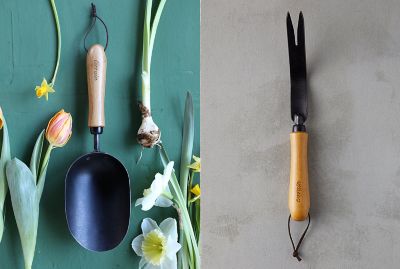 Pictured above: Barebones for Terrain Potting Scoop, Barebones for Terrain Weed Grubber

terrain: What was the most exciting part of the tool design process for you?
Chris: The most exciting thing for me was being able to create the ultimate version of my six favorite tools. For instance, I have no less than seven hori hori tools in my potting shed. I like each one for a different reason but none have all the qualities or features that I want in a single tool. I saw this as my chance to "Frankenstein" all my favorite features into one ultimate hori hori. This was the case for all six of these tools. Whether it be the handle, length, metal gauge, or angle, I tweaked and measured these tools obsessively until each one became that "ultimate" version.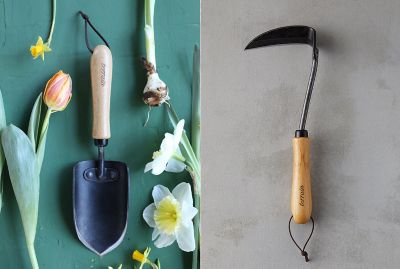 Pictured above: Barebones for Terrain Trowel, Barebones for Terrain Japanese Weeder

terrain: And what do you hope our gardeners will love most about the collection?
Chris: The balance, ergonomics, aesthetic, and the quality you feel as soon as pick one up. These tools are beautiful and built to last a lifetime - we want folks to pass these down as heirlooms.
We told you - Chris' enthuiasm is infectious! We hope you find as much pleasure in using the Barebones for Terrain collection as we all do and that you're inspired to get back to the garden.