In the Studio with Facture Goods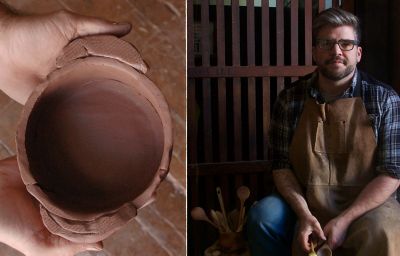 Newly arrived in our kitchen, a collection of serveware and utensils from Facture Goods is adding functional beauty to our summer table. Based in a small Missouri town, Facture Goods was founded in 2014 by ceramic and metal artist Aron Fischer. He describes his aesthetic as "primitive modern," conveying his voice and touch through pieces that are made entirely by hand. Now that his creations are taking center stage on our tabletop, we caught up with Aron to learn more about the collection and his artistic roots.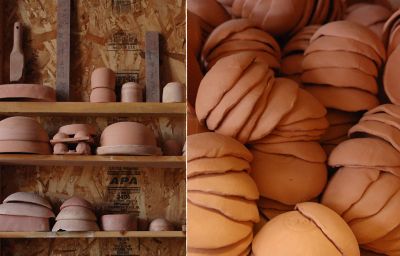 terrain: How did you get started in ceramics? What inspires you when you're working on a new design?
Aron: I have a background in art -- a BFA in drawing and an MFA in sculpture -- so I've always worked with different materials. I took some pottery classes as an undergrad, then continued to work with clay during the years that I was a Senior Display Coordinator for Anthropologie in Chicago. In graduate school, I started on my current work. When I started working with clay, it was my escape from other work. But people loved my clay pieces the most, and now they're my favorites too!
I draw a lot of inspiration from the materials themselves. I try to let the clay speak for itself and become what it wants to be. Clay is great because it takes whatever you give it -- it's used to make everything from a humble cup all the way up to tiles on the International Space Station. It's limitless in its boundaries.
I've also worked with brass for a while, but it's the newest process for me. For metalworking, I look to other jewelers and metalsmiths for inspiration. I've gotten lots of great feedback on the brass pieces so far, especially from food stylists who say they haven't been able to find designs like this before. The coolest thing about brass is that it's very temperamental, so I get to switch between working organically with clay to being very precise with metal. I like the balance the two materials offer.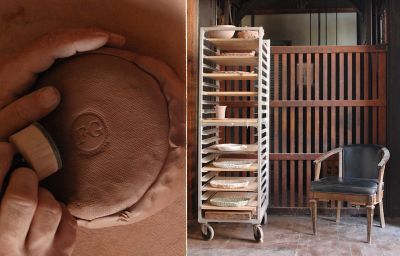 terrain: Can you share a bit of background about the collection for terrain?
Aron: For terrain, I'm making a whole crockery set: a soup crock, loaf pan, pie plate, organically-shaped bowl, woven fruit basket, and some brass pieces. All the shapes in the collection are inspired by utilitarian objects. What I like most about these pieces is that they're multi-functional. They can be used for serving, as decorative vessels, or in the oven as cookware.
terrain: What is a typical day like in your studio?
Aron: My studio is located about 20 minutes outside of Boonville, Missouri, which is a very small river town with around 8,000 residents. The building was one of the very first structures in the town; it was built in 1850 for flour and grain storage, then went through many incarnations as a bank, food storage space, and humidor for tobacco traded on the river. My studio is at the back of the building and spans the entire block. It's a beautiful space, with 20-foot ceilings and all the original molding, which works well with my own aesthetic.
Five or six days a week, I come into the studio, turn on some music, make coffee, and dive into my work. I recently made some changes to the way I work, taking on less retail accounts so I can focus more on my own work. That has allowed me to focus less on production, so I can be more relaxed and creative.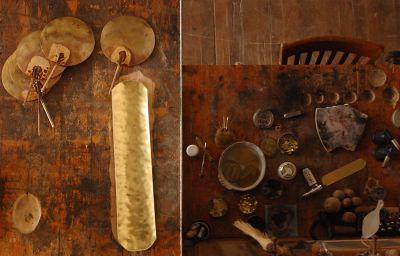 terrain: What projects are you most looking forward to this year?
Aron: Along with my work for terrain, I'm really excited about working with stylists and bloggers this year. Right now, I'm working with Tiffani Thiessen on pieces for her upcoming cookbook. Most people know her as an actress, but she's also an amazing chef and baker! I love working with small and well-known partners alike, from bloggers who are just getting started to Local Milk and Bon Appetit. Finally, I do some collaborations with restaurants; I did one in St. Louis last year, and am currently working on one in San Diego.