How-To: Glowing Pathway Lanterns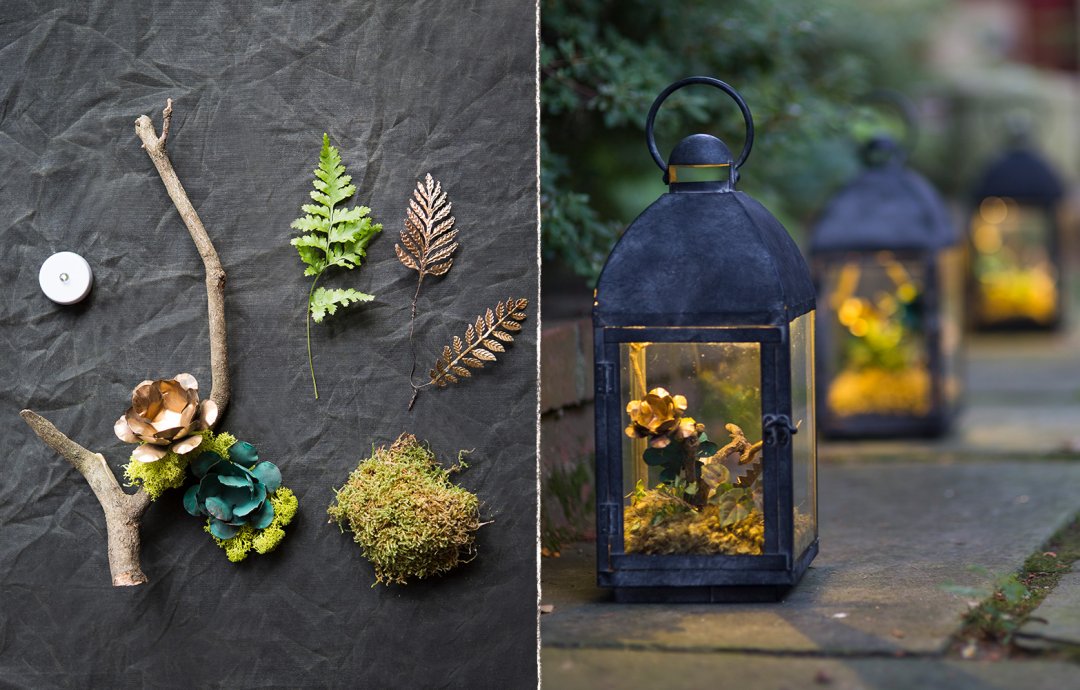 Our best-loved lanterns are getting a new look for summer's end, transformed into walkway lights with botanical accents. A mix of fresh ferns, metallic garlands, and foraged twigs fills each lantern, illuminated from above by a cleverly concealed LED light. In the months ahead, each lantern can be refreshed with seasonal accents, from tiny pumpkins to winter greens. Best of all, this light look is surprisingly easy to achieve. Read on for a how-to that will brighten your patio or pathway.
What You'll Need:
Aged Iron Lantern
LED light with stick-on backing
Small potted fern
Pressed Metal Fern Garland
Aged metal flowers (we snipped a few from a garland)
Clump moss
Reindeer moss
Twigs
Floral wire
First, affix a light inside the crown of the lantern. We chose LED lights with stick-on backing (found in craft stores); you could also use a small strand of battery-powered Stargazer lights, coiled and attached inside the roof of the lantern. Place the potted fern at the bottom of the lantern, and cover the pot with layers of clump moss. Wrap the twig in a portion of the fern garland, letting the remaining garland trail. Accent the twig with reindeer moss and metal flowers as desired, attaching with floral wire. Anchor the twig upright in the moss and arrange the tail of the fern garland inside the lantern to complete the look.
You May Also Like: