How-To: Egg + Bloom Wreath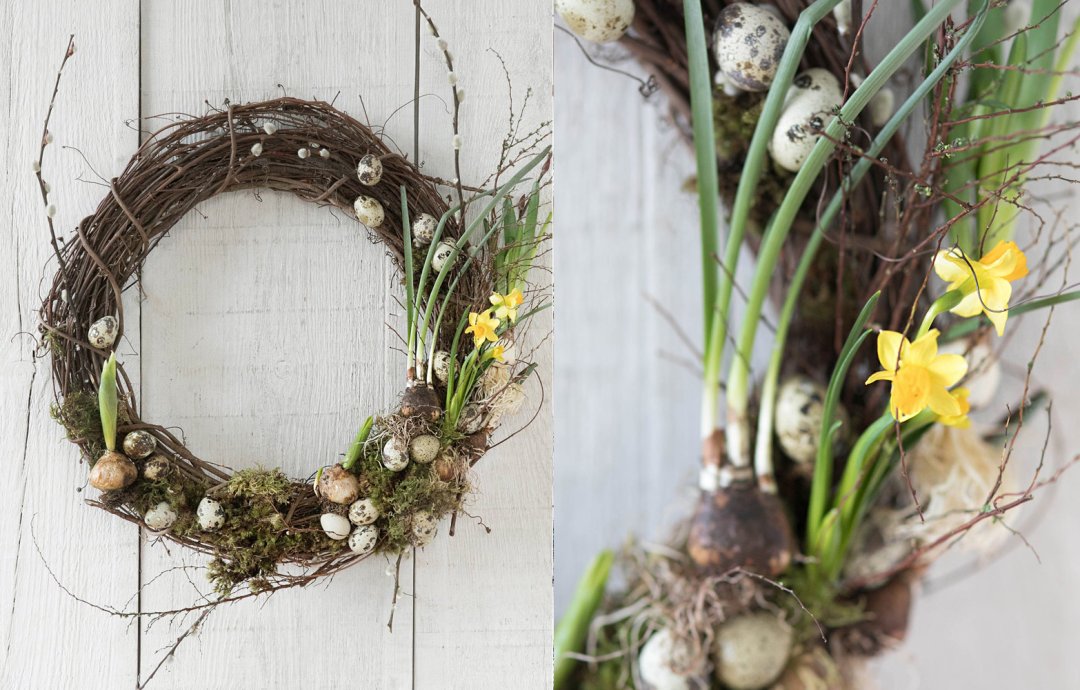 Inspired by natural nests, the wreath above is our favorite accent for the springtime entryway. Topped with blooming daffodil bulbs, fresh willow branches, wispy twigs, and a clutch of spotted quail eggs, it captures the best of the season in a wild and wonderful silhouette. Best of all, it's easy to make at home in time for Easter get-togethers. Stylist Adelyn D. shares her simple how-to, below.
What You'll Need
Grapevine wreath
Pussy willow branches
Clump moss
Daffodil bulbs
Quail eggs
Fresh branches & twigs
Floral wire
Hot glue gun
Adelyn says, "Start by attaching scattered clusters of clump moss to the lower half of the wreath, securing them with floral wire or hot glue as needed. Choose your daffodil bulbs -- I selected ones in different stages of growth for a succession of blooms -- and attach them in the mossed areas using floral wire. Next, tuck the pussy willow branches and twigs throughout the wreath to create a wild, natural silhouette. I foraged some thinner twig cuttings for a wispy effect. Layer additional moss around the bulbs to build up segments of the wreath, securing it as before. For the finishing touch, use hot glue to attach quail eggs to the wreath. Hang at home for spring cheer!"
Please note: in-store availability of the products shown above may vary. Please see an associate at your local store for details.