How to Eat a Peach with Diana Henry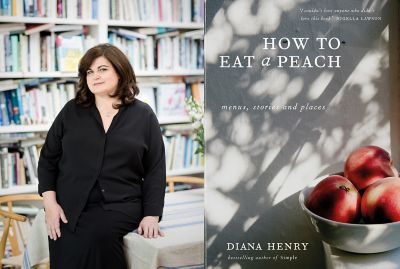 While she was still in her teens, food writer Diana Henry hosted her first dinner party for her school friends. There were candles (too many), dessert (confoundingly, pineapple water ice), and, most importantly, a genuine enthusiasm for entertaining. Diana thanks her laid-back parents as the catalyst for her passion for "having people over." Hers is a barefoot-with-a-bourbon approach where an easy-going, warm spirit is as important as the effortless, tasty menu.

Luckily for us, Diana graciously compiled the best menus, decorating suggestions, and stories from her life of hosting in her most recent cookbook, How to Eat a Peach. Full of lavish photography, personal anecdotes, and customizable recipes, this a cookbook you'll want to read through - and cook from. Even better? Diana will be joinng us later this month at the terrain cafe in Westport for a cocktail party where she'll sign copies of the book and chat with James Beard award winner Elissa Altman. We chatted with the London-based cookbook author for her rules on menu-making, her favorite way to dress up a dinner table, and, of course - a lesson on how to each a peach.
terrain: Thanks for talking with us, Diana! We're so curious – how do you eat a peach?
Diana: In the book this refers to a dessert I saw being served in a restaurant in Italy on my first trip there. The diners at the next table were brought a bowl of peaches and a bottle of cold Moscato. They halved, stoned, and sliced their peaches and dropped slices into their wine glasses, then they topped this up with wine. They left this for about ten minutes, then they ate the peaches – now flavoured with the wine – and drank the wine (now imbued with the flavour of the peaches). This made a huge impression on me as it showed me that you didn't always have to make complicated food, and that it is important to taste what you are eating. With two good ingredients that is possible. It was a simple and quite magical end to a meal.

terrain: How do your menus come together? Do you always start at the same point or does each menu happen naturally?
Diana: Sometimes I just think about where I would like to go, like maybe I fancy going to the French coast, so I think up a menu that is rooted in Brittany. Sometimes an ingredient has just come into season – like apricots or asparagus – and I start with that and work around it. You don't have to think about the main course first (most people do). You can start with whatever course you like. Then you think what dishes work together in terms of flavour and ingredients and the 'weight' of the meal (in that you don't want a meal that is too rich) and that you will be able to produce without getting frazzled. It goes without saying that it should always be seasonal, too. No strawberries in the winter!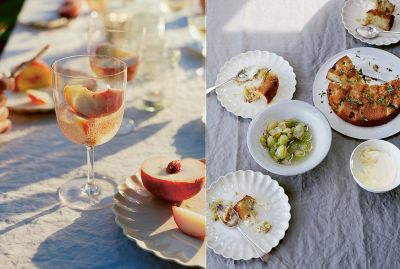 terrain: You give a lot of great guidelines for creating a menu - can you share a couple with us?
Diana: It's important not to repeat ingredients. So, if I was going to serve a pork dish for the main course I wouldn't serve a pork terrine or rillettes for the appetizer. Sometimes this 'rule' can be bent a bit – I don't mind a fish appetizer and a fish main course, for example. And you don't want too much to do at the last minute, so some of your dishes have to be made ahead of time. You're having friends round, not running a restaurant!
terrain: In many of the recipes in your book, you'll mention when store bought ingredients can suffice in place of homemade. What are some items you always have on hand?
Diana: It's absolutely fine to buy little biscuits to have with the pudding – making your own shortbread or cookies can just seem a push too far at times and the same with bread. Also, I don't often make my own charcuterie, so French rillettes and saucisson and that kind of thing are perfectly okay to buy. I don't like to be rigid about this question, though – cooking is not about stress, it should be about having a good time. The French usually offer store-bought patisserie for dessert - they don't slave all day making their own glazed tarts!
terrain: What are some small touches you like to do for a dinner party – things that make the night feel the most special (aside from the food, of course!)?
Diana: I love table linen – I have masses of table cloths – and old cutlery, but I try not to go over the top so people don't feel that the event is formal. I usually only go all out with silver and beautiful glassware during special holidays. But small things do make a difference – a nice water jug, a small vase of flowers (big flower arrangements can be hard to see over). I never do place cards unless there are more than twelve people. It feels like a wedding, otherwise. I suppose I'm a fan of things being beautiful but not grand.
terrain: Do you have one piece of advice for someone who's intimidated and easily stressed by the idea of having people over for dinner?

Diana: Don't feel you have to have three courses if you can't manage it. Just do a main dish and a pudding (and you don't even have to do a pudding – a dessert wine and some cantucci are fine). Cook things you know how to cook – don't do a dish for the first time when you have people coming for dinner.
terrain: Apologies if you've been asked this countless times already, but it feels particularly appropriate for this book – if you could host a dinner party for anyone, who would you invite, and which menu would you serve?
Diana: I like this question, actually! Though the answer has much more to do with who I want to talk to than what I want to cook. Some of these folks are now dead but this is who I would invite if I could: the Irish poet Seamus Heaney, the Irish writer Flann O'Brien, the American writer Ariel Levy, American actor Philip Seymour Hoffman and American memoirist (and friend) Elissa Altman. All of these people are interested in what makes people tick, and they also love words, so I think it would be a very interesting evening. Because of the two Irish writers I would serve what I have described in the book as 'a British-Irish lunch': smoked eel with beet remoulade and Guinness bread, partridge and red cabbage with blackberries, Seville orange tart. It makes a good Sunday lunch, full of ingredients (smoked eel, Guinness bread, blackberries and game) that remind me of home.
After you've stocked up on moscato and table linens for your next summer party, be sure to join us with Diana on June 21st in Westport for a cold cocktail and great conversation.
Photos courtesy of Octopus Publishing Group
You May Also Like: