A Honeycomb + Cheese Board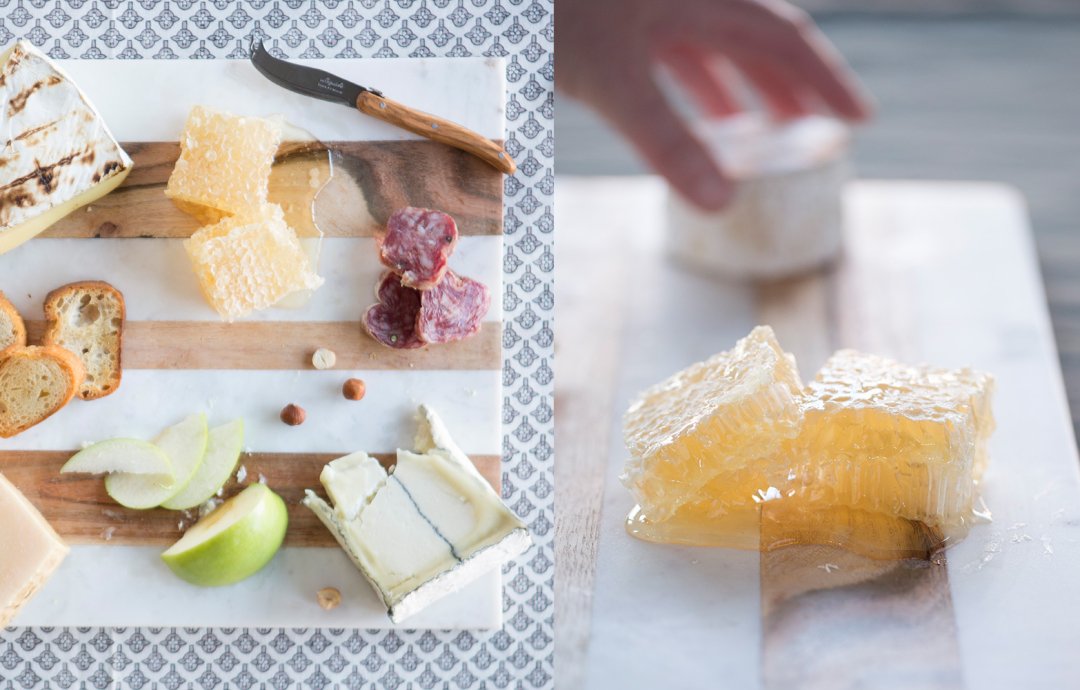 New in our pantry for spring, a chunk of all-natural honeycomb from BumbleBerry Farms is also the centerpiece of our latest cheese board. Located in the foothills of Pennsylvania's Laurel Mountains, BumbleBerry Farms was founded by beekeeper and owner Karen Sandusky Mosholder. Produced by the farm's hardworking bees, honeycomb is completely edible; the cells are made from beeswax and contain beneficial, natural vitamin A. We love it crumbled on top of a salad, stirred into tea, over yogurt and ice cream, and -- of course -- on a cheese board. Find our favorite honeycomb pairings, below.
Honeycomb Cheese Board
BumbleBerry Farms Honeycomb: The flavor of honeycomb changes throughout the year. Clover sweetness in spring gives way to rich caramel in late summer, then floral notes of aster and goldenrod in early fall.
Brie de Paris: A classic French brie offers a creamy, buttery flavor for a mellow combination with a dab of honeycomb. We warmed ours slightly in the oven for a perfectly melty texture.
Humboldt Fog: The tart and tangy flavor of this goat cheese balances the sweetness of honey. This classic variety from Northern California is lightly cave-aged, with a distinctive line of ash at the center.
Piave Lattebusche: This firm, aged cow's milk cheese from Italy offers a bold and nutty flavor, offering a contrast in texture and taste to honey.
Sobrassada: A spicy, aged pork sausage offers contrasting flavors of salt and smoke.
Green Apple Slices: Bright and tart, green apple lightens the rich flavors of cheese, charcuterie and honey.
Toasted Hazelnuts: Pair a handful of toasted hazelnuts with Piave to accentuate the nutty flavors of the cheese.
Baguette: A crusty baguette provides the perfect base for a smear of brie topped with honeycomb.
Beautiful pics and lovely writing¿ http://www.cakengifts.in/birthday-cakes http://www.cakengifts.in/anniversary-cakes