Our Holiday Transformation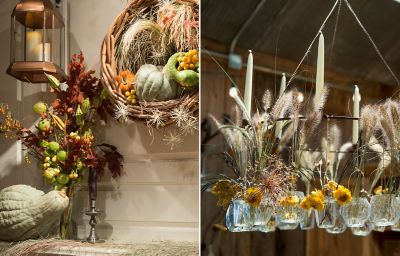 Each October, one of our most-anticipated moments at Styer's is the unveiling of the year's first holiday displays. We're always wowed by the beautiful scenes our design team creates for the season. This year, we headed to the store throughout the month to capture the transformation from harvest to holiday. Now, twinkling lights and a dusting of snow have taken the place of colorful pumpkins and autumn grasses. Scroll down to see our festive displays take shape, and find out more about our holiday inspiration from Creative Director Greg L.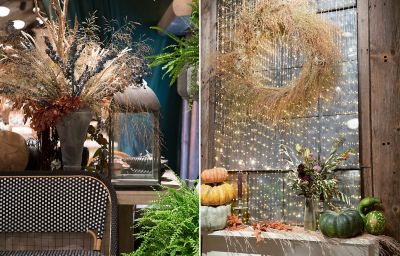 Greg says, "This year, the in-store décor mirrors the themes in our first-ever holiday catalog, The Winter Shop. Different areas were designed to showcase our four main looks for Christmas, which also inspired parts of the catalog. It's exciting to offer the same experience for catalog readers and visitors in the store.
"Nordic by Nature is our most universal holiday theme this year, a simple and strong palette of whites and tans inspired by the minimalist beauty of nature in the colder months. A Midnight Clear offers our most formal look for Christmas; the fresh pairing of navy and time-tarnished metals creates a regal look with bold, natural accents. Verdigris Garden is a classic Terrain style, featuring zinc, weathered metals, and greens. Finally, A Merry Menagerie is the most playful collection, with a world of nostalgic brush trees and critters."
"Our design team created an immersive experience with a focus on overhead interest to envelope visitors in the store. We used lots of flocking (more will be added in the coming weeks) to give the feeling that nature is taking over; I was inspired by the grandeur of the winter landscape, when the weight of the snow is a majestic presence. Flocked branches frame the space and capture the beauty of nature just after a snowfall."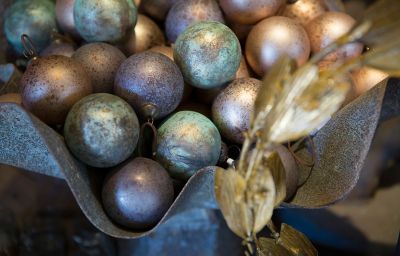 "Throughout the store, we also layered botanical elements with lots of lights. In the coming weeks, we'll be adding the finishing touches to each display with even more natural details. As November begins, we'll stock our winter marketplace with fresh greens, wreaths, trees, branches, and bunches to bring the garden home for Christmas."