A Warm Holiday Welcome
On a recent, sunny Saturday, we welcomed the season of Christmastide at our annual Holiday Open House. At Styer's and in Westport, lots of local friends joined us for a day of celebration, complete with décor inspiration, sweet treats, one-of-a-kind gifts, fun for the little ones, live music, and much more. We snapped a few photos during the festival at Styer's, and asked Events Manager Diane S. to share some of her favorite moments from the day.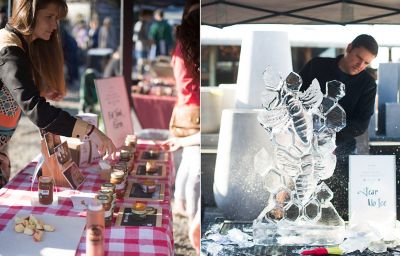 Diane says, "In spite of unusually warm weather, everyone was eager to start celebrating the holiday season -- the store was bustling well before the festival officially kicked off at 1PM! Styer's felt like a winter wonderland thanks to festive carolers, s'mores beside the fire, and a dusting of faux snow.
"Throughout the afternoon, our design team demonstrated some of their favorite tips and tricks for holiday decorating, from trimming a tabletop tree to DIY evergreen roping and merry menageries atop the mantel. Later in the day, the editors from Gardenista and Remodelista hosted an evening of holiday cocktails and crafts, where attendees could make their own globe ornaments, miniature wreaths, and more to take home."
"If you were hoping to cross some names off your holiday shopping list, the festival welcomed over 25 vendors, offering a selection of their best and brightest gifts. Familiar faces and new visitors included Lavido skincare, Lock and Key Confectionery, jewelry designer Hattie Weselyk, Honest Alchemy textiles and Fat Toad Farm. The founder of Linnea's Lights also joined us with tips for layering scents in the winter home.
"Throughout the day, the Garden Cafe cooked up seasonal treats, and festival-goers could cast their vote in the annual Staff Soup Cook-Off. At sunset, we enjoyed hot cocoa and cookies as we gathered in the nursery to light the Terrain Christmas Tree. It was the perfect ending to a magical day!"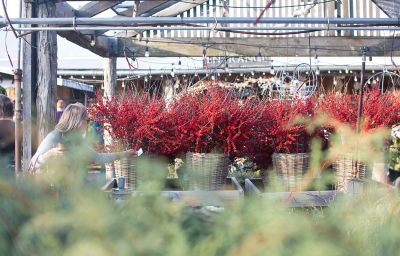 We also kicked off the holidays in Westport with gingerbread houses, fillable globe ornaments, seasonal spa treatments with Indie Lee, a joint book signing featuring Grace Bonney and Julia Turshen, and much more. We'll be celebrating the season with more events throughout the month of December -- see what's up next on our calendar.