How-To: A Holiday Greens Chandelier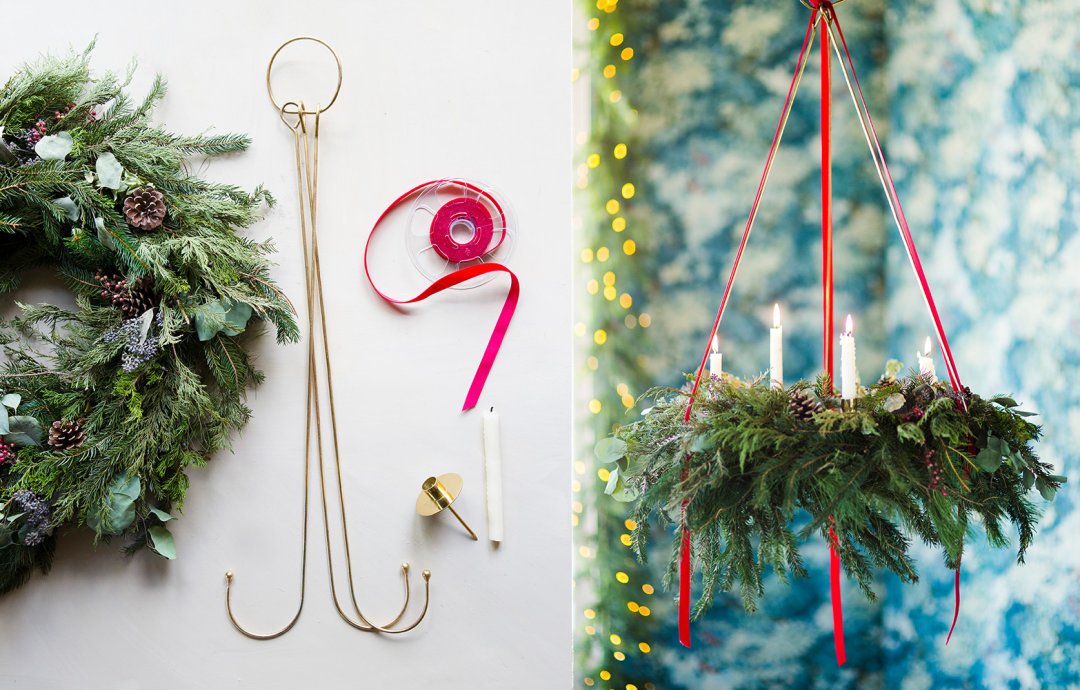 Dressed up in new shades of gold and copper for the holidays, our versatile wreath hanger is ready for festive displays all season long. Paired with a lush circle of fresh boughs -- including cedar, silver dollar eucalyptus, and pepperberry -- it becomes a suspended centerpiece above the table at Christmas dinner. Read on to get the look for our holiday greens chandelier.
Start by placing a fresh wreath of your choice into the hanger, which can adjust to fit large and small wreaths alike. Next, cut three lengths of ribbon, each one a few inches longer than the arms of the hanger. Attach one end of each ribbon to the top of the hanger, and the other to the tip of each arm -- let some ribbon hang down beyond the wreath, too. Finally, anchor four taper stakes into the wreath base, nestling them among the greens, and place a taper in each one (we recommend a dab of candle adhesive for a snug fit). If your chandelier will go above the dining table, use natural beeswax tapers; they produce minimal smoke, are less inclined to drip, and don't have a fragrance that will overpower food. Once the candles are in place, hang the chandelier and enjoy a holiday glow all season long.
You May Also Like: