4 Holiday Cocktails by Glass Shape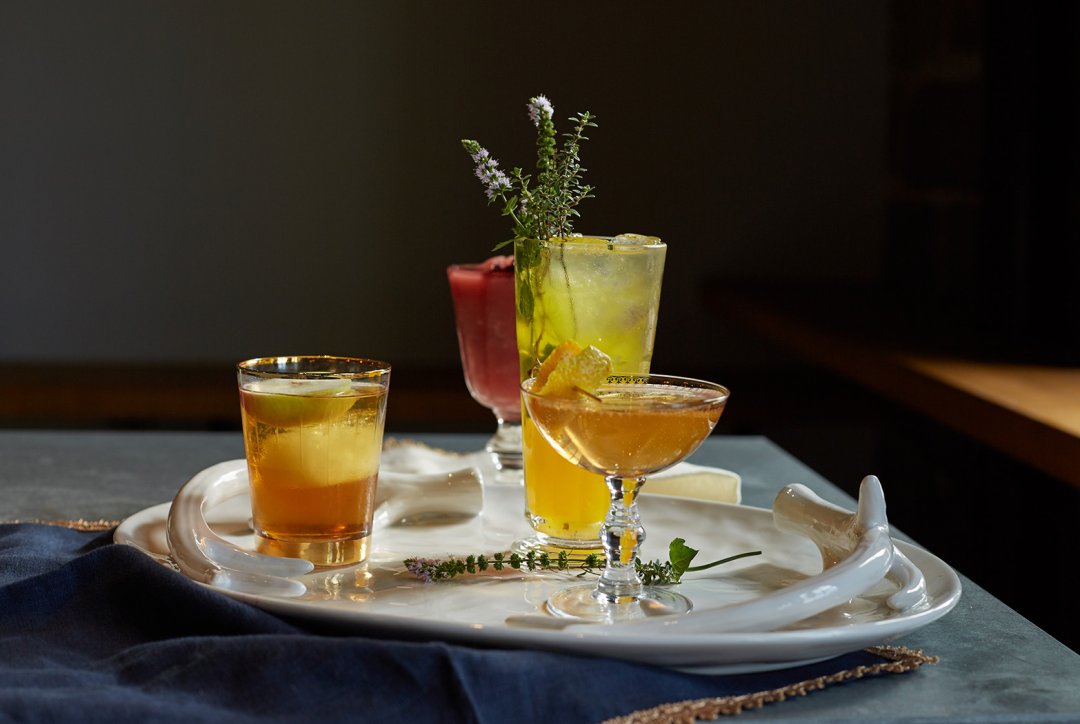 As we head into the season of holiday cocktail parties, we found ourselves with a fundamental question: why does glassware come in so many shapes? To answer this cocktail conundrum, we turned to the expert: Steve Wildy, Beverage Director for Vetri Family. Below, Steve shares some details about four common cocktail glass shapes, along with the perfect drink pairing for each one.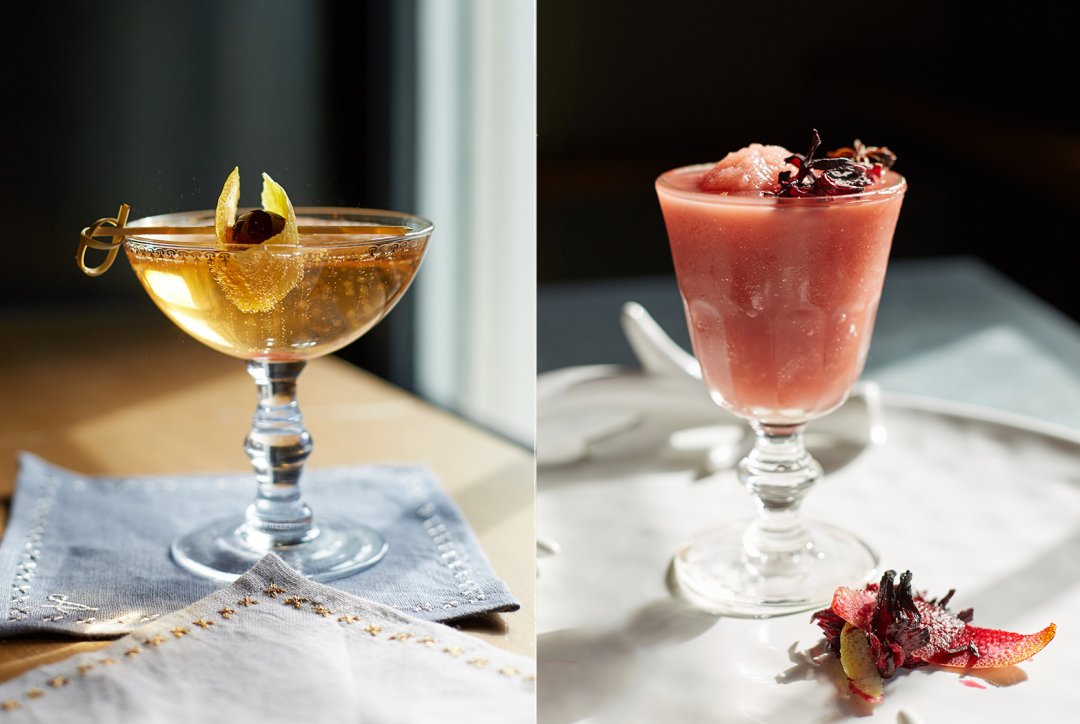 Soprano | Champagne Coupe
Steve says, "This is a take on the perennially-festive champagne cocktail with an Italian confectionary spin. While simple, the key to making this drink memorable is a really good amaretto from Lazzaroni. They're the company credited with creating the amaretti cookie, and their liqueur is made by soaking the cookies in alcohol. It tastes just as good as it sounds! A coupe gives this cocktail a retro, roaring twenties feel. At that time, coupes were the most familiar vessel for champagne; the flute ascended to popularity later. Credit for this cocktail goes to Kristen Voget, the bartender at Osteria in Philadelphia.
4oz prosecco (or any dry sparkling wine – cava, cremant, champagne, etc)
.75oz Lazzaroni Amaretto
3 dashes Angostura bitters
Pour prosecco and amaretto into coupe, then add two dashes of bitters. Garnish with a high-quality cherry (Amarena, Luxardo, or brandied cherry) and a lemon twist.
Thoughts and Fancies | Footed Goblet
Steve says, "This recipe hits the spot for holiday drinking, and it can be made hot, cold, or frozen. There's a little prep work involved in mulling the cider with various spices, but that base can take you in a few different directions. If frozen drinks are a part of your holiday repertoire (like eggnog milkshakes are with my family), then you may prefer the frozen version. But this recipe is equally delicious poured over ice if you don't have a blender, or right from the pot as a hot drink. The footed goblet is a versatile option for hot or cold, as it allows you to hold the cocktail without getting frosty or overheated fingers. The recipe below is perfect for a party, serving 20-25 people."
1 gallon fresh apple cider
1/3 cup dried hibiscus flowers
.5 tsp whole black pepper
.5 tsp whole clove
.5 tsp whole allspice
.5 tsp whole cardamom
Half a lemon, sliced
Half an orange, sliced
1 cinnamon stick
¼ vanilla bean
1 bottle Spiced Rum
Simmer all ingredients, excluding rum, together for 30 minutes. For frozen version, cool in the fridge overnight then blend with ice. Add rum to the blender or mix in separately if you prefer (about 1oz per drink). For hot version, leave covered on the stovetop after simmering and ladle as needed, adding an ounce of rum to each cup. For an extra holiday touch, add a small pat of butter (.5 tsp) to the glass, making a hot buttered cider.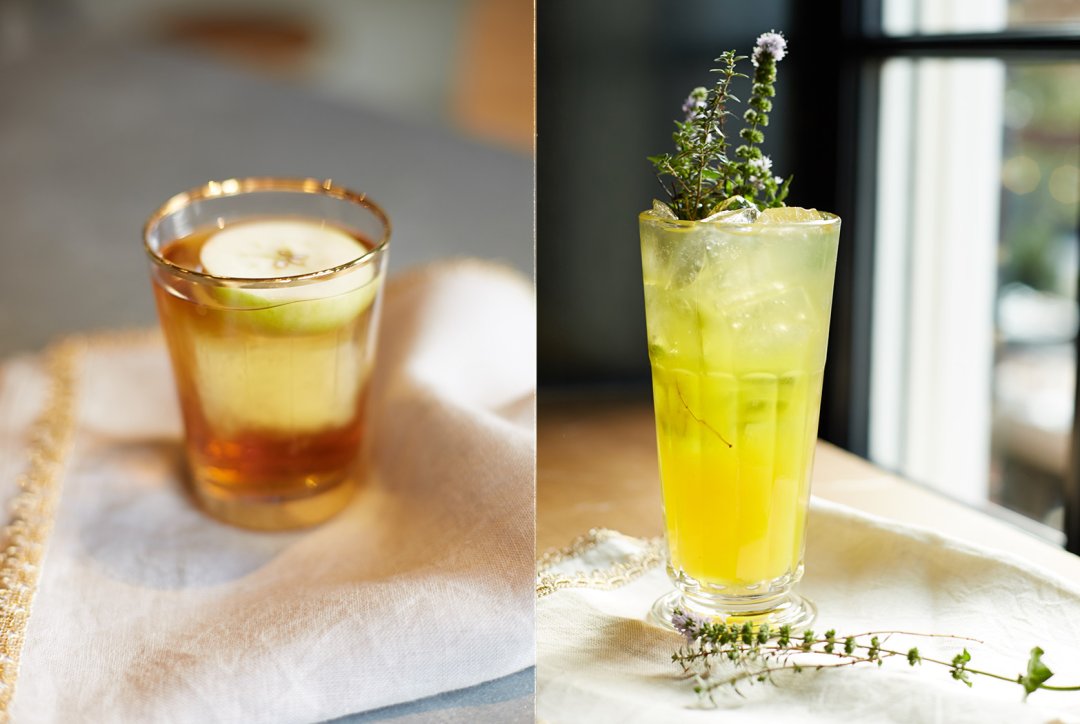 Maple Mamba | Rocks Glass
Steve says, "This is a play on an old-school apple brandy cocktail called the Diamondback, which incorporates applejack brandy, rye, and chartreuse. For a festive spin, I substituted the herbaceous kick of chartreuse with maple syrup and black walnut bitters, which also serve to soften the edges of this hearty winter warmer. An oversized rocks glass is the perfect vessel for strong sippers like this, which can be served as a stirred neat drink or with one large ice cube. For garnishes, sliced baby apples are showstopping, as are apple "stars" made by cutting a cross section of the core that splits the seeds. Charred citrus peel or a whole roasted chestnut also make great options."
1.5oz rye whiskey (substitute bourbon for a richer feel)
1oz Laird's apple brandy
.5oz maple syrup
2-3 dashes Fee Brothers Black Walnut Bitters

Stir all ingredients over ice and strain. Serve neat or over a large ice cube. Garnish with halved crabapple or roasted chestnut.
Golden Beet Lemonade | Highball
Steve says, "Not all festive drinks need to be wintry in the classic sense, and many holiday gatherings still have a place for a bright, thirst-quenching cocktail. This eye-catching elixir harnesses winter ingredients but drinks like an uplifting, lower-proof refresher. Show off its color in a tall glass, known as a "highball" or "collins." You can riff on this basic recipe depending on your tastes. This variation utilizes the piney notes of Meyer lemon, which can be substituted with regular lemon, grapefruit, blood orange, or any winter citrus. Feel free to turn up the beets if you prefer a more savory sip, or reduce if you'd prefer their flavor as an accent."
.5oz fresh golden beet juice (juicing instructions below)
.25oz fresh-squeezed Meyer lemon juice
.25oz fresh-squeezed lemon juice
1oz simple syrup
1.5oz vodka (or gin if preferred)
2oz water

To make the beet juice: Peel and chop beets into one-inch slices and process using an automatic juicer. Add a splash of lemon juice to the container while juicing and refrigerate immediately, or plan to use right away as the beet color can oxidize quickly.
Combine all ingredients over ice, stir, and strain over fresh ice. Avoid shaking as it can mute the distinctive, electric yellow color of the beet juice. Garnish with fresh herbs or thinly sliced candy-stripe beets.