Heirloom Salsa with Wyldcraft Gift Co.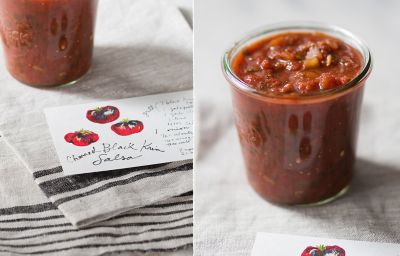 This summer, we're sending garden greetings in the form of Heirloom Salsa Recipe Postcards from Wyldcraft Gift Co., a collection of stationery, gift wrap, tea towels, and more created by terrain's own Art Director, Laura T. Each of these colorful cards includes a salsa recipe made with a unique heirloom tomato, accompanied by Laura's illustration of that variety. Best of all, the reverse side is a postcard that makes it easy to share your favorite recipes with friends near and far. Laura says, "I created these recipe cards because I grew a wide variety of heirloom tomatoes to sell at farmers' markets this summer. The cards serve as a companion piece for the tomatoes themselves." Read on for her recipes featuring two unusual heirlooms: Black Krim tomatoes and purple tomatillos.
Charred Black Krim Salsa
7 Black Krim tomatoes
1 jalapeno
1 garlic clove
1 lime
4 tablespoons cilantro
1 onion
1/2 cup vinegar
Sea salt
2 cups corn
2 cups black beans
Grill tomatoes and jalapeno. Set aside corn and beans, then combine all other ingredients in a blender. Mix in corn and black beans by hand before serving.
Salsa Violeta
9 purple tomatillos
3 garlic cloves
Half of one red onion
1/2 cup cilantro
Half of one jalapeno
1 tablespoon red basil
1 tablespoon lime juice
Sea salt
Splash of red wine
Combine all ingredients in a blender.
You May Also Like: