Haws History: The Peter Rabbit Watering Can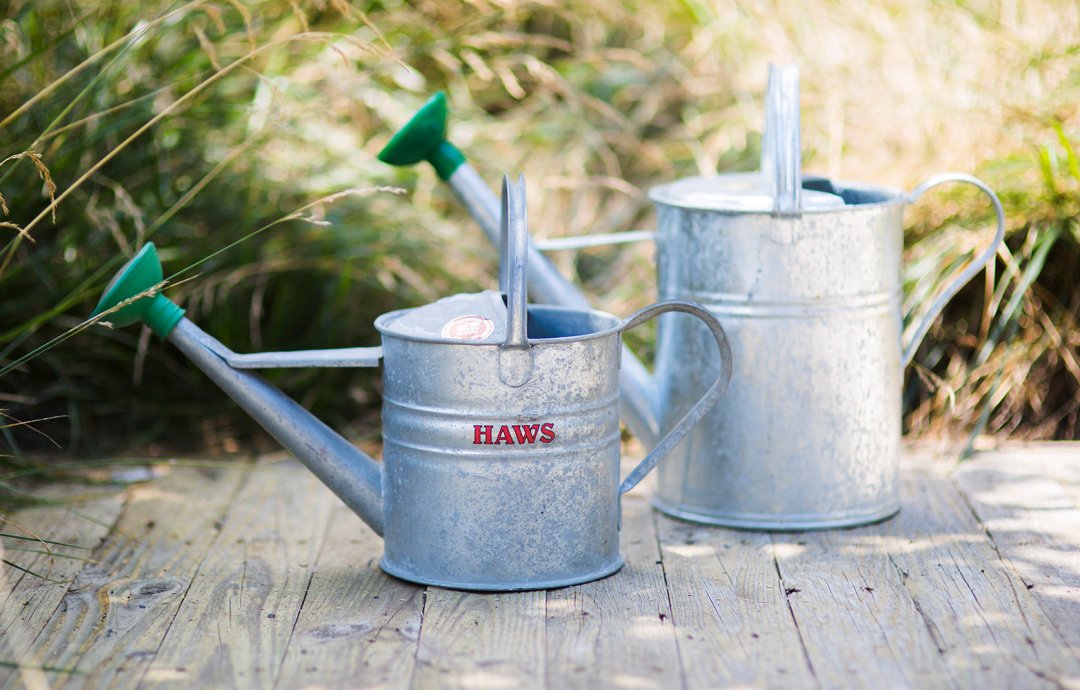 It had been an abnormally hot afternoon last summer in Pennsylvania's Endless Mountains when Cat, our Sr. Communications Manager, spotted a gardener's treasure. Wandering through Brighten Corners barn on the final stop of an afternoon antiquing, she was ready to get back to the lake for a swim and almost missed the watering can tucked on a high shelf among the vintage cabin décor and architectural lighting relics. "What caught my eye was the bright red HAWS logo," says Cat. "The can looked like it had some years on it, but it was in great shape. I immediately sent a photo to Chris (our garden utility buyer and a passionate heirloom tool junkie) to find out if it was the real deal. Needless to say, he told me not to leave without it."
Shown above to the right of its vintage counterpart, the modern version of the Peter Rabbit can is a favorite in our garden. It's easy to see how little the timeless design has changed over the years; this summer, we've added a fresh take on this garden standard with a vibrant, cornflower finish. We dug deeper into the history of the Peter Rabbit can with Chris, along with Steve Riley of Haws.
The history of Haws begins in 1886, when founder John Haws patented his perfectly-balanced "watering pot," which featured a canister-shaped body and two handles: one for carrying and one for tipping. His innovative design quickly became the toast of the English gardening community, receiving the Banksian medal from the Royal Horticultural Society. Steve says, "The Peter Rabbit can is also known as our 'Traditional' can, and its name comes from the watering can pictured in the classic books by Beatrix Potter. The vintage one shown here was made in the early 1990s. At that time, the 1-gallon Peter Rabbit was available in the zinc finish; today, the smaller cans are made with a powder coat." Chris adds, "The design is so nostalgic -- it brings back memories of my mom reading the Peter Rabbit stories to me. The shape is familiar to a lot of people because it was in the illustrations of their favorite childhood book."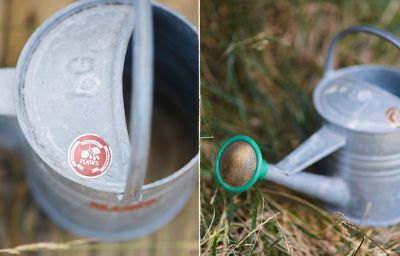 Still made in England, this classic can also has lots of practical appeal. As seen in Cat's vintage find, the hot-dipped zinc finish is made to last a lifetime in the garden. Chris says, "The Peter Rabbit can truly gets better with age, even if you keep it outside. Thanks to the galvanized finish, it can last for well over 20 years without rusting. It's also great for day-to-day watering, since the balanced design makes it easy to carry through the garden without feeling too heavy."
After our lesson in Haws history, Steve shared his tips for a well-watered garden. He says, "I always suggest having two watering cans: one for water only, and one for any fertilizers or other chemicals. I like to use green for water and red for anything else. Also, there's an easy way to clean your brass rose if the holes get clogged over time. A descaling solution -- like you'd use to clean a kettle or coffee pot -- will bring your rose back to full working order."