A Fireside Brunch with Haven's Kitchen
Here at terrain, we're longtime fans of Haven's Kitchen, the Manhattan-based cooking school focused on teaching the pride and pleasure of cooking with seasonal ingredients. A few years ago, founder Alison Cayne opened Haven's Kitchen to educate people about the ways that food can affect our environment, society, and daily relationships. Her new cookbook offers the same approachable, scratch-made recipes, practical techniques, and community-focused spirit that can be found in classes at the school. Over the next few months, Alison will be sharing inspiration, menus, and recipes for some of her favorite seasonal meals here on the blog. For October, a fireside brunch that's perfect for crisp fall weekends.
terrain: What was your inspiration for this meal? When would you host a fireside brunch?
Alison: My favorite time of year is the period of fall when the sun is still strong, but the air is definitely getting chilly. There's not much time left to enjoy a meal outside, and it's the perfect temperature for a cozy sweater (or poncho!). People start to hibernate when November hits, and the holidays take most of our social energy, so I think a late October picnic is an ideal way to be with friends and enjoy the last fruits of the warmer growing season.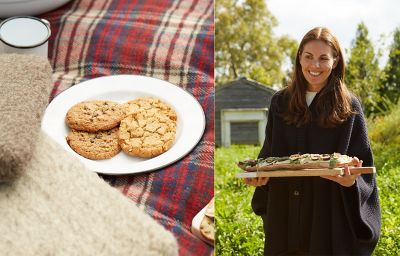 terrain: What's on the menu for your brunch?

Alison: Fall fruit is magnificent, and the star of this brunch. At our market here in NYC, there can be up to 20 varieties of apples at a time! I like to add pears and any stone fruits that are having their last moments. You don't need much else besides a hearty sandwich and, of course, some cookies.
terrain: Do you have any tips for the perfect fall sandwich?

Alison: It all starts with a great, crispy baguette and some fresh fruit -- apples, pears, or figs are perfect for fall. Pair the fruit with a buttery cheese like Brie, Camembert, or Mount Alice. If your guests are okay with it, a nice creamy blue cheese adds lots of flavor. Heartier greens are ideal for a picnic, since they stand up better to time and heat. For this brunch, I wanted to enjoy the last jammy figs of summer, so I paired them with a firm but creamy cheese. I added baby arugula to round out the texture, provide some color, and give the sandwich a bit of bite.
You May Also Like: