Gardenista in Residence: Woodland Hues in a Shade Garden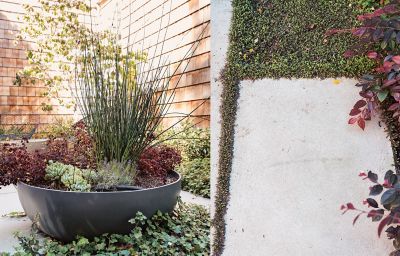 Dappled with sunlight that filters through a canopy of trees, the woodland garden above is a showplace for shade-loving foliage plants. Located inside a canyon in Mill Valley, California, this forest in miniature is the creation of landscape architect J.C. Miller of Miller Studio Landscape Architects. The design derives color from a saturated palette of foliage plants in shades of deep green, purple, and burgundy, each plant judiciously pruned for a look that's tailored, but not too formal. This remarkable garden joins many others in Gardenista: The Definitive Guide to Stylish Outdoor Spaces. Recently, we caught up with Gardenista editor-in-chief Michelle Slatalla for a tour of the garden and a conversation on shade-loving plants.
terrain: What features made you choose this garden for inclusion in the book?
Michelle: This garden solves a problem that many people face: they have a lot of shade in their landscape, especially if there are older, established trees. As the trees start to create a canopy of shade, it becomes harder and harder to bring color, interest, and life to the garden. This garden solves that problem by taking advantage of the dappled sunlight that comes through the trees, using that light as an element to heighten color and texture in foliage plants. When you have a shady garden, foliage is are your best friend -- variegated leaves, spiky fronds, or velvety, creeping groundcovers. This garden uses woodland colors really well, unabashedly limiting itself to greens, browns, and silvery leaves. It's a very peaceful, inviting place that doesn't feel oppresive, or as though it's lacking in color or light.
terrain: What are some of your favorite plants for a shade garden?
Michelle: I love Heuchera (Coral Bells) and Ajuga, which have beautiful, interesting leaves and can be used interchangeably. Both are low, clumping plants that can spread to create a dense carpet when they're happy. They come in many colors, but I especially like purple foliage. Plants that have silvery foliage are also great for shade gardens. They play off deep purples and reflect shafts of sunlight in interesting ways. Pittosporum tenuifolium 'Silver Sheen' is a great silvery shrub; it has tiny, delicate leaves but also grows very dense and high to make an effective privacy screen.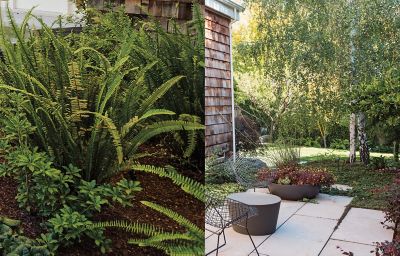 terrain: How can gardeners work with existing trees in the landscape?
Michelle: Think of trees as enormous, natural sculptures in the landscape. How can you enhance them and make them focal points in the garden? When planning around existing trees, the first thing to do is call an arborist to give you an evaluation, learn more about the trees, and learn the best times and techniques for pruning them. Pruning and shaping methods can vary based on the type of tree. Shaping a tree properly lets light into the garden and improves air circulation through the canopy without sacrificing the integrity of the tree itself.
terrain: Are there any tree varieties that don't work well in the garden?
Michelle: Don't use palm trees in a garden -- they form a really dense mat of roots that's like an underground carpet, which chokes out other plants. Also walnut trees, which secrete a chemical that's very harsh and discourages other plants. These are good things to keep in mind when deciding to keep or plant a tree in the garden.
terrain: As we move from summer to fall, what are your garden plans for the new season?
Michelle: The good news is that August is almost over. In nearly any garden with a June to September summer, August is the toughest month. Early bloomers are done, and everything is tired and old. September is just around the corner with cooler air, more rain, and softer sunlight to perk the garden up again. When September is coming, I prepare by pruning back any annuals that are looking tired, which might encourage a second growth of blooms. Now is also the time to add late-blooming perennials like Joe-Pye weed, a tall, stately plant that loves to bloom through autumn. With the burning sun gone, you can also plant cool weather crops like lettuce, spinach, and kale in your edible garden, for a second crop to go through frost.
Photographs by Matthew Williams for Gardenista: The Definitive Guide to Stylish Outdoor Spaces by Michelle Slatalla (Artisan Books). Copyright © 2016.
You May Also Like: