Gardenista in Residence: A Conversation with Michelle Slatalla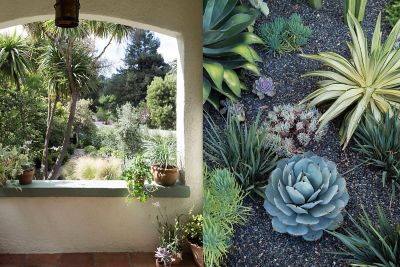 Here at terrain, we're longtime fans of Gardenista, the cultivated sister site of Remodelista that focuses on beautiful, inspiring, and attainable outdoor spaces. So, we're thrilled to announce an exciting collaboration: the Gardenista residency at terrain. Throughout the year, the folks at Gardenista will be curating monthly content for our blog – like in-depth tours of the gardens seen in this post. We'll also be teaming up for very special events at each terrain location, including seasonal workshops, farm-to-table meals, and live garden tours. To kick off the partnership, we caught up with Gardenista editor-in-chief Michelle Slatalla to talk about her brand-new book, Gardenista: The Definitive Guide to Stylish Outdoor Spaces, along with what's in store for the residency.
terrain: Congratulations on the release of Gardenista: The Definitive Guide to Stylish Outdoor Spaces! What was the inspiration for your new book?
Michelle: A lot of our ideas at Gardenista and Remodelista come from friends who have beautiful gardens. We used to sit around the office and talk about how amazing it would be to travel to England and LA and Cape Cod and Texas and the Netherlands to photograph them, including things that people don't usually pay attention to – like drainage, and fences, and how hardscape materials affect a color – to create a book you could carry around and dog-ear when you were planning your own garden.
terrain: How has Gardenista (the blog) helped to shape the book?
Michelle: One thing that sets us apart from other online sites is that we relentlessly source furnishings, plants, and hardscape materials and tell our readers exactly how to recreate the look and where to buy the materials. We demystify design and make it accessible. We brought that same sensibility to the book, which has our popular "Steal This Look" tips at the end of every one of the "13 Gardens We Love" chapters. In the book, our list of "The Gardenista 100" classics – essentials from the best digging tools to the most beautiful outdoor dining table – also lists sources for every product.
terrain: In writing the book, what was your approach to balancing current design trends and classic style beyond the looks of the moment? How do you see the book in relation to that balance?
Michelle: At Gardenista and Remodelista, we don't do fads. We love clean, simple designs that are timeless, no matter whether they're contemporary or classic. In the book, "The Gardenista Manifesto" lists 10 rules we live by. No. 1 is "Outdoor space is living space and should be as carefully considered as any other room in your house." With that in mind, we think you should make design decisions that choose personality over perfection; a little wildness in the garden is a good thing.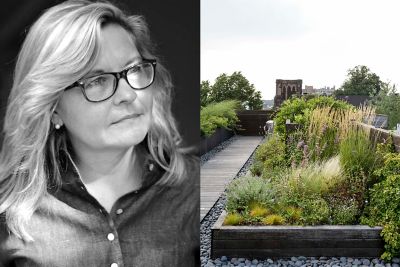 terrain: How did you choose the gardens that are featured in the book?
Michelle: A lot of the gardens in the books are our friends' private gardens and haven't been seen anywhere before. All of the gardens, from cactus courtyards in LA to dahlia delirium in southern England, have two things in common: they are designed around plants and materials that are natural to and evocative of the places they're sited. And they reflect their owner's personalities as well; your garden should never look like it could belong to anyone else.
terrain: Were you able to travel to many of the gardens featured? If so, did you have a favorite that you visited?
Michelle: With our photographer Matthew Williams, we traveled to all of the gardens featured in the book. Every time we shot a new one, it became our favorite for the day or the week. There is something so special about every garden in this book, whether it's a Boho-chic Moroccan tile fountain, a gravel courtyard with a serene green and gray palette, or designer John Derian's colorful edible garden hidden behind hedges in Provincetown, Massachusetts.
terrain: What's happening in your own garden as summer turns to fall? What are some of your favorite plants for this time of year?
Michelle: My northern California garden (which is in the book) is in Mill Valley, a few miles north of San Francisco. It is a loose homage to the landscape Dutch designer Piet Oudolf created for New York City's High Line park, so I have drifts of grasses and drought-hardy perennials that really come into their own in late summer. It's a pretty colorful place right now. I try to limit the palette to white, yellow, and purple to create coherence in my front yard, where Veronicastrum and Russian sage (purple), Achilleas (yellow), and Gaura (white) are vying for attention this month. My all-time favorite perennial, though, is one that breaks my heart every year: Coreopsis 'Moonbeam.' I love the soft buttery yellow color of the flowers and the lacy foliage. It's never done well for me, though, not in California and not on Long Island where I used to live. I call it a so-called perennial, but I can't resist buying it when I see it.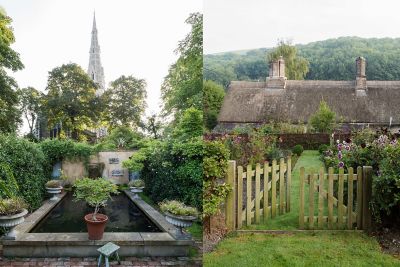 terrain: Can you tell us a bit about the Gardenista residency at terrain? What are you most looking forward to as the partnership progresses through the year?
Michelle: Our whole team at Gardenista and Remodelista is very excited about the residency. All of our editors, including Remodelista founder Julie Carlson, will be coming to terrain in Pennsylvania in November to kick off the holiday season at your annual Holiday Open House. As you know, our editors are very crafty (in a good way!) and we're hoping to come up with a special, easy DIY project for the event. We're also really excited about the new California shops you're opening in Walnut Creek and Palo Alto this year, and are thrilled to be co-sponsoring a California garden tour next spring in honor of the stores.
Michelle and more of our friends from Gardenista will be joining us for special events throughout the year as part of the residency. Learn more about each event & RSVP:
Holiday Cocktails & Crafts | November 19, 2016 | Glen Mills, PA
A Dig into Spring Dinner with Six Seasons | April 20, 2017 | Glen Mills, PA
Six Seasons Cocktail Hour & Signing | April 29, 2017 | Westport, CT
Images from Gardenista: The Definitive Guide to Stylish Outdoor Spaces by Michelle Slatalla (Artisan Books). Copyright © 2016. Photographs by Matthew Williams.
You May Also Like:
$59.95 – $138.00

$88.00 – $138.00