Gardenista in Residence: A Rainbow Garden of Annuals
Striking the perfect balance between lush plantings and structured elegance, the vibrant garden above is a showcase for colorful annuals in bloom. Located in Mill Valley, California, this exuberant landscape is the creation of garden writer Jean Victor and her husband, architect Ken Linsteadt. Overlaying a grid-like layout of retaining walls and rectangular beds, the couple has planted a naturally beautiful collection of meadow-inspired wildflowers, rainbow-hued annuals, and edibles. This remarkable garden joins many others in Gardenista: The Definitive Guide to Stylish Outdoor Spaces. Recently, we caught up with Gardenista editor-in-chief Michelle Slatalla for a tour of the garden and a conversation on all things annuals.
terrain: What features made you choose this garden for inclusion in the book?
Michelle: This is a garden that looks like it would be really labor-intensive and difficult to pull off, since it's such a kaleidoscope of colors and plants. Everywhere you look, there's something beautiful -- it's very lush and thick. However, the truth is that it's an easy garden to have. This type of garden is great for beginners because it has lots of annuals: plants that are started from seed or bought as seedlings at the beginning of the season. You only expect annuals to last for one season because they aren't native to your climate, so you just need to give them sun and water then watch them grow. Annuals are a great way for beginning gardeners to get a lush, over-the-top flower garden.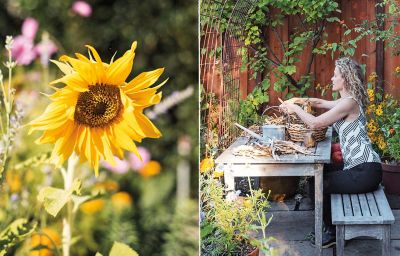 terrain: What are some of your favorite colorful annuals for high summer?
Michelle: In any region except for super-hot climates like Arizona, cosmos are a terrific, can't-fail annual. They grow fast and thick with a bushy shape and tons of flowers, but they also have feathery, delicate foliage that contrasts beautifully with other plants. Cosmos won't overtake the garden or be a bad neighbor to other plants. They can range in color from white to deep pink, and in shape from delicate individual stems to bushy, shrub-like plants. If you choose cosmos, deadhead them as they finish blooming; that will keep them flowering all the way until frost.
Sunflowers are another great choice because they're very hardy, fast-growing, and dramatic. There are so many different varieties, from three feet tall all the way up to ten-foot stems with 18" diameter flowers. Sunflowers also offer a broad range of colors, from pale butter yellow to deep brownish-gold. They can carry an entire garden bed, or serve as the flowering focal point for an edible garden.
As you become more experienced with annuals, start to experiment with the color wheel. You can mix and match their bright colors to create palettes in your garden beds. In addition to cosmos and sunflowers, the easiest and hardiest annuals to start with are zinnias and nicotianas. No matter your level of expertise, it's also great to mix annuals into your perennial beds. That way, you can fill in with annuals during the low points in the season when perennials aren't in bloom.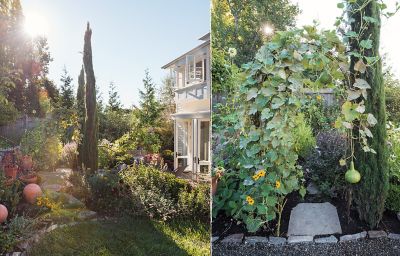 terrain: In the introduction to this garden tour you write, "Colorful wildflowers, flowering herbs, and annuals undercut the precision of a classic 'four-square' of mirror-image beds." What hardscape or design elements do you recommend for structuring an annual garden?
Michelle: An annual garden can pair well with a formal, geometric design of square or rectangular beds. If you're editing the perimeter of a yard or path, it's nice to let the annuals go wild and take over the bounds of that geometry. The plants soften the hardscape, but the hardscape design also lends structure to the flowers. This allows the garden to look sort of wild, but planned at the same time.
terrain: What are some of your favorite garden colors for a high summer palette?
Michelle: One of my favorite palettes is yellow, purple, and white. In my own garden, I keep that color combination going all season long with a mix of perennials and annuals: white cosmos, yellow and white lantana, and perennial purple salvias and verbenas.
A colorful flower that's great for edging is Santa Barbara Daisy (Erigeron); it's a perennial here in northern California, but an annual in colder climates. It's used a lot to provide long-season color at the front of a garden bed, because it grows in a low, mounding shape. The interesting thing about its flowers is that they're fairly pink when they open, but become white over time with a deep pink center.
Photograph 1L by Matthew Williams. All other photographs by Matthew Williams for Gardenista: The Definitive Guide to Stylish Outdoor Spaces by Michelle Slatalla (Artisan Books). Copyright © 2016.