Gardenista in Residence: An Outdoor Thanksgiving
With Thanksgiving Day just two weeks away, we're preparing for a feast with family and friends. And what better place to celebrate harvest bounty than in the garden? We asked a fellow gardener, Gardenista editor-in-chief Michelle Slatalla, how she would host a Thanksgiving meal in the open air. She shares her tips, from setting the table to signature cocktails, below.
"Drumstick picnic, anyone? There is something undeniably wonderful about eating a celebratory meal outdoors, especially on a holiday that is about gratitude. Here at Gardenista, we believe that if your surroundings involve fresh air, sunshine and colorful autumn, that's three reasons right there to be thankful.
Unfortunately the weather doesn't always cooperate. (Hello, November?) If you live in a mild climate and your family's tradition is to start the feast at 1 p.m. when the sun is high, you are in luck. For the rest of us, a full-blown Thanksgiving dinner outdoors may be out of reach. But what about kicking off the celebration with cocktails around a fire pit before you move inside for the sit-down portion of the occasion? Or have appetizers on the lawn, accompanied by a game of touch football."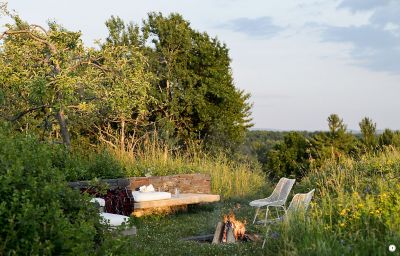 1. Flee the kitchen. If friends and family are outside, you don't want to be stuck at the stove. Instead, head out to where the action is and grill vegetables on the barbecue to serve as appetizers. Wrap potatoes in foil and let them bake in the embers in the fire pit. If you have a komodo cooker, you can even smoke the turkey outdoors (my husband roasts his bird every year in a Big Green Egg).
2. Embrace rustic elegance. You don't want to expose your grandmother's heirloom linen tablecloth to the elements. Instead, cover the table with a canvas painter's drop cloth (the heavy fabric drapes beautifully). To avoid wrinkles, the secret is to launder it and tumble it dry just before putting it on the table.
3. Let nature do the decorating. Bright yellow leaves, ripe apples on a tree, and the last blowsy blooms from this year's garden make a pretty backdrop—and require not an ounce of effort on your part.
4. Keep things cozy. If there's a chill in the air, make sure that your outdoor seating area has plenty of blankets and throws and sheepskins so guests can cocoon. Have extra flannel shirts and sweaters on hand for those cousins who never think ahead to dress warmly.
5. Serve a signature cocktail. Ours is called the Mayflower. Created by our editor Justine Hand, its ingredients include apple cider, lime juice, simple syrup and bitters. Oh, and gin.
Here's a link to the recipe.
6. Set a sturdy table. Forget the flimsy folding furniture; guests will feel immediately cared for if they're settling into a solid wood chair and pulling it up to a table that means business. At Gardenista, we're fans of
terrain
's protected teak dining pieces, like a
country table
,
armchairs
and
side chairs
that will make everyone feel at home outdoors.
7. Cast a golden glow. Lanterns and candles add instant warmth to any outdoor gathering (and flatter every guest's complexion, by the way). A glass-sided light like this
miniature iron one
will prevent wind from blowing out a flame and is small enough to see over if you put it on the dining table.
8. Forget fresh flowers. They die! Instead, decorate the table with a dried flower arrangement that you can bring indoors and enjoy for weeks (remember, we're just kicking off the holiday season). Our editors love dried flowers and branches—particularly
faux smoke bush
,
preserved artichokes
, and
Rosa rugosa pods
—because you can use these pieces to make an infinite number of arrangements. They look good together in a simple vase, and they will look great if you mix and match them with other dried (or fresh) flowers as the holiday season progresses.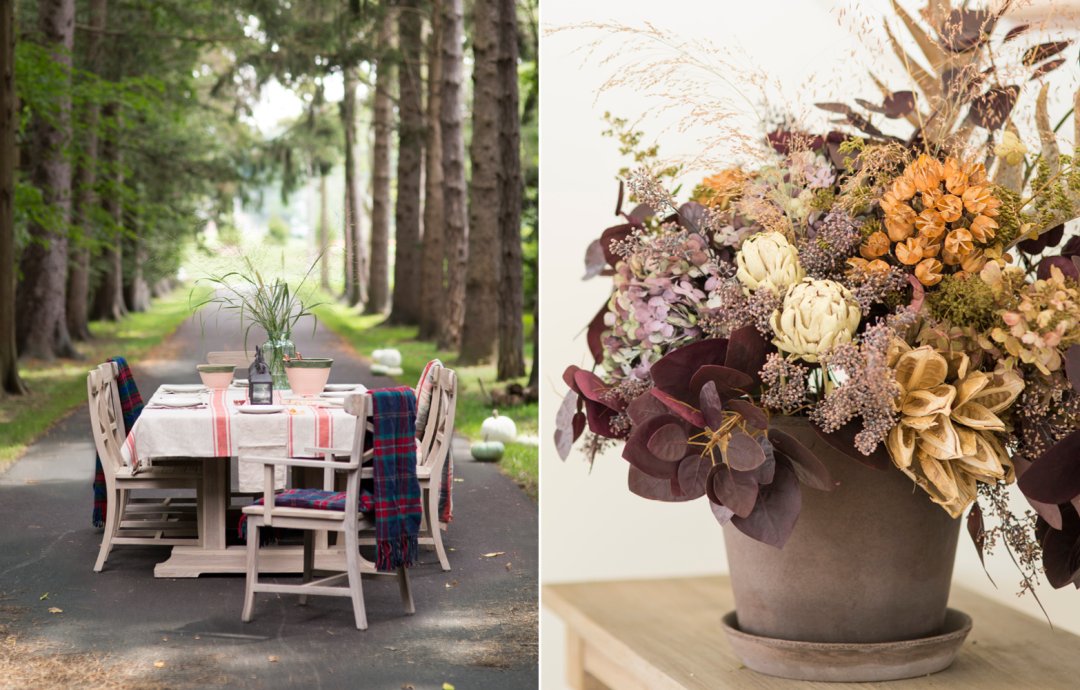 Michelle and more of our friends from Gardenista will be joining us for special events at terrain throughout the year. Learn more about each event & RSVP:
You May Also Like:
$2,998.50 – $4,698.00

$3,998.00 – $4,698.00