Gardenista in Residence: Holiday Crafts + Cocktails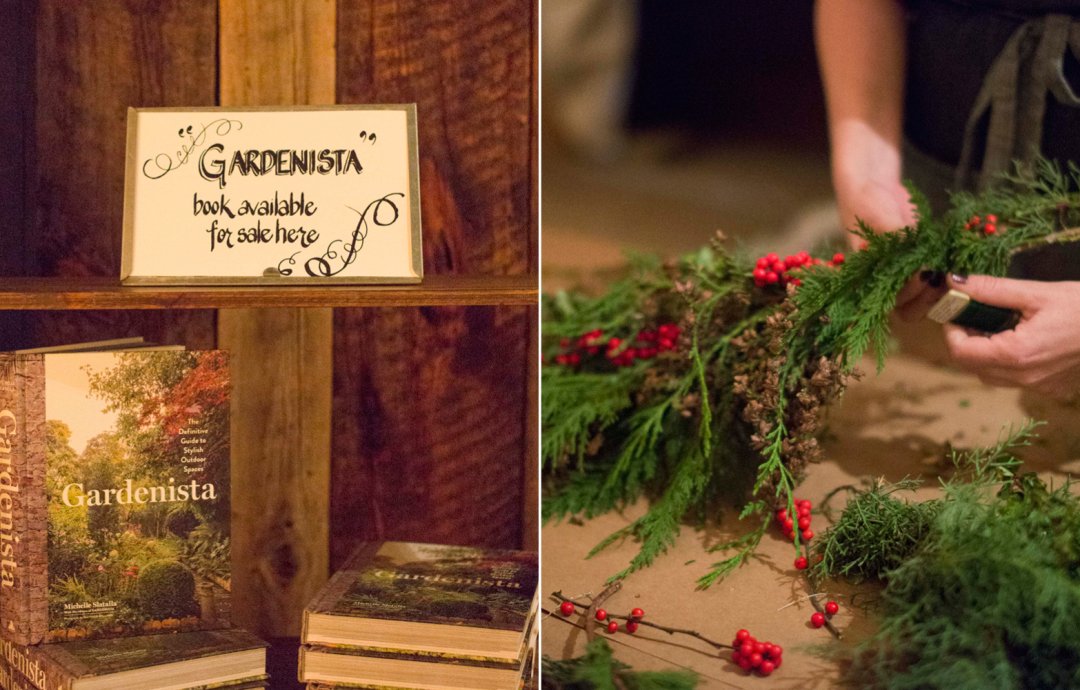 After a full day of festivities at the Holiday Open House in Glen Mills, we had one more celebration in store -- an evening of Christmas crafts and cocktails with our friends from Gardenista. Editor-in-chief Michelle Slatalla joined us, along with the editorial teams from Gardenista and Remodelista, to launch a year of workshops and welcome the holidays. Attendees enjoyed festive treats as they completed a trio of DIYs to deck the halls all season long. Read on for more about the evening, including how you can get the looks at home.
Michelle says, "With a chapter in our new Gardenista book devoted to 12 DIY projects for the ultimate outdoor room, our team of editors was feeling particularly crafty when we arrived at the Holiday Open House to kick off our year-long residency at Terrain. On the agenda: three DIY holiday décor projects easy enough for anyone to make at home (and even more fun to make with a group of friends). Using a mix of live materials from the garden—including foraged greenery and berries—and supplies from Terrain's holiday shop, we made Scandi-inspired mini-wreaths, mixed-medium roping entwined with metal, and DIY glass ornaments in jewel tones."
"Here's how to recreate the projects at home. For the mixed-medium roping, start with a length of live garland (like a fresh cedar or noble fir one that can be cut to a custom size with wire clippers). Stretch the garland flat on a tabletop, add foraged stems as desired, and then braid it gently with a metal garland, making sure to position the leaves to catch and reflect light. The result will be a garland with a silvery, Old World glow."
"Our mini-wreaths were inspired by the Nordic tradition of making simple holiday decorations from fresh greens and berries. To start, we twisted 3-foot lengths of florists' wire into the shape of round frames (each about the size of a dinner plate) with a loop for hanging the finished wreath on a nail. Next, we cut short lengths (6 to 8 inches) of branches and boughs and secured them to the frame with wire, overlapping each branch with leaves from the next one to hide the wire. To make a similar wreath at home, head out to the backyard with your clippers and snip off new growth (bendable branches) from privet or any other backyard bush with berries."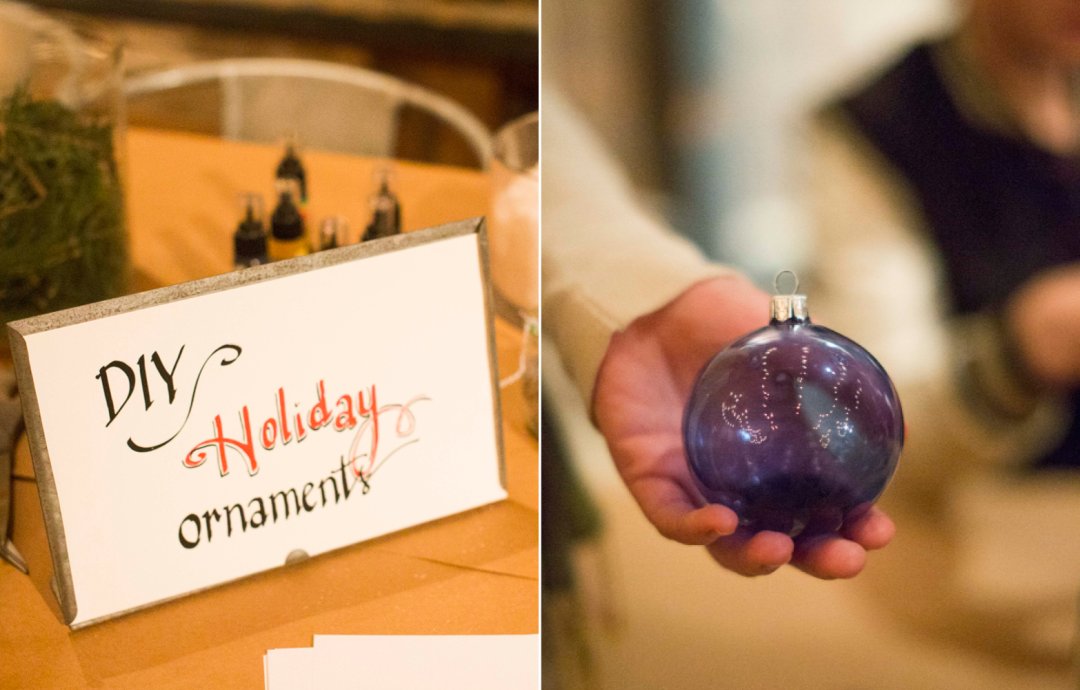 "For the jewel tone ornaments, we started with clear, fillable glass bulbs. We filled them with paint from a DIY stained glass kit (found in craft stores) and coated the inside of the glass with the color before pouring out any excess paint. After two hours and many signed copies of our book, we were thrilled to see so many creatively designed and entirely original garlands, mini-wreaths, and ornaments go home with everyone!"
Michelle and more of our friends from Gardenista will be joining us for special events at terrain throughout the year. Learn more about each event & RSVP:
A Dig into Spring Dinner with Six Seasons | April 20, 2017 | Glen Mills, PA
Six Seasons Cocktail Hour & Signing | April 29, 2017 | Westport, CT