Gardenista in Residence: An English Cottage Garden
Filled with vibrant blooms and green lawns, the cottage garden above is the perfect place to find inspiration for spring. Today, Gardenista takes us on a tour of this Dorset, England property, owned by classicist architect Ben Pentreath and his husband, Charlie McCormick. In Gardenista: The Definitive Guide to Stylish Outdoor Spaces, Michelle Slatalla writes, "Ben Pentreath, who oversaw the interior design of the Duke and Duchess of Cambridge's twenty-room home at Kensington Palace, had something less grand in mind for himself when he obtained a long-term lease of an old parsonage in the picturesque village of Littlebredy (population: 82). With [Charlie McCormick], he designed the colorful herbaceous borders the nineteenth-century house (and the medieval parish church next door) had deserved all along." Read on for a tour with Gardenista, and learn more about the events they're co-hosting at terrain this spring.
Above, at left: "Pentreath annexed the movie-set facades of neighbors' cottages to use as scenic backdrops for his garden. Here in the lower garden, the look is all about symmetry: a double garden gate...twin cottage chimneys in the distance; and a mown grass path bisecting a pair of garden beds planted with a mix of flowers (including staked dahlias, irises, and cosmos) and edibles."
Above, at right: "A set of brick steps leads from the lower garden...to the upper lawn, where the old parsonage sits. Flanking the stairs (and adding a sculptural element) are four clipped balls of boxwood and simple terra-cotta pots planted with herbs."
Above: "A grass path between the flower beds leads to the old parsonage (built in 1820). The flower beds provide color from spring (tulips and lupines) through summer (lilies, foxgloves, and hollyhocks) and into early autumn (daisies, Japanese anemones, and more dahlias)."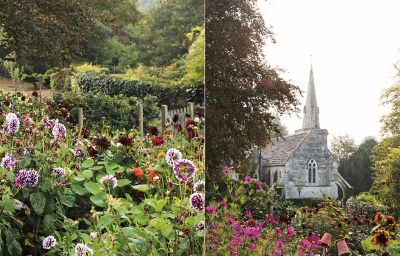 Above, at left: "[The garden] reveals a riotous mix: orange poppies, nasturtiums, and many preening dahlias, including varieties with flowers shaped like dinner plates, double peonies, and pom-poms. Among Pentreath's favorites are ruffled purple-and-white 'Edinburgh', spiky golden 'Glorie of Noordwijk', and velvety dark-red 'Chat Noir'. His most successful plant combinations 'are entirely down to chance and luck,' he says."
Above, at right: "Pentreath's garden design incorporates the church next door. Framed by flowers, St. Michael and All Angels (with a fourteenth-century stone tower and a steeple added in the mid-1800s) appears to belong to the garden. And it does."
Find twelve additional garden tours, plus even more from Ben Pentreath's garden, in Gardenista: The Definitive Guide to Stylish Outdoor Spaces. Michelle and the Gardenista team will be joining us for special events at terrain throughout the year. Learn more about each event & RSVP:
A Dig into Spring Dinner with Six Seasons | April 20, 2017 | Glen Mills, PA
Six Seasons Cocktail Hour & Signing | April 29, 2017 | Westport, CT
Photography and text excerpted from Gardenista by Michelle Slatalla (Artisan Books). Copyright © 2016. Photographs by Matthew Williams.
You May Also Like: