Gardenista in Residence: Michelle Slatalla's California Garden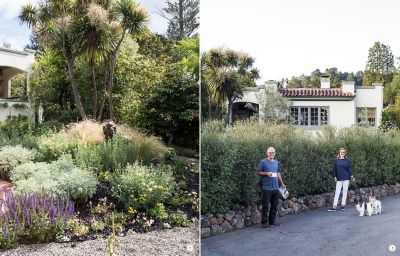 Tomorrow marks an exciting milestone for our friends at Gardenista -- the launch of their first book, Gardenista: The Definitive Guide to Stylish Outdoor Spaces. This new volume offers in-depth tours of 13 enviable gardens from LA to London, plus planting guides, DIY projects, design ideas, and much more. Throughout the year, the editors at Gardenista will be curating monthly content for the terrain blog, including tours of the gardens featured in the book. Recently, we chatted about the book with Gardenista editor-in-chief Michelle Slatalla. Today, she's taking us on a tour of her own garden in Mill Valley, California.
Michelle says, "Every gardener has a formative moment, many involving a weather disaster. For me, it was the year an unexpected spring blizzard felled my dad's tulips. We lived in Chicago, so in April—or maybe it was May?—snow was something we could live with, but the tulips couldn't. The flowers looked so beautiful for a few hours, red and yellow stripes framed by a white backdrop. Then they melted into puddles of wet color. That was the end of tulip season.
"But lo and behold (as the gardeners in my family used to say), the next year the tulips were back, bright heads bobbing on swan-necked stems in tentative spring sunlight. And this was the lesson that stuck with me: everything dies, but in the garden it can come back to life. I have not looked back since. Nearly any amateurish mistake can be fixed, by pruning a plant back to the ground or watering its roots, or digging it up and moving it to a more appropriate spot. Knowing this, I had the courage to design a garden from scratch after my husband and I remodeled a small cottage in Mill Valley, California.
"When I started, the so-called garden was a muddy wasteland left behind by the contractors. As the editor of Gardenista.com and the author of our brand-new book, Gardenista: The Definitive Guide to Stylish Outdoor Spaces, I spend all day looking at photos of beautiful gardens and trying to understand the design principles behind the best ones. In my own front garden, I created a mini-meadow that was a loose homage to garden designer Piet Oudolf's High Line park in New York. In my back garden, I created outdoor living and workspaces, anchored by a bluestone patio and a tiny 18-inch-deep sliver of a shed.
May I show you around?"
Above: L: A detail shot of my mini-meadow shows plantings that surround a 3-foot-high statue of 19th century Japanese philosopher Ninomiya Sontoku. Plants include purple veronicastrum (foreground) and Russian sage (in background), yellow Achillea (yarrow) and white clumps of heliotrope, salvia, echinacea, gaura, and lantana. R: My husband, Josh Quittner, and I are in front of our new pittosporum hedge with our dogs, Larry (L) and Sticky. The hedge replaced an old picket fence; I think a hedge is friendlier than a fence.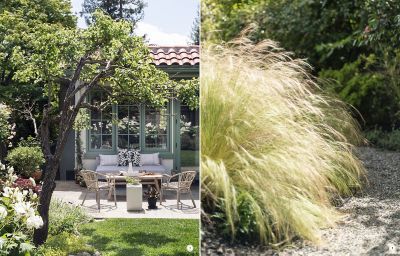 L: In the back garden is an outdoor living room that is an extension of the house during the nine months of the year when we have nice weather. Anchored by a teak daybed from terrain, the space is almost always occupied by someone lying around with a book and a big glass of lemonade. R: Mexican feather grass catches the sun and looks like spun gold in the mornings.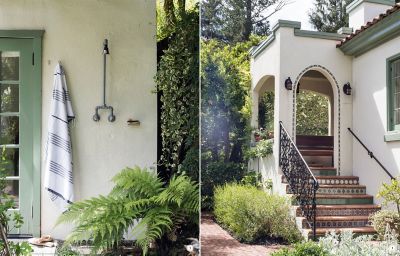 L: We used basic plumbing parts to make an outdoor shower in a corner of the garden. The tree fern was rescued from the front garden before the remodel. R: Our neighbor, Richard, came by one day soon after we moved in and offered us a fragment of an ornate iron fence that he said had once belonged to our house. He'd been using it as a trellis. Working with the original piece, a blacksmith was able to create a railing for our front stoop (which I think looks as if it's always been there).
My little meadow (at left) has drought-tolerant perennials and grasses that thrive in northern California, including Mexican feather grass, dwarf Russian sage, and Echinacea. On the other side of the brick path is a more minimalist bed where I am training boxwood to grow into a low maze, with an olive tree in the middle.
Image credits: 1. Photo by Aya Brackett; 2. Photo by Matthew Williams for Gardenista: The Definitive Guide to Stylish Outdoor Spaces, and Artisan Books; 3. Photo by Matthew Williams.