A Garden Tool Tune-Up with Sneeboer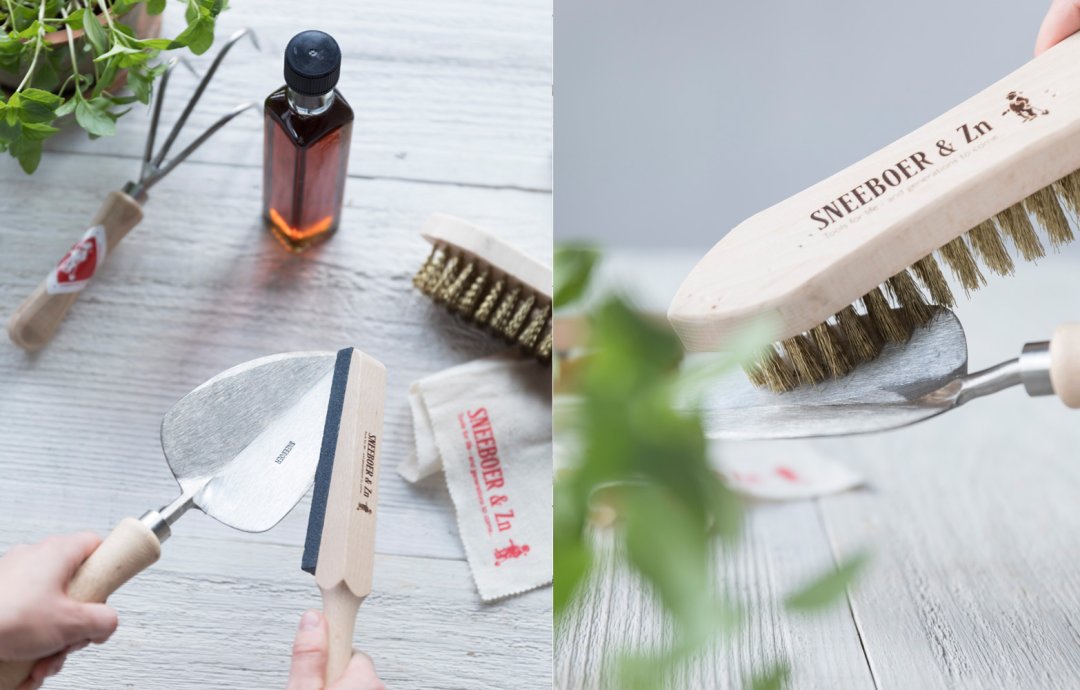 With spring less than a week away, we're getting our garden tools ready for planting season with a little help from the experts at Sneeboer, who have been hand-forging their timeless tools in Holland since 1913. Before we dig into the garden, we're taking the time to tune up our tools with their handy maintenance kit. Today, owner and third-generation craftsman Jaap Sneeboer shared his tips for keeping your garden tools in top shape, year after year.
terrain: Can you tell us a bit about your tool maintenance kit? How do you use each piece of the kit?
Jaap: The maintenance kit keeps all manner of tools in perfect health, no matter what the garden can throw at them (not that our Dutch masterpieces aren't capable of dealing with all garden soil types and conditions!). The kit includes linseed oil and cloth, a whetstone, and a wire brush to maintain tools from the top of the handle to the tip of the blade.
The oil and cloth are used for coating untreated wood handles before and after use. It's also suitable for coating carbon steel tool heads and blades; stainless steel tools don't require this treatment. The whetstone keeps a fine cutting edge on bladed tools, while the brush is an easy and effective way to clean your tools. Even the most stubborn clay won't have an answer for it!
terrain: What maintenance routine do you follow to keep your tools in great condition?
Jaap: To start, gather your garden tools and maintenance kit. Treat the wooden handle of each tool, including your whetstone, with linseed oil. If you do this treatment two or three times a year, your handles will last a long time. In very dry climates, you might need to oil your handles more often.
Next, use the brush to clean the metal parts of each tool, then check to see if the blade is still sharp. If it's dull, prepare your whetstone by soaking it in water for 15 minutes (try to soak only the stone blade, if possible). Use the damp whetstone to sharpen the edge of the blade from the front side only. A burr will form on the back of the blade, which you should remove with just a single rasp of the whetstone. Never use an electric sharpener on your tools – it exposes the blades to high temperatures that can change the quality of the metal.
Once all your tools are sharpened, treat the handle of the whetstone with linseed oil again. In fact, it's best to treat the handle of the whetstone after every use.
terrain: Are there any maintenance steps that are especially important to complete before spring garden season begins?
Jaap: Aside from the general maintenance steps outlined above, the best thing you can do is check your tools during their "rest" time over the winter. At that point, you can make any larger repairs, like replacing a handle, before your tools are needed in the garden.
terrain: Should tools be cleaned after each use?
Jaap: The metal parts of the tools are stainless steel, so in principle you don't need to clean them after every use. If you use the tools in wet conditions, however, soil can stick to the blade. This is especially true in places that have clay-heavy soil, like here in the Netherlands. If that's the case, you should clean any soil from the blade to remove extra weight. You should clean the handles after each use, to provide a better grip and make gardening more enjoyable! I also recommend storing your tools in a dry shed or garage between uses.