Fresh Flower Tips with Laughing Lady Flower Farm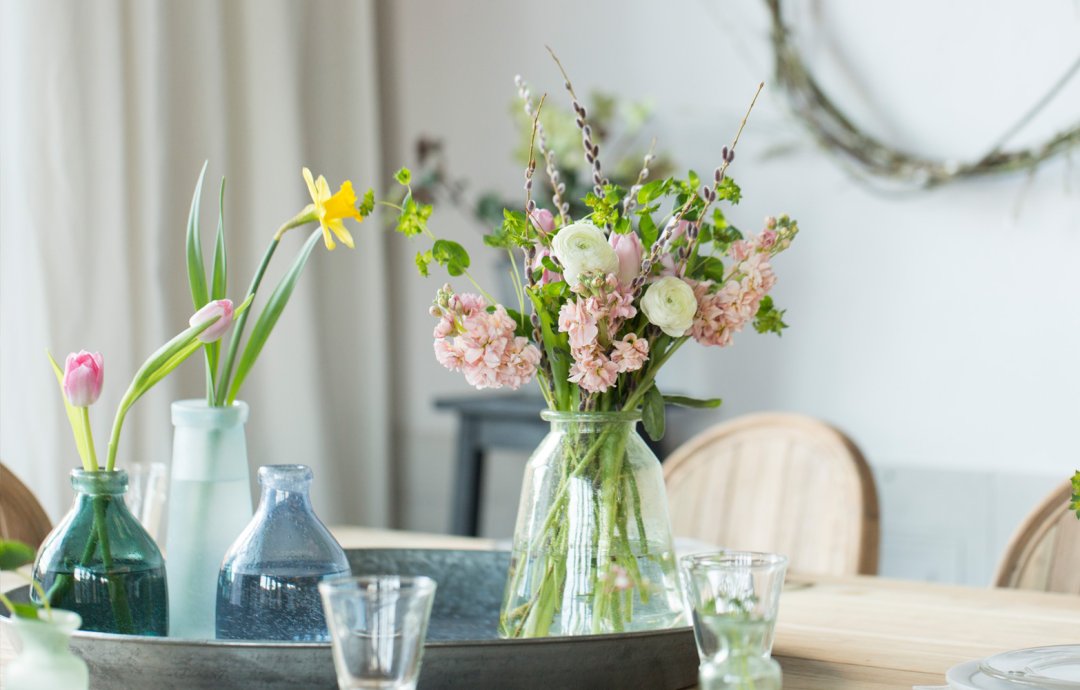 Bouquets of fresh flowers will soon be arriving at Styer's, courtesy of our friends at Laughing Lady Flower Farm. For nearly 20 years, farm owner Kate Sparks has been growing flowers on her four-acre property near Doylestown, PA; as the weather warms up, the best of her harvest will be delivered to terrain each week. Recently, Kate stopped by our office with the blooms above, including bupleurum, ranunculus, tulips, willow, daffodils and many more flowers that we'll see this spring. After taking a trip to the farm last summer, we can't wait to see this year's colorful bouquets when they begin to arrive in early March. In the meantime, we're brushing up on bouquet care (just in time for Valentine's Day surprises!) with ten tips for fresh flowers from Kate. She says, "It's true -- bouquets made with local flowers are fresher and last longer than bouquets made with flowers shipped from overseas. Follow these tips to get the very best vase life from your flowers."
1. Start with a clean vase: Dirty vases carry bacteria, which will shorten the life of your bouquet. If necessary, add bleach to the rinse water when cleaning your vases.
2. Cut at least half an inch of stem off each flower: The stems will dry out on the way home, making it difficult for your flowers to drink water. Cutting the stems before you place your bouquet in a vase will expose fresh tissue, so water can be absorbed more efficiently.
3. Remove any foliage that could be under water: Foliage breaks down in the water and causes bacteria to build up, which shortens the vase life of your flowers (and makes the water stinky).
4. Use a sharp knife or clippers to cut your flowers: Dull clippers smash the tissue of the stem, introducing bacteria into the water. Sharp clippers make a clean cut.
5. Fill your vase with cold water: Flowers take up cold water more quickly than warm water.
6. Recut stems & change water every 2-3 days: Flowers drink a lot of water, so keeping the vase full ensures that your bouquet doesn't dry out. Changing the water also helps to keep bacteria at bay.
7. Display your flowers in a cool area away from direct sunlight: Sun and heat cause flowers to mature more quickly, shortening vase life.
8. Keep your flowers away from ripening fruits and vegetables: Fruits and vegetables give off ethylene gas, which can cause your flowers to drop their petals prematurely.
9. Use flower food for most flowers: Flower food contains sugar to feed the flowers, plus a bactericide to keep the water fresh and clean. Flower food is especially helpful for those forgetful or busy folks who don't always remember to change the water. There are a few flowers, like zinnias and sunflowers, that do better with a teaspoon of bleach in place of flower food. Keep in mind that bleach dissipates in a few hours and is only a temporary replacement for fresh, clean water.
10. Use bulb flower food when necessary: Bulb flowers, such as tulips, gladiolus, ranunculus and lilies, have special hormone requirements. Bulb flower food is specially developed to prevent their leaves from yellowing, help the buds open, and keep the blooms fresh longer.