A Gift Under Glass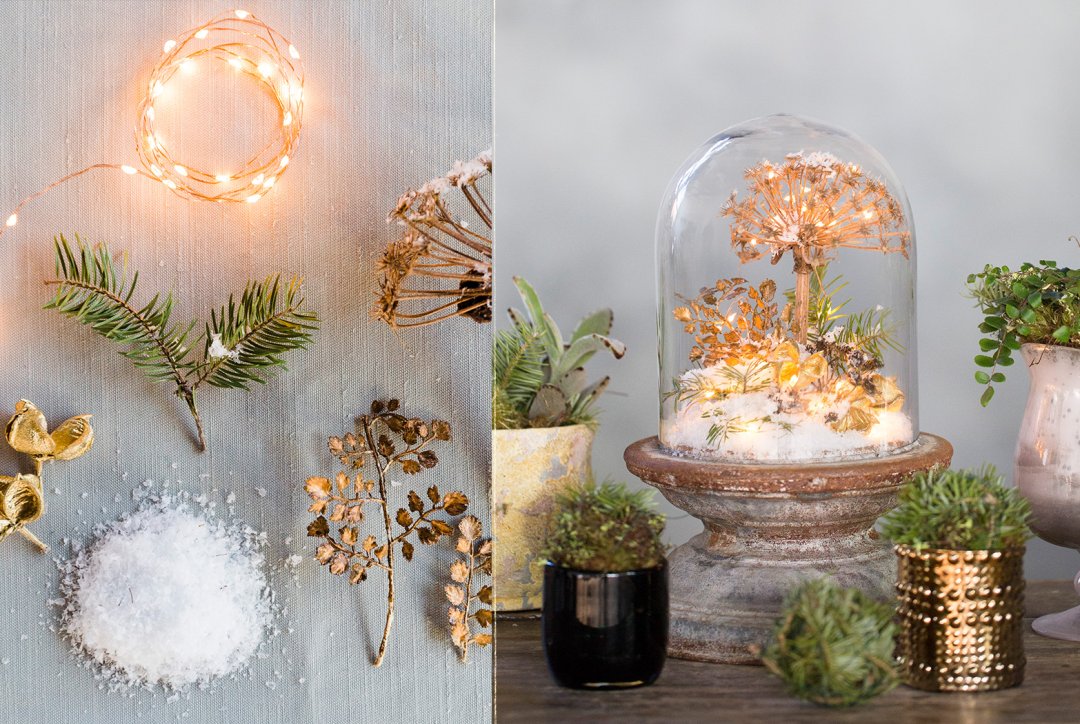 In nineteenth-century France, newly-married couples preserved mementos from their wedding day inside a glass cloche, creating a display known as a Globe de Mariée. Over the years, they would add more tokens -- locks of their children's hair, photographs, jewelry, and symbolic golden charms -- until the cloche became a miniature reflection of their lives together. Today, this tradition adapts beautifully to ornate collections of preserved botanicals, touched with gilded accents and stowed inside elegant cloches. These "forever" terrariums capture the majesty of nature under glass, and make magical gifts for those who love the garden but may not have time to care for living specimens.
What You'll Need
Cloche with matching base
Battery-powered Stargazer lights, 5' strand
Dried, preserved, or faux botanicals
Gold spray paint
Fresh evergreen cuttings
Faux snow
Floral foam
Glue
To make a cloche of your own, start by cutting a half sphere of floral foam and securing it to the base of the cloche with dots of glue. Choose a selection of dried or preserved botanicals, and coat some in gold spray paint, if desired, for a gilded effect. (We selected dried allium, plus cotton pods and preserved ferns.) Arrange a strand of Stargazer lights around the foam in a swirl, leaving part of the strand loose to wrap around the botanicals. Anchor the allium stems at the center of the floral foam, then layer in additional botanicals as desired. Next, add some fresh evergreen cuttings for a bit of wintry color.
Once your stems are arranged, weave the lights through the greens and up into the allium. Sprinkle faux snow over the base to cover the floral foam, and lightly over the plant material. Add another handful of snow at the center of the arrangement, then place the top onto the cloche and shake gently. The snow from the center will settle downward over the arrangement, letting the lights and botanicals peek through.