A Forager's Cocktail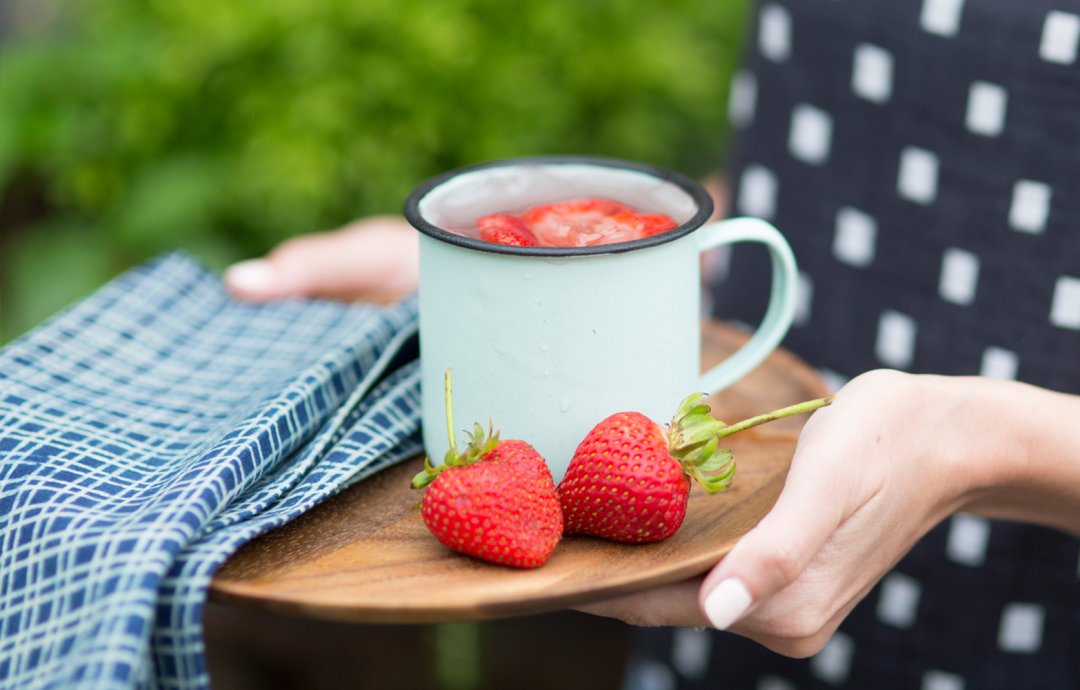 Whenever we're out for a stroll in the woods, we can't help but search for a few wild berries to snack on. For fellow foragers, a new cocktail book is summer's best collection of recipes with roots in the field and forest. In Forager's Cocktails, author Amy Zavatto writes, "We're going to talk about wild strawberries. They are smaller than your average cultivated version, with a white flower and sweet, concentrated flavor that can't be beat. Nab 'em before the birds do." We took her advice earlier this season, collecting a handful of berries to mix up a Wild Strawberry Margarita that's perfect for the dog days. The secret to this refreshing cocktail? Strawberry-infused tequila and a minty mug for serving.
Wild Strawberry Margarita
2 ounces strawberry tequila*
1 ounce Cointreau
3/4 ounce freshly squeezed lime juice
1 wild strawberry, for garnish
Fill a cocktail shaker half-full with ice cubes, pour in the tequila, Cointreau, and lime juice. Shake for 20 to 35 seconds. Slowly strain over ice and garnish with a fresh wild strawberry.
*Strawberry Tequila
1 pint fresh wild strawberries, rinsed, hulled, and cut in half
750 ml bottle 100% blue agave silver tequila
Add the strawberries to a large, sealable glass jar, Pour in the tequila, seal, and place in a cool, dark place for at least two days and up to a week. Strain out the strawberries, transfer the liquid into a clean sealed bottle, and keep the tequila indefinitely in the refrigerator.
Tip: After straining out the strawberries, the color will have leached out of them, and they won't be as pretty. Don't toss them, though! Use them along with some fresh ones to make tequila-strawberry ice cream or jam. Yum.
Reprinted with permission from Forager's Cocktails @ 2015 Amy Zavatto Sterling Epicure, an imprint of Sterling Publishing Co., Inc.