Seasonal Blooms with Foraged Flora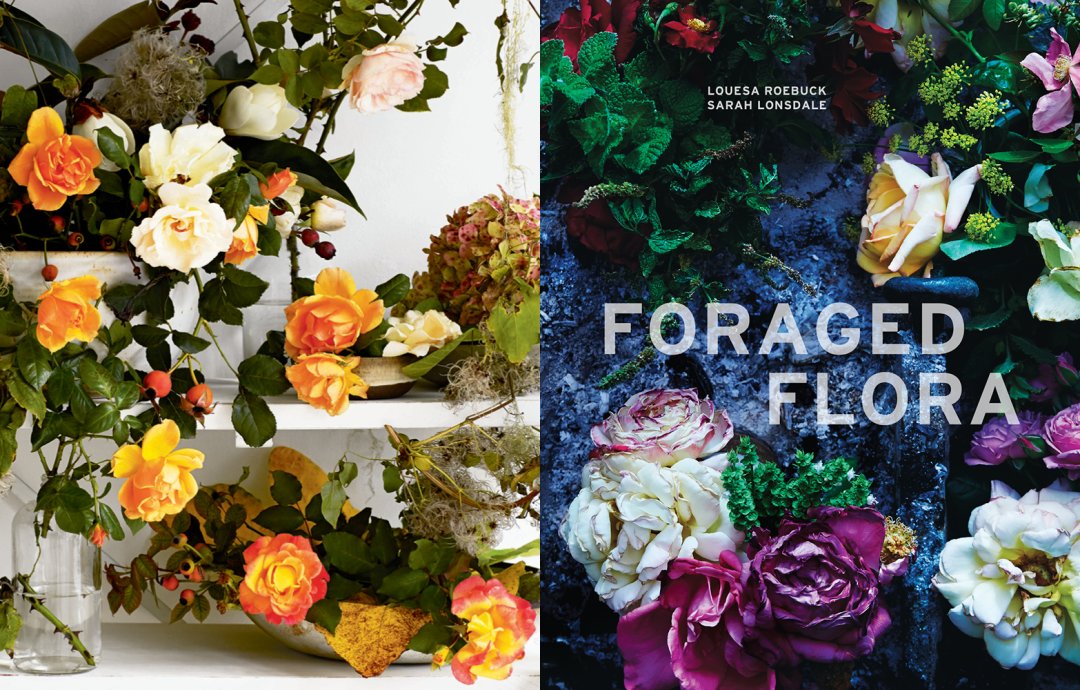 Bursting with blooms, Foraged Flora is a fresh, meditative, and beautifully-photographed celebration of seasonal flowers and arrangements. Organized by month, this brand-new book offers year-round inspiration and striking designs rooted in local, foraged plants. Recently, we had a chance to chat with authors Louesa Roebuck and Sarah Lonsdale about working together, the forager's ideology, and what will be on their harvest tables this year.
How did you come to collaborate on Foraged Flora?
Louesa: Sarah and I had known each other for a long time – the Bay Area is a very tightly knit community, and we were in overlapping circles. We started collaborating on articles for Remodelista and produced some really organic, dynamic, and exciting posts together. I had been doing work like this for some time in my shop, August, but the articles gave me a platform to reach a wider, much more diverse audience; I didn't feel like I was just "preaching to the choir." Our collaborations kept evolving, and we got into a groove of being very yin and yang, in a good way. We both valued our work together because it pushed us in different directions. Eventually, Ten Speed Press approached me about doing a book, and I wasn't sure. But then, Sarah also talked to someone at Ten Speed. A book felt much more doable with a collaborator.
Sarah: While collaborating with Louesa for Remodelista, I loved what she created and felt that she was doing something so different. I also learned a lot along the way, not just in terms of identifying new flora, but her bigger message: the simple idea of using what's in season around us. We're very different people, but have a similar intuition that brought us together. Bringing other design elements, like particular vessels, into florals elevated the work, and made it feel really new and exciting.
Louesa: We've both worked in design, fashion and food, and have a rigorous sense of how to create our shoots. I don't think of myself as just a florist; it's not interesting to do just arrangements. Instead, I like to incorporate interiors, vessels – the full picture. That depth is something people respond to in the book.
What were some highlights and surprises from working together?
Sarah: I spent almost a decade living in Japan, so I'm more of a minimalist. Louesa is completely expansive in her work. It was fantastic working together, because we pushed each other in different directions. Since working with her, I'm much bolder and looser in how I approach florals. I'm happy to haul in massive bay branches and hang them from the ceiling!
Louesa: We both hold two realities – to be expansive and freeform, you have to understand structure and craft first. I worked for a time at Chez Panisse, and I learned there that you need to know what the rules and form are before you can riff on them. Sarah and I make great partners because we go back and forth between those realities. We start with a sense of order, then marry it with expansiveness.
How did you decide to organize the book by month?
Sarah: The genesis for each portion of the book was always a list of materials available at that time. We didn't think, "Let's write a book month by month," but it was so obvious to track the arc of a year through the materials.
Louesa: The backbone of Chez Panisse is a hyper-seasonal approach, based on what's beautiful that week at the farmer's market. You don't think, "Let's be seasonal." Instead, you internalize, "We are seasonal." That's the most important message of the work in Foraged Flora aside from the beauty and composition: what is seasonal right at this moment? What's in your immediate environment? There was no other way to structure the book, and the challenge was to implement that structure while still being subtle. We both acknowledge that we have an incredible bounty in California, so much that's seasonal. But the drought was a big challenge for us.
Sarah: We talked about using what would be most beautiful before beginning each chapter, but the plants on our initial list weren't always ready. We had to be responsive to what was available in the moment.
Louesa: Humans want everything to be predictable, but nature doesn't always work that way. So, you have to be observant, to look and see what's beautiful. The list mentality comes from agribusiness, which gives us the ability to have things that aren't accurate to the season. That in turn has made us less attuned to what's in the environment.
Sarah: I see so differently after working with Louesa. I said to my daughter once, "There are roses on that island in the highway!" So we stopped, and took home masses of roses that had been growing wild, that no one would have used. I started noticing these things and was so excited! You learn to know what's going to come in when.
Do you have favorite plants or flowers for this time of year? What type of arrangement would you recommend for a harvest table?
Louesa: The answer would be the same for a feast in any month, in any place. The content might be different, but the approach would be the same. Coming from restaurant experience, I think about what ingredients are included in the meal, so there can be a dialogue between the food and the table arrangement. If everything is in season, it will also be in dialogue. For such a seasonal meal, don't go to the flower shop and get something from another hemisphere! In November, I love edibles – persimmon, quince, herbs gone to seed, rosehips. For winter tablescapes, blooms aren't the primary players. If they are, in most parts of the world, they're coming from somewhere else. A lot of your table at the harvest will be seaonal fruits like pears and late apples. However, there isn't a pat answer; if you're in Connecticut, you'll find different things than if you're in Tennessee.
Sarah: That was one of my biggest takeaways from the book. If I go to someone's home and they have flowers from across the world with all local food, the flowers feel out of place – they're strangers. People are so invested in local food, and it would be wonderful if they could expand that thinking to flowers. Source everything on your table at the farmer's market. The December chapter in the book is a great example of a seasonal approach. It's all about branches and texture, cardoons, dried blooms. There's so much you can work with while keeping it close to home. Louesa loves trailing vines from a table for a poetic note; the table tends to feel truncated, so the vine is a lovely touch.
Louesa: You can find a vine in most places in November! Even a mass of rosehips with persimmon, apples and quince feels exceptional. A single magnolia bloom or faded rose can be the star of an arrangement. We tend to cheapen things with constant availability, and forget that a rose in November is special. That's one of the things I hope we can change.
Images reprinted with permission from Foraged Flora by Louesa Roebuck and Sarah Lonsdale, copyright (c) 2016. Published by Ten Speed Press, a division of Penguin Random House, Inc. Images (c) 2016 by Laurie Frankel.