A Foraged Fall Arrangement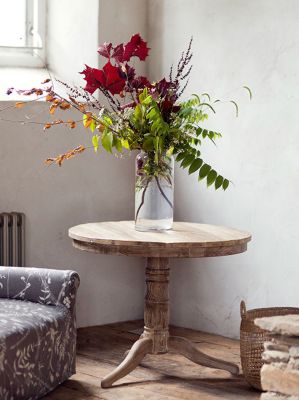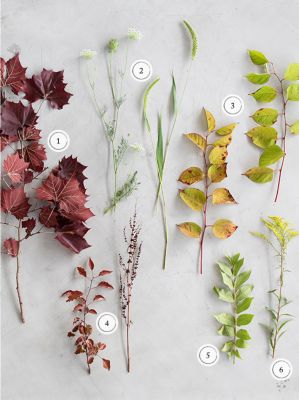 It's the perfect time of year for foraged arrangements - there's still plenty of life brimming from many branches, but we're starting to see some of that rich, autumnal color come through too. Our art director - and foraging enthusiast - Laura T. feels particularly drawn to this juxtaposition of decay and renewal and recently created a gorgeous foraged arrangement in the studio, just in time for fall.

We caught up with her to learn her process and luckily for us, her first foraging rule is - there are no rules! She says she'll visit her favorite foraging spots (her own backyard, a riverbank, or hiking trail) and gather everything she finds interesting. Once she's home, Laura edits down her finds and prefers using a tall vase so she can include preserved and metal stems (just tuck the ends into the arrangement above the water line). With that, Laura sticks to six design principles to make her arrangements shine. Read on for her tips!

1. Dimension: Our dried sycamore branch creates dramatic dimension here - this is the most important element to any arrangement, Laura believes. While most of us think about color first, she says dimension should be your initial consideration. Think of your arrangement as a three dimensional sculpture and play with space - front to back, side to side, and top to bottom. This gives that wild, natural look we love.

2. Texture: These wispy grasses add a soft tactility - and depending where you place them, can add height and dimension too. Laura also loves pairing broad, smooth leaf shapes with swooping sumac, for instance, to create those layers of texture.

3. Color: These twin branches in varying states of decomposition infuse the arrangement with natural slivers of color. Adding elements that are "already browned" give it that "fall feel" that Laura was going for.

4. Structure: Laura suggests starting every arrangement with a few structural branches - those that have thick stalks or a rigid quality will add the necessary support and stability to your arrangement.

5. Depth: Don't forget the little guys! Simple green leaves make your arrangements look fuller and more abundant - and they still allow your statement making stems to shine!

6. Height: Tall, wispy, colorful stems are the perfect way to play with proportion in your foraged arrangement. They won't overpower your more stand-out selections but still add that visual interest you're after.

And one final reminder from our expert - no matter where you go foraging, make sure to wear long pants, sleeves, SPF, and bug spray!