From the Field: Floral Treasure Wreaths
Alive with the vibrant colors of the garden, Floral Treasure wreaths are our favorite way to bring the outdoors home in every season. Each Floral Treasure creation starts in the fields of their 100-acre flower farm, located on the Pacific Ocean in Baja California. The flowers then travel just 30 minutes to an artisan workshop where they're transformed into wreaths. We caught up with Floral Treasure owner Debbie Garza to take a springtime tour of the farm and learn about the journey from field to wreath.
terrain: What inspired you to start Floral Treasure? Can you tell us about the farm?
Debbie: I started 19 years ago with the idea of making natural wreaths and florals that can be enjoyed indoors and out. Our flower farm is nestled in the Sierra Madre mountains, with the Pacific Ocean nearby to provide cool breezes. We moved here when we realized that the countryside in this region had so much to offer. We have excellent soil and a great seasonal climate, which allows us to grow and harvest three times per year. The ocean breeze is balanced by the sun, which settles on the mountains and warms the farmland.
The farm is now over 100 acres, and we grow around 40 varieties of plants, including grasses, grains, herbs, flowers, and foliage – everything from silver dollar eucalyptus to integrifolia. We also grow chilis, saffron, and around 5,000 Provencal lavender plants; it's amazing what you can get from the soil here!
Thanks to our wonderful climate, many of our neighbors here are vineyards. We work to leave a green footprint on our planet, so we collect the extra grapevine – which wouldn't otherwise be used – during trimming season. The vine is then used to weave baskets, wreath bases, and vine wreaths.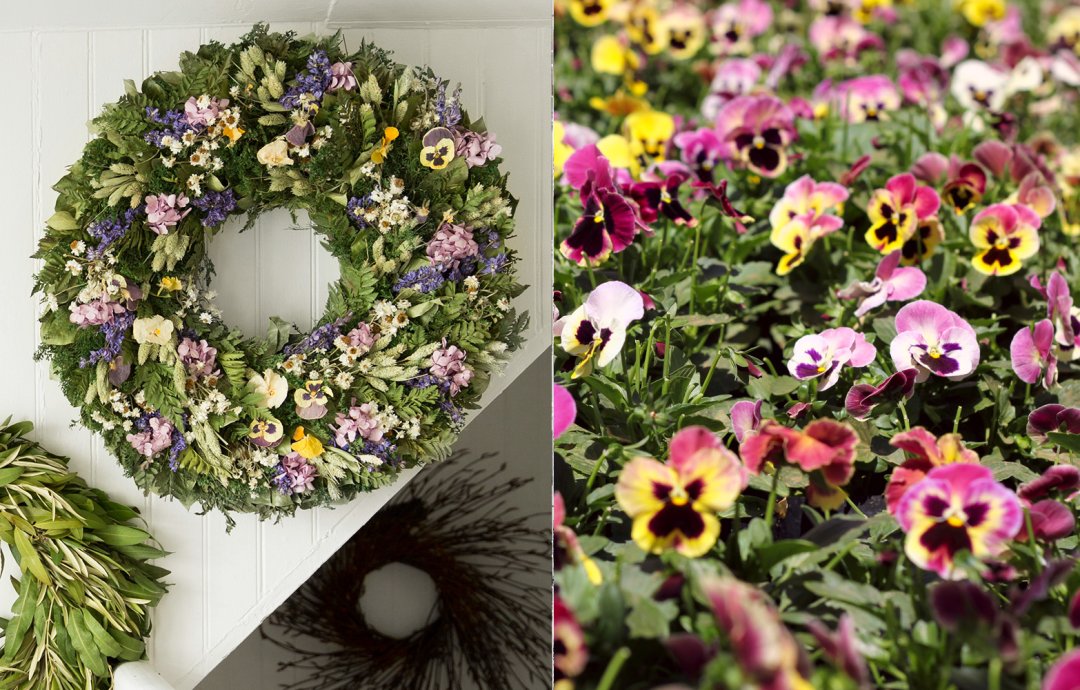 terrain: What's happening on the farm in spring? Do you have favorite flowers for this time of year?
Debbie: Right now, we're harvesting pansies in our greenhouses. We have around 1,000 pansy plants in a whole rainbow of colors, from vibrant yellow to denim blue and deep purple. We're also cutting larkspur, which will be harvested in 12-16" lengths then hung upside down to dry. Ranging from white and pale blue to dark carmine pink, the larkspur fields look like waves of color spreading across the acres of farmland. Finally, we're harvesting strawflower in an array of shades, from a linen white to bright oranges and deep purples. Strawflowers are great for wreaths because they're very hardy – their blooms don't break apart. Along with our current crops, I'm also loving amaranth and lavender as wreath components right now.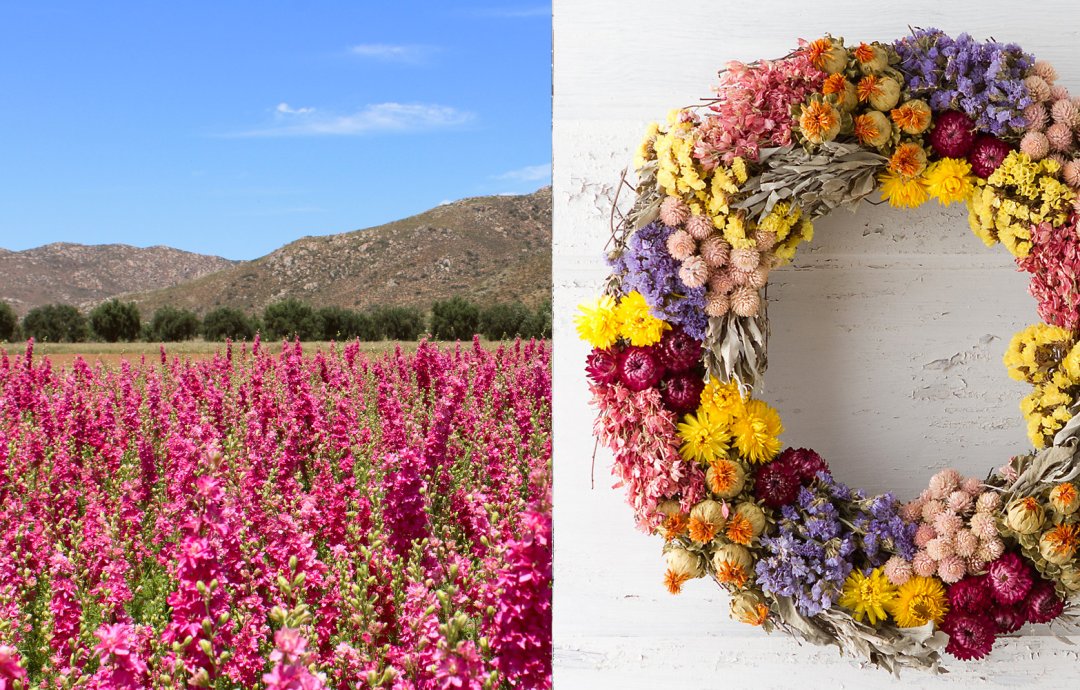 terrain: Can you walk us through the process of a wreath being made, from field to finished product?
Debbie: Our farm manager decides when a plant has reached maturity for our needs; we make wreaths that range from 10" to 45" in diameter, so it's really important to have specific flower or stem lengths for each design. Every flower is hand-cut so that the blooms stay on the stem, then the stems are bundled and ready to be stored in our nearby drying greenhouses. We call them "greenhouses," but the structures are actually covered in black plastic. This helps the interior heat up to dry the flowers naturally, which maintains the blooms for the longest amount of time. Each greenhouse can hold up to 10,000 bundles of flowers! Picture a building filled with hundreds of clotheslines, strung at different levels, where the flower bundles are suspended.
Once the greenhouse doors are closed, our agricultural specialists monitor the temperature inside and create a timeline so that each stem dries accurately. Temperatures can reach from 100-150 degrees in the greenhouse, so the windows are opened periodically to let some heat out and make sure the flowers don't get cooked instead of dried. The length of the drying process depends on the flower and the weather; if it's very rainy, drying takes longer – Mother Nature doesn't always cooperate!
When the stems are dry, they're removed from the lines, weighed, and packed into containers. Our wreath-making facility is only 30 minutes from the farm, so the flowers don't go very far from start to finish. There's a "recipe" for each wreath based on the weight of the stems, so we've got it down to a science! The very best stems are chosen, then every wreath is made by hand. We have a team of 65-100 artisans making wreaths each day. Most of them have been with us for 15 years, and many of our wreath-makers are family. It makes for a really wonderful, loyal environment here.
Farm photography courtesy of Floral Treasure.